8 December 2017
Through the lens – Ringsend students reveal their Dublin in new photo exhibition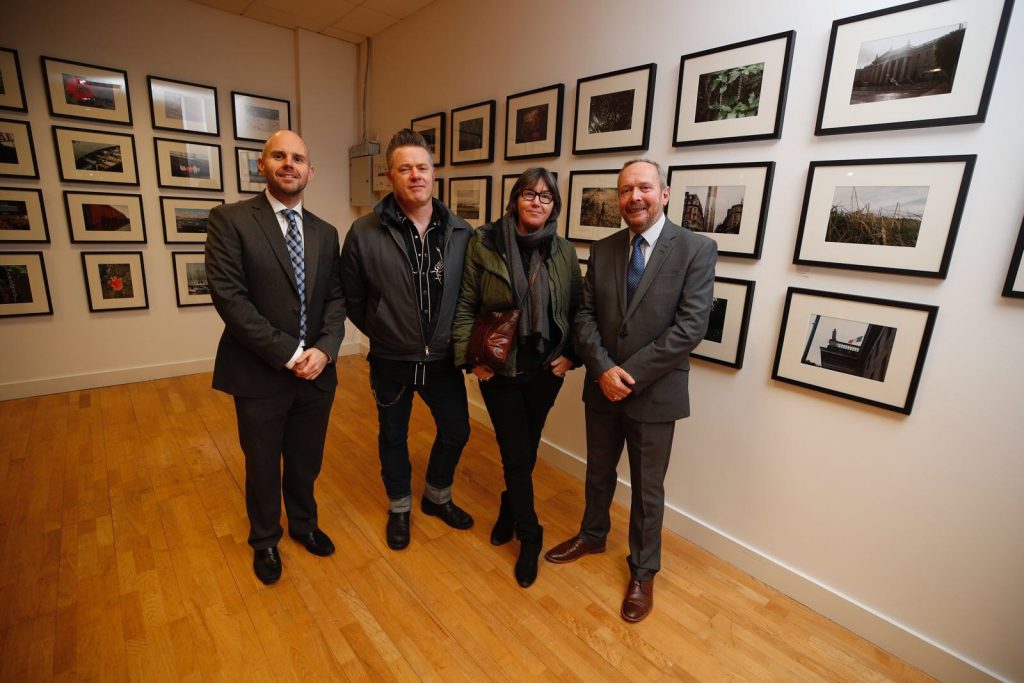 Dublin Port Company brings 'My Port, River, City' student photo exhibition to the CHQ Building
Students from Ringsend College reveal their take on Dublin as part of an exciting new photo exhibition entitled 'My Port, River, City' which opens to the public today at the CHQ Building. The exhibition which runs until Sunday 10th of December is free of charge and showcases new works from over 100 budding young photographers aged 12 to 17 years old – for most of the students involved this represents their first official exhibition.
This special project is supported by Dublin Port Company's Port Perspectives arts commissioning series and included a gift of digital camera equipment to Ringsend College to enable the students to take part. The students had the opportunity to work with professional photographer Mella Travers who mentored the group over a eight-week period as they developed their own bank of photography in response to the brief 'My Port, River, City'.
The brief stems from Dublin Port's drive to reconnect Port and City and to encourage new audiences to explore these areas through the medium of the arts. It entailed the students setting out to explore the greater Port area from the Great South Wall into the bustling Docklands. The students managed to capture unique moments across Dublin from windswept natural beauty to everyday moments in the City that go unnoticed.
Krystian Kilarski, a 4th year student spoke about how the project helped him develop a connection to the Port, River and City; "I live in Balbriggan and travel into Ringsend College each day. My family moved to Ireland from Poland seven years ago so I never really knew much about these areas, I barely even realised there was a Port! Since I took part in this project I have been able to develop a real connection to the Port, River and City."
Abbie Cassidy, a 1st year student said; "It really is brilliant that we get to have our photos exhibited in the CHQ Building; it is a boost to my confidence to my see my photo there. It shows that teenagers can do some amazing things when we are given the opportunity."
Darrel Poole, a 3rd year student said; "It has been great learning how to use the cameras with Mella, we've learned how to properly frame a shot, about lighting and how to use the cameras correctly. I think it is a skill everyone should learn."
Mella Travers, a professional photographer has long ties to Ringsend College and speaks highly of the school's commitment and holistic approach to their students' education.
Mella Travers, Photographer, spoke about the experience of mentoring the students of Ringsend College; "The students put the hard work in and it has been wonderful to help foster their talent. This has been a very rewarding project just seeing the students grow in confidence in their abilities and believing in themselves."
Eamonn O'Reilly, Dublin Port Company Chief Executive, said; "For decades, Dublin Port touched almost every family living in the vicinity of the north and south quays.  This has been a very special project for us and we believe in putting time and support into local communities and the next generation.  Not only are we helping these students learn a new skill we are encouraging them to make a connection to the Port, River and City and I would encourage people to visit CHQ this weekend for an inspiring exhibition."
My Port, River, City will be open to the public from Friday 8th to Sunday 10th December between 11am – 4pm at The CHQ Building, 1 Custom House Quay, North Dock, Dublin and admission is free.