Brexit & Dublin Port 
From 1st January 2021, border controls which have not been seen on trade with Great Britain since 1992 will be reintroduced. Over the intervening 28 years, the cargo volumes through Dublin Port have increased sixfold; the land area of the port, however, remains the same.
Dublin Port Company (DPC) have completed a number of works in advance of Brexit:
Eight inspection facilities have been constructed for Customs and the Department of Agriculture, Food & Marine (DAFM) by DPC and OPW at six different locations in Dublin Port

Completion of works to increase the capacity of Dublin Port's internal road network

Introduction of new internal traffic management measures to keep traffic flowing through Dublin Port
A range of useful resources regarding these changes are available to download below.
DUBLIN PORT TRAFFIC MANAGEMENT
New internal traffic management measures to keep traffic flowing through Dublin Port in advance of the introduction of new border controls were introduced in December 2020.  The improvements and changes are detailed in a new booklet:  Six Key Messages for Hauliers
Follow Dublin Port Traffic on Twitter:

 

@DubPortTraffic

 

for the latest traffic news on Dublin Port's internal road network

See our Getting Around page for information on getting To & From Dublin Port 
Transport Infrastructure Ireland (TII) is responsible for managing the national road and motorway network. See

TII's Brexit Road Map to Dublin Port

Follow TII on Twitter: @TIITraffic  for all the latest information from Ireland's motorway traffic control centre 
Follow Dublin Tunnel on Twitter: @DublinTunnel for Dublin Tunnel operations information
Follow An Garda Síochána Traffic on Twitter: @GardaTraffic for up to date traffic information 
Follow Dublin's Live Drive on Twitter: @LiveDrive for live traffic updates
Dublin Port Traffic Management Plan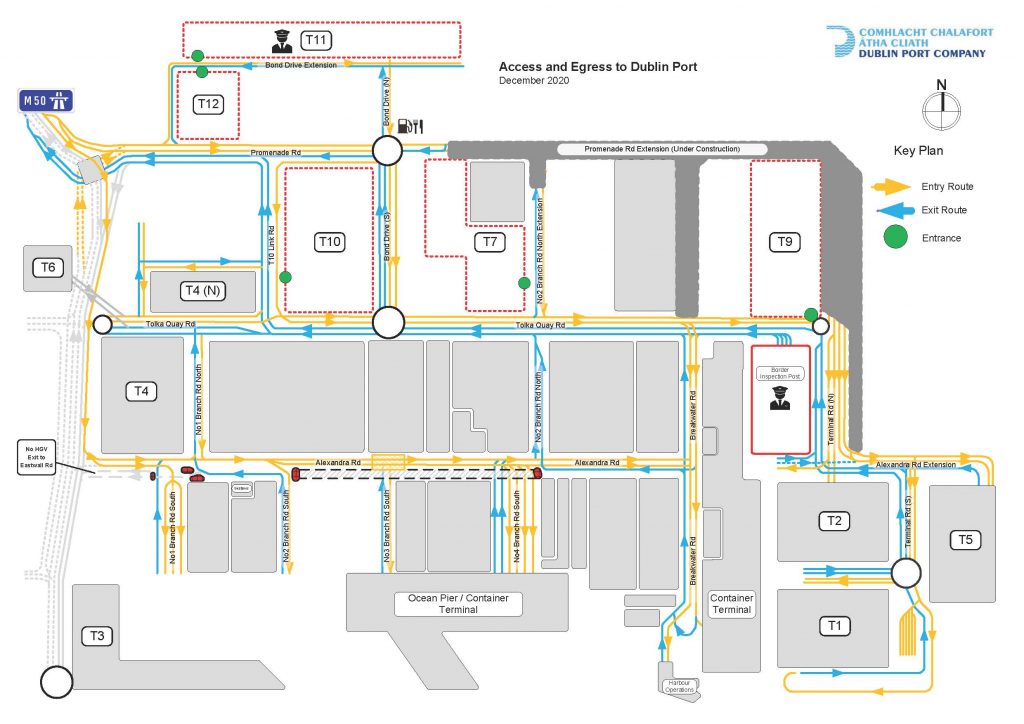 GOVERNMENT OF IRELAND SUPPORTS
For information and a range of Government supports, please visit the dedicated Brexit information on gov.ie/brexit 
For situations requiring urgent and immediate assistance, Government departments and agencies have put in place a number of resources to assist business and citizens for the critical days ahead.  Contact details for some of the key services are listed below.  

Follow

Getting Ireland Brexit Ready

on Twitter:

 

@BrexitReadyIRL

 

this

is the main government Twitter account for the latest Brexit news.
Border Control Posts
Revenue & Customs
Department of Agriculture, Food and the Marine
For information on the Agri-Food Sector see the Department of Agriculture Food and Marine website: Department of Agriculture 
Advice line for stakeholders in the agri-food and fisheries sector Tel: 076 106 4443 or Email: BrexitCall@agriculture.gov.ie – Open 24 hours
Queries in relation to import consignments of animals, and products of plant and animal origin should be directed to the relevant border control post of entry
HSE Dublin Port and Airport
Department of Foreign Affairs
Advice line for Irish citizens overseas requiring Brexit related information or assistance.  Tel: +353 1 613 1769 or call your local Embassy    Open: 8am – 8pm 
Callers from Northern Ireland.  Tel: 0300 123 1510 (LoCall)
Business Supports
---
USEFUL RESOURCES