Getting Around
Last updated on 21 March 2023
Dublin Port is centrally located, only minutes from Dublin city centre by car. Buses and taxis provide a regular service from the port to the city and beyond.  The Luas Red Line tram stop at The Point is located opposite the entrance to Dublin Port on East Wall Road. 
Internal traffic management measures to keep traffic flowing through Dublin Port in advance of the introduction of new border controls were introduced in December 2020.  The improvements and changes are detailed here: Six Key Messages for Hauliers
Terminal 1
Terminal 2
Terminal 3
Terminal 4 North
Terminal 5
Terminal 7
Terminal 9
Terminal 10
Terminal 11
---
By Car
Dublin Port is situated 2.7km from the centre of Ireland's vibrant capital city. Access by car can be made via East Wall Road, North Wall Quay or the Thomas Clarke Bridge. View and plan your route to Dublin Port HERE
Dublin Tunnel is situated on the perimeter of the Port estate & provides quick access to the M50 & M1 motorways, the main routes to the North and South of the country.  Dublin Tunnel is operated by Transport Infrastructure Ireland, to view toll information click HERE
Parking
Unfortunately Dublin Port doesn't have a booking facility for parking. Parking is by 'Pay and Display' for all parking bays at Terminal 1 (Irish Ferries) and Terminal 2 (Stena-Line).
There is usually plenty of spaces available at both terminals especially Terminal 1 which is larger.
Parking costs €9.00 per 24Hr or €50.00 for 7 days.
The machine works by coin or card similar to on street parking in the city. You input the duration you need to stay increasing the time by pressing  " + Button " until you reach your return arrival time and press the  'ü' button and proceed with card payment. In the same way coins can be fed to the machine until the desired time of return. Please display your ticket from the machine on your dashboard.
---
By BUS
Dublin Bus Service
Dublin Port is served by Dublin Bus route 53 which operates from Talbot St. to Irish Ferries at Terminal 1 located on Terminal Road South. View the Dublin Bus route planner HERE
Stena Line Terminal 2 – Bus Service To/From Dublin City
Service operates daily to/from Georges Quay, Dublin 2.
(Bus stop 135111 on Georges Quay – on opposite side of the river from The Custom House and close to Tara Street DART station)
From Stena Line                From Dublin City Centre
Departs                                                 Departs
06:15                                                     06:45
13:00                                                     13:30
18:45                                                     19:15
00:10                                                     00:40
Fare: €3 per person single* (Infants 0 – 3 FREE)
Bus stop location: https://w3w.co/waters.claps.tell  
PRICE: €3 PER PERSON SINGLE* (Infants 0 – 3 FREE)
Please note:
Tickets may be pre-purchased when booking online or can be purchased at the Holyhead & Dublin Travel Centres or at Guest Services Desk onboard the ferries.
You may also buy your ticket online at nolancoaches.palisis.com or onboard the bus (contactless payments only)
---
By LUAS
The Luas Red Line tram stop at The Point operates 7 days a week and is located opposite the entrance to Dublin Port on East Wall Road. Take the Luas to The Point and the entrance to the Dublin Port estate is a 7 minute walk (550m). 
Walking times from The Point to Dublin Port's passenger terminals varies:
TERMINAL 1 – IRISH FERRIES –  46 min walk (3.7km)
TERMINAL 2 – STENA LINE – 39 min walk (3.2km)
TERMINAL 4 – SEATRUCK FERRIES – 9 min walk (750m)
TERMINAL 4 NORTH –  8 min walk (650m) 
TERMINAL 5 – P&O FERRIES – 37 min walk (3.0km)
The Luas trams operate every 4 – 12 minutes during Peak times and 10 – 15 minutes Off Peak. View timings and stops HERE
---
Car Parking
General Car Parking is available at Terminal 1 and Terminal 2:
Short Term parking is on a pay & display basis at €2.00 per hour and a minimum charge of €1.00.
Long Term parking is also available on a pay & display basis. Rates are €9.00 per day or part thereof and €50.00 per week (seven days).
Pay and display parking machines accept both coin and card payment options.
The machines do not accept notes but there is a change machine located inside the Terminal 1 building.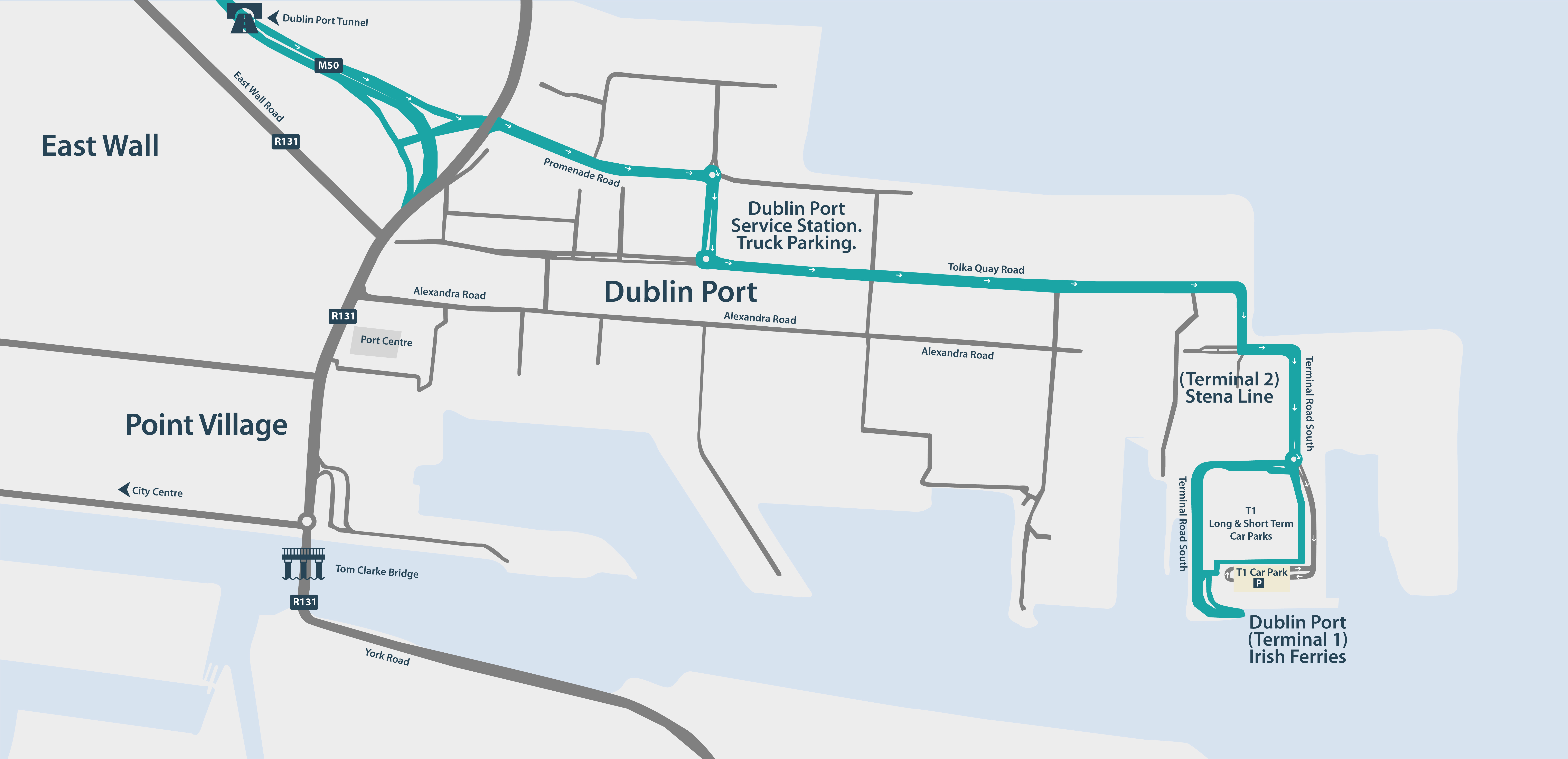 ---
Terminals
There are a number of passenger, freight, and border inspection Terminals in Dublin Port:
Terminal 1 
N53 20 45/W6 11 39

Terminal 2
N53 21 1 /W6 11 53

Terminal 4
N53 20 51/W6 13 39
Terminal 4 North
N53 21 06.5/W6 13 23.1
RoRo Trailer Parking

Terminal 5
N53 20 53/W6 11 34
Terminal 7
N53 21 12/W6 12 33
Customs – Transit, Seal/Documentation check Facility

Terminal 9 
N53 21 08.3/W6 11 49
State Services Inspection Terminal 

Terminal 10 
N53 21 10.92/W6 12 58.33
State Services Inspection Terminal
Terminal 11
N53 21 21/ W6 12 58
Customs – Parking Facility