25 October 2022
Changes to Speed Limits at Dublin Port
Dublin Port Company is changing the speed limits throughout its north port road network from 50km/h to 40km/h as part of the Dublin SafePort initiative. The initiative also announces the alignment of the speed limits within the seven unitised terminals to 20km/h.  
Dublin SafePort is a port-wide safety initiative launched in July with the support of all seven unitised terminal operators. The founding partners of this initiative are Dublin Ferryport Terminals, Doyle Shipping Group, Dublin Port Company, Irish Ferries, Peel Ports, Seatruck Ferries, Stena Line and P&O Ferries. The purpose of the initiative is to support and foster an enhanced safety culture among port workers which will see Dublin Port Company and the seven terminal operators increase their collaboration and alignment on safety practices across the 260-hectare estate.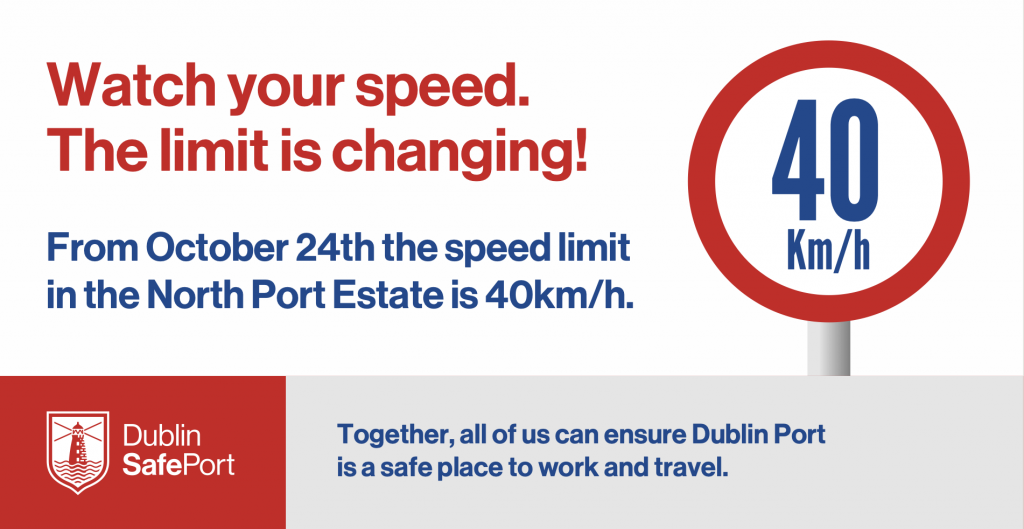 Following completion of the main phase of Dublin Port's internal roads project to upgrade and reconfigure the Port's internal road network the current phase of the Dublin SafePort initiative focuses on roads and terminal speed limit safety. The investment in roads, in active travel and the launch of the Dublin SafePort initiative are important steps in the safe development of Dublin Port in line with Masterplan 2040.   
The announcement comes as Dublin Port once again hosts Irish Port Safety Week following its successful launch last year. The dates for Irish Port Safety Week this year were selected to follow European Safety Week, as port authorities across the country have come together to highlight and enhance collective safety responsibility with events planned for each day of the week.  
The events of Irish Port Safety Week are an opportunity to work collaboratively, to share knowledge and experience towards improving safety culture. The calendar of events includes a HGV Driving Simulator, the RSA's road safety interactive unit, known as the Shuttle, fire awareness training, first aid training, and a mental health talk from former New Zealand rugby star and pundit Brent Pope on Wednesday. Wednesday will also see the judging of a colouring competition amongst local schools with the prizes being awarded in the afternoon. 
Dublin Port is delighted to have the assistance and support of the Road Safety Authority, An Garda Síochána, Dublin Fire Brigade, the Irish Coast Guard, the RNLI and other services who interact frequently across the port area. 
Commenting on the changes, Dublin Port Harbour Master Captain Michael McKenna said, "The health and safety of all port users is the highest priority. I am delighted that the Dublin SafePort partners are showing such commitment with the changes and alignment of our speed limits and our hosting of Irish Port Safety Week. There is a calendar of fantastic events throughout the week which are open to all port users and tenants and we are inviting and encouraging as many people as possible to get involved. We are grateful for the support of key stakeholders including An Garda Síochána, the Road Safety Authority, the HSA and the unitised terminal operators as we look forward to working together to continue to develop the Dublin SafePort initiative." 
Christine Hegarty, Road Safety and Education Manager at the RSA said, "Our collaborative work with Dublin Port on this change has been a rewarding experience. Speed reduction is a key factor in reducing the number of accidents on our roads and the Port's road network is no different, so it is heartening to see them take such a proactive approach to managing that situation."