13 May 2021
Séan O'Casey Community Centre Opens New Garden for Seniors
The Séan O'Casey Community Centre in Dublin's East Wall officially opened its new garden for seniors to the public this week, featuring a new marquee and planting sponsored by Dublin Port Company. Under current Covid-19 restrictions, the redesigned garden will be able to accommodate up to 15 seniors per day for activities such as bingo, knitting, pool, snooker, draughts, wellness talks and live music and dancing.
The Centre, which first opened in 2009, is an important resource to the people of East Wall and prior to the pandemic, offered a Senior Citizen Day-care service, providing four-course meals for 85 seniors, with mental wellbeing and physical activities for up to 100 seniors, five days a week. Throughout Covid-19 it has continued to provide a Meals on Wheels service for East Wall's senior citizens, but opportunities for older members of the community to come together and socialise have been severely curtailed. It is hoped the garden will offer a safe space for familiar faces to be reacquainted this summer.
Commenting on the opening of the Garden, the Centre's Chairperson Willie Dwyer said; "The older people in the community of East Wall are very special and have sacrificed so much in the last year. When Covid happened, we put our heads together to see what we could do for them and we came up with this garden. It is important to give them a safe space to get out of the house a few times a week. We have not seen a lot of our senior community in the last year and we want to encourage as many of them as possible to come back. We want to get the word out to older people in our community that the Centre is open again, and that everyone is welcome.
"It has been a tough year but occasions like this give us optimism for the future. We are all looking forward to getting back to offering a full range of services to the community of East Wall again. None of this would have been possible without our sponsors who have worked tremendously well together to get this garden up and running for our senior citizens, so I would like to thank Dublin Port Company, Collen Construction, the Inner-City Trust Fund and Dublin City Council for making this happen."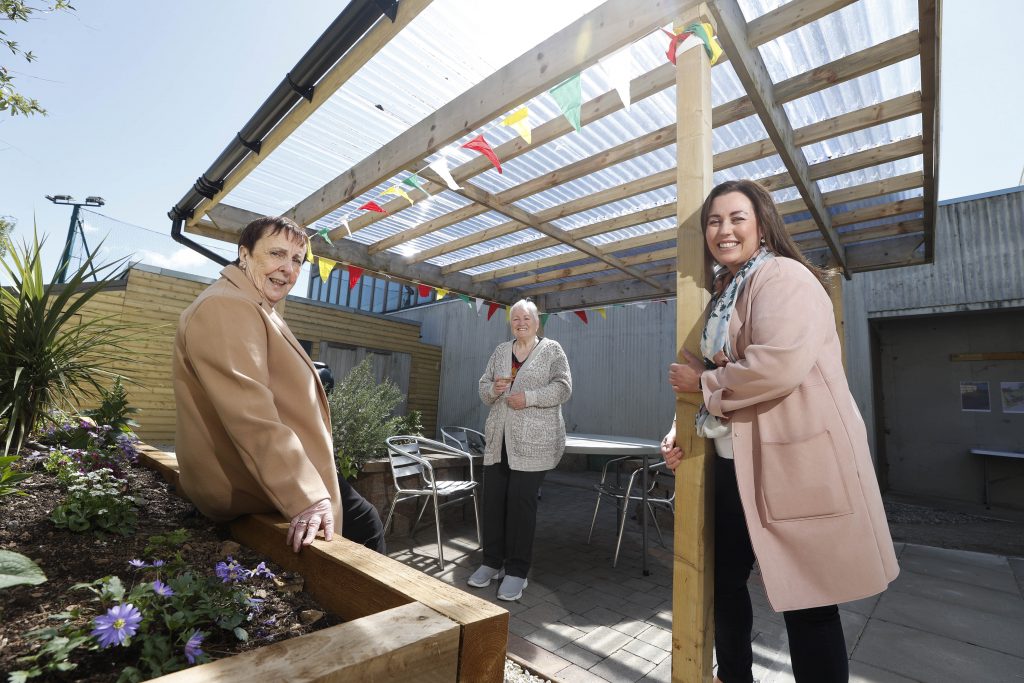 Dublin Port Company has had a long-standing relationship with the Centre and the Port's Heritage Director, Lar Joye, and Edel Currie, Community Engagement Manager, were in attendance to cut the ribbon as the garden welcomed its first visitors.
Lar Joye said; "Dublin Port Company is delighted to be involved in creating a dedicated garden for older citizens in our community as part of our long-running commitment to the Seán O'Casey Community Centre and the people of East Wall. We hope that this new facility provides an outlet for seniors who have been isolated for the last year to come and socialise with each other again. It's a hub for conversation, story-telling, activity and entertainment that we hope older people will enjoy for many more years to come.
"Well done to Willie and all the staff at the Séan O'Casey Community Centre who have driven this project from an idea through to completion. We all look forward to seeing it used to its full potential when the circumstances allow."