30 April 2018
Dublin welcomes first Cruise Ship to call the city home
Celebrity Eclipse sails in to historic warm welcome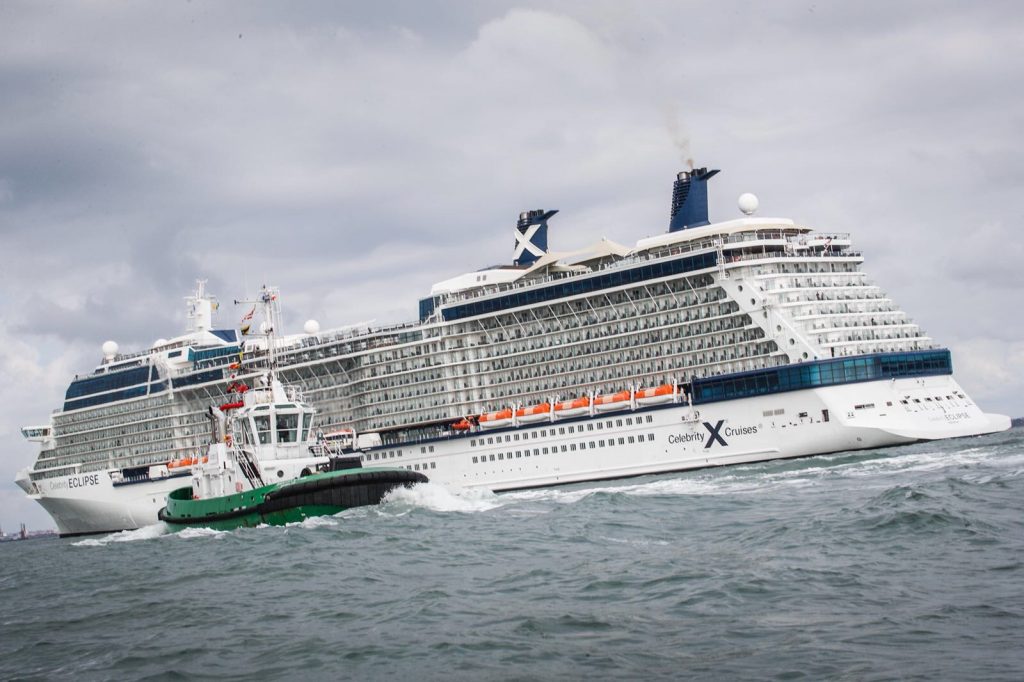 The first cruise ship to ever be based in Dublin has arrived on 29th April for a mini-season from the Irish port. Celebrity Eclipse from Celebrity Cruises will bring 2,850 guests into the city each time a sailing starts from Dublin Port. In total, over 14,000 people will start their cruise holiday from Dublin on Celebrity Eclipse in 2018.
On Monday 30 April 2018, guests will embark Celebrity Eclipse to enjoy the inaugural sailing and first cruise of the season based from the port, a 10-night Ireland and Iceland.
Boasting a real grass lawn on the top deck and 19 bars and restaurants, Celebrity Eclipse is twice the length of the pitch at Croke Park at 317m long and features more than five-times the number of rooms as the Shelbourne Hotel.
Jo Rzymowska, vice president and managing director, Celebrity Cruises, Ireland, UK and Asia, commented:
"Thank you to the city of Dublin for making Celebrity Eclipse feel so at home. We're blown away by the welcome. This is the first time in three years that we've added a new European homeport to our itineraries and Dublin has exceeded our expectations. Testament to the strong demand from our guests to sail from Dublin, we are excited to return with another ship and another mini season in 2019."
The ship's arrival received a warm welcome in Dublin, with dancers and musicians greeting guests disembarking from the transatlantic cruise that departed Miami on 15 April 2018. Guests enjoyed an overnight stay in the city on-board the ship before ending their cruise.
The Lord Mayor of Dublin Mícheál MacDonncha added:
"I'm pleased to welcome Celebrity Cruises and the many thousands of international holidaymakers they will bring to Dublin over the next few months and in 2019. This is an exciting opportunity for the city following years of investment, and a great milestone in the success of our expanding cruise port."
Expected to bring a business-boom to the city, each turnaround of the ship in Dublin will generate over an estimated €1 million in knock-on economic benefits.* Celebrity Eclipse will begin five cruises in Dublin Port including sailings to Iceland and a Norwegian Fjords itinerary.
A first from a major cruise line, Celebrity Cruises will base the ship in Dublin until June 2018. Due to popular demand, Celebrity Cruises has confirmed that in 2019 sister-ship Celebrity Reflection will sail into Dublin to offer another mini season of cruises from the capital.
Pat Ward, Head of Cruise Tourism, Dublin Port Company, comments:
"2017 was a record breaking year for Dublin Port with 127 ships making a stop in the capital and over 210,000 cruise visitors using the port. In 2018 we are on target to exceed that further, with the homeporting of Celebrity Eclipse in the city making a significant difference to our growth plans. We look forward to continuing to work with Celebrity Cruises to continue this success in 2019."
Dublin Port Company's multi-million-euro investment programme to futureproof the port has already delivered the first of new berths to accommodate customer investments in new vessels and routes. Based on Dublin Port's Masterplan, the company is investing €132m this year alone to ensure the timely delivery of new infrastructure and additional capacity, while capital investment of €1 billion is planned over the next decade.
In May and June 2019 the Celebrity Cruises ship Celebrity Reflection will sail from Dublin Port as part of a mini-season offering five cruises from Ireland. Celebrity Reflection is marginally larger than Celebrity Eclipse accommodating just over 3,000 guests and features many of the same luxury venues.
Celebrity Cruises sails on every continent in the world and has a fleet of 12 ships. The revolutionary new ship Celebrity Edge will join the fleet in November 2018. The cruise line is part of Royal Caribbean Cruises Ltd, the second large cruise business in the world.
For more information on Celebrity Cruises please visit www.celebritycruises.ie.