1 September 2021
75TH ANNIVERSARY OF NAVAL SERVICE MARKED IN DUBLIN PORT
The Irish Naval Service has celebrated its 75th Anniversary today in Dublin Port with the visit of four naval vessels and a flyover by the Irish Air Corps.
The LE Samuel Beckett vessel sailed through Dublin Port and the Tom Clarke Bridge to Sir John Rogerson's Quay earlier today accompanied by an Air Corps flyover as part of the Naval Service's 75-year anniversary celebrations. The LE James Joyce, LE William Butler Yates & LE George Bernard Shaw vessels arrived yesterday.
Minister for Defence Simon Coveney attended the celebrations, along with Lord Mayor of Dublin City Alison Gilliland, An Cathaoirleach of Dún Laoghaire Rathdown County Council Lettie McCarthy, Chief of Staff Vice Admiral Mark Mellett, Defence Department secretary-general Jacqui McCrum and Flag Officer Commanding of the Naval Service Micheal Malone.
President Michael D Higgins said the Naval Service has been an "unfailingly courageous and professional" component of the Defence Forces.
He added: "As we celebrate this landmark anniversary, I welcome this opportunity to recognise and commend the many crew members of our Irish naval vessels who have, since 1946, made such a valuable, indeed crucial, contribution to our society.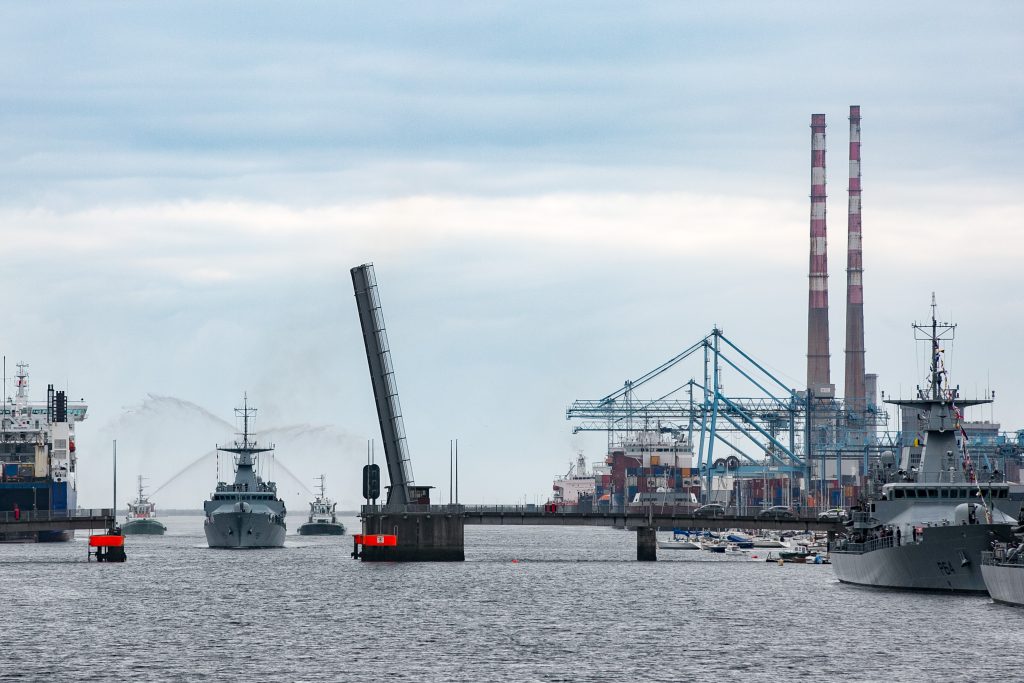 The Naval Service will open a number of the ships to the public for 'Meet the Fleet – It's Your Navy' tours on Wednesday 1st September.
The four vessels are docked on Sir John Rogerson's Quay at berths 7, 8, 9 & 10 and will depart Dublin Port on Thursday morning from 11.00hrs. The best vantage point for the public to view the departures is from North Wall Quay or the Great South Wall.
All the latest up to date vessel departures information from Dublin Port can be found HERE