18 January 2019
Dublin Port's Cargo Volumes Grow by 4.3% For the Second Year in a Row
2018 the fourth successive record year for trade at Dublin Port.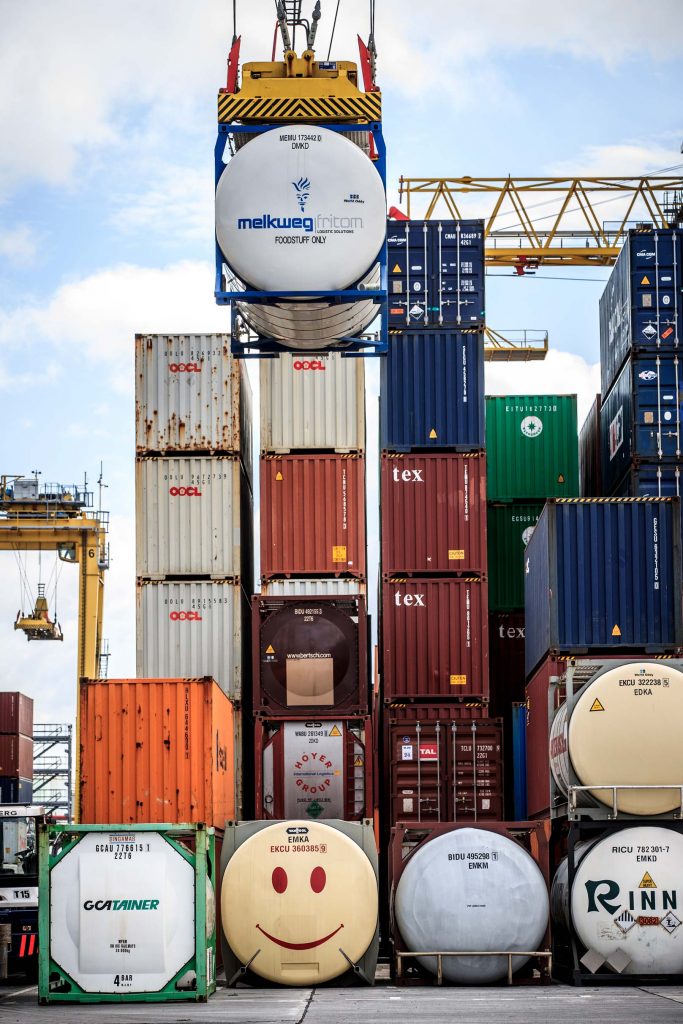 Dublin Port Company has today reported full year trading figures for 2018. The latest figures show that cargo volumes through Dublin Port hit record levels for the fourth year in a row with growth of 4.3% to reach a new record 38.0m gross tonnes in 2018. This brings overall growth at Dublin Port in the five years since economic recovery began in 2013 to +35.7%. 
To facilitate future growth, Dublin Port continues to invest in new infrastructure based on its Masterplan 2040 and a €1 billion ten-year programme of works is underway. The company invested  €93 million in port infrastructure in 2018 and plans to invest a further €147m during 2019.
Overall Growth at Dublin Port 2007 – 2018
Looking at the 2018 trade figures in detail, imports grew by 5.5% to 22.7m gross tonnes while exports grew by 2.5% to 15.3 million gross tonnes. Containers and freight trailers account for 82% of all cargo and both the Ro-Ro and Lo-Lo sectors grew strongly. Ro-Ro grew by 4.0% in 2018 to over one million Ro-Ro units for the first time (1,032,000).  Lo-Lo container volumes also grew by 4.0% to 726,000 TEU.
Even though national first time registrations of new trade vehicles declined by -2.5% (as reported by the CSO), imports through Dublin Port increased by +4.1% to 103,000 during 2018 suggesting an increase in Dublin Port's share of the market for new vehicle imports.   
Bulk liquid volumes, comprising mostly petroleum products, grew strongly by 7.8% to 4.6m tonnes driven by increasing activity in the road transport and aviation sectors.  
Bulk solid commodities, such as animal feeds and cereals, also increased (+16.8% to 2.4m tonnes) during the year following poor weather conditions for agriculture over the previous 12 months.
Passenger volumes declined by -1.0% to 1,828,000 due to operational issues on ferries during the year.  Similarly, the number of tourist vehicles declined by -1.2% to 515,000.
Dublin Port's cruise business grew again with 150 cruise ship arrivals (compared to 127 in 2017) and growth of 32% in visitor numbers.  The average size of cruise ship increased yet again reaching 50,085 gross tonnes in 2018, an increase of +10.6% compared to the previous year.
Commenting on the results, Dublin Port's Chief Executive, Eamonn O'Reilly, said:
"Growth of 4.3% for the second year in a row is yet further confirmation that the longstanding trend of compounding annual growth in Dublin Port is back.  Every year from 1993 to 2007 was a record year in Dublin Port. In the past four years we have seen this pattern re-emerge, with 2018 the fourth year in a row for record growth. 
"Dublin Port's volumes are now 23% higher than they were in 2007 before the crash.  This growth has been driven by Ro-Ro freight with more than one million Ro-Ro freight units handled in 2018 for the first time ever.
"Dublin Port's multi-million euro infrastructure investment programme continued with capital expenditure of €93m during 2018.  Our investment in infrastructure is matched by our customers' continuing investments in new ships with huge freight capacity.  Even as the €149m 2,800 lanemetre W.B. Yeats enters service in Dublin Port, we are preparing for a second new Irish Ferries' ship with 5,610 lanemetres and also for Stena Line's 3,100 lanemetre E-Flexer, both due to enter service on the Dublin-Holyhead route during 2020. 
"Dublin Port is the country's most important port for Ireland's import and export trades handling 84% of all containers and freight trailers in the Ro-Ro and Lo-Lo cargo modes.  In recent years we have seen huge additions to shipping capacity on services linking Ireland directly to Continental Europe to the extent that two and a half times more freight already moves on direct routes to Continental Europe than goes via the UK landbridge.
"While BREXIT brings uncertainties and challenges to our business, the combination of investments by our customers and by Dublin Port is underpinned by a shared confidence in the future.  Whether we are faced with a hard BREXIT or not on 29th March next will become clearer in the coming days and weeks.  If we are, Dublin Port will have significant additional border inspection post capacity available for State agencies in time.  Coping with the challenges of a hard BREXIT is a challenge not only for us but also for State agencies and for our customers.  We will be as prepared as it is possible to be."