20 April 2018
World's largest short sea Ro-Ro vessel MV Celine christened at Dublin Port
Guest of Honour An Taoiseach Leo Varadkar TD attends
Dublin Port cargo volumes increase by 3.4% in Q1, €12.2m dividend announced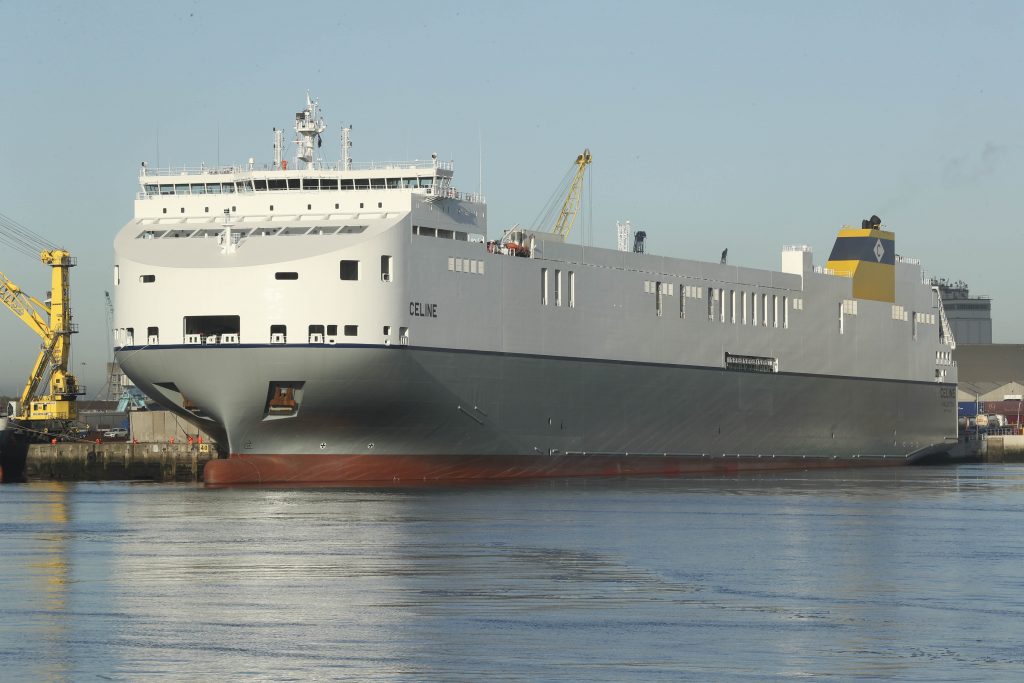 MV Celine, the world's largest short sea Ro-Ro ship, will today be christened in a ceremony at Dublin Port with guest of honour, An Taoiseach, Leo Varadkar TD, Godmother to the new ship, Geraldine O'Reilly, and the port's chaplains. The formal ceremony is a long-held tradition intended to bring good fortune to the ship and involves breaking a champagne bottle against the hull as the ship is christened.
To mark today's occasion, new Irish music commissioned by Dublin Port and performed by John Sheahan of the Dubliners and Colm Mac Con Iomaire of the Frames will premiere at the ceremony, heralding the ship's naming in front of invited guests representing her Luxembourg-based owner CLdN and the wider European shipping industry.
ABR Project Milestone
With a capacity of 8,000 lane-meters, MV Celine represents the next generation of super ferries servicing Dublin Port. Significantly, her arrival marks a new milestone in the multi-million-euro ABR Project to futureproof Dublin Port. Such is her size, MV Celine would not have been able to call into Dublin Port had development works on three kilometres of berths not already commenced.
The 235m long ship was constructed in South Korea's Hyundai Mipo Shipyard before being deployed to her homeports of Zeebrugge and Rotterdam. In October 2017, MV Celine made her maiden call into Dublin, providing additional capacity for customers trading with Continental Europe via the ports of Zeebrugge and Rotterdam.
Cargo volumes at Dublin Port reached a new record in 2017 as 36.4 million tonnes passed through the port including one million Ro-Ro units. CLdN's direct freight services to Continental Europe is providing the capacity for this increasing demand with importers and exporters seeking alternatives for the efficient movement of goods, particularly with the reality of Brexit looming.
Q1 2018 Trade Figures
New figures released today show that cargo volumes at Dublin Port grew by 3.4% in Q1 2018 to exceed nine million gross tonnes for the quarter. Imports for the first three months of the year rose by 4.3% while exports increased by 2.1%. Most of the port's cargo is comprised of freight trailers and containers and both sectors showed continued strong growth, with Ro-Ro up by 2.5% and Lo-Lo container volumes ahead by 5.3%.
On the passenger and vehicle side of the business, imports of trade vehicles in the first three months jumped by 14.2%, while passenger volumes climbed by 8.6%. Similarly, the number of tourist vehicles grew by 6.4%. Furthermore, Dublin Port's cruise business will see 154 cruise ship arrivals, bringing a record-breaking 275,000 visitors to the city this year, including 10 maiden calls and five full turnaround cruises.
Financial Dividend
Dublin Port has also confirmed that it will pay a dividend to the State of €12.2m in 2018, bringing the aggregate dividend payment since 2007 to €113.4m. The dividend follows a strong financial performance in 2017, during which turnover grew by 4.7% to €85.5m and Profit after tax increased by 3.9% to €40.6m.
An Taoiseach, Leo Varadkar, TD said: "It is a pleasure to be here today in Dublin Port for the christening of this magnificent new vessel, the MV Celine. I would like to congratulate CLdN on its continued commitment to providing enhanced cargo shipping into and out of Ireland. I also congratulate their environmentally friendly approach by developing a vessel that allows for dual fuel propulsion and lower carbon emissions. The MV Celine is the largest short-sea roll-on/roll-off vessel in the world and will strengthen Ireland's trade links with Europe by providing direct services from Dublin to Rotterdam and Zeebrugge."
A representative of CLdN, said: "Choosing to name CLdN's first of the next generation of Ro-Ro vessels, MV Celine, in Dublin is testament to CLdN's belief in our Irish / Continental trade lane and appreciation of the support given over the past decade by Dublin Port Company and our dynamic team in Ireland.
"CLdN commenced services to Dublin Port in October 2009 and these have grown strongly as the Irish economy recovered to the point today where we offer seven calls weekly from Zeebrugge and Rotterdam.
"The timing of MV Celine's delivery is opportune, allowing CLdN to be well positioned to develop the Irish / Continental trade lane offering a viable and direct alternative to the UK landbridge."
Eamonn O'Reilly, Chief Executive, Dublin Port Company, said: "It is an honour for Dublin Port to host the christening of MV Celine at such an exciting time for Dublin Port. The addition of new ships and sailings shows the shipping sector's resilience and ability to adapt to changing customer needs, particularly in response to Brexit. We expect MV Celine will mark the beginning of additional new services to Continental Europe from Dublin Port over the coming years."
"Our trade figures for Q1 show continued strong growth, with cargo volumes up 3.4% as demand continues apace for the efficient movement of goods and people through Dublin Port. This is a particularly strong performance given the disruption of Storm Emma when the business of Dublin Port effectively stopped for two days.
"I am pleased that Dublin Port's multi-million-euro investment programme has already delivered the first of new berths to accommodate customer investments in new vessels and routes, and MV Celine's christening marks an important milestone in this regard.
"Based on our Masterplan, Dublin Port is investing €132m this year alone to ensure the timely delivery of new infrastructure and additional capacity to further facilitate Ireland's trading needs. Capital investment of €1 billion is planned over the next decade."
MV Celine is the newest vessel to join CLdN's network, which specialises in short sea Ro-Ro cargo, and a second 8,000 lane-metre vessel, MV Delphine, has been delivered in January 2018 as the company further expands its fleet and operations in Europe.
CLdN currently operates 25 Ro-Ro vessels, offering more than 135 weekly sailings between the ports of Zeebrugge, Rotterdam, London, Killingholme, Dublin, Gothenburg, Esbjerg, Hirtshals, Santander, Porto, Flushing and Dagenham.