20 May 2021
Victorian Dublin's Port and the Diving Bell – 27 May to 10 June '21
To mark the 150th anniversary of the use of the famous Dublin Port Diving Bell and the laying of the first Bindon Blood Stoney block on 27th May 1871, Dublin Port Company are delighted to present a series of online lectures to tie in with this anniversary and highlight the important links between Dublin City and the Port since 1707.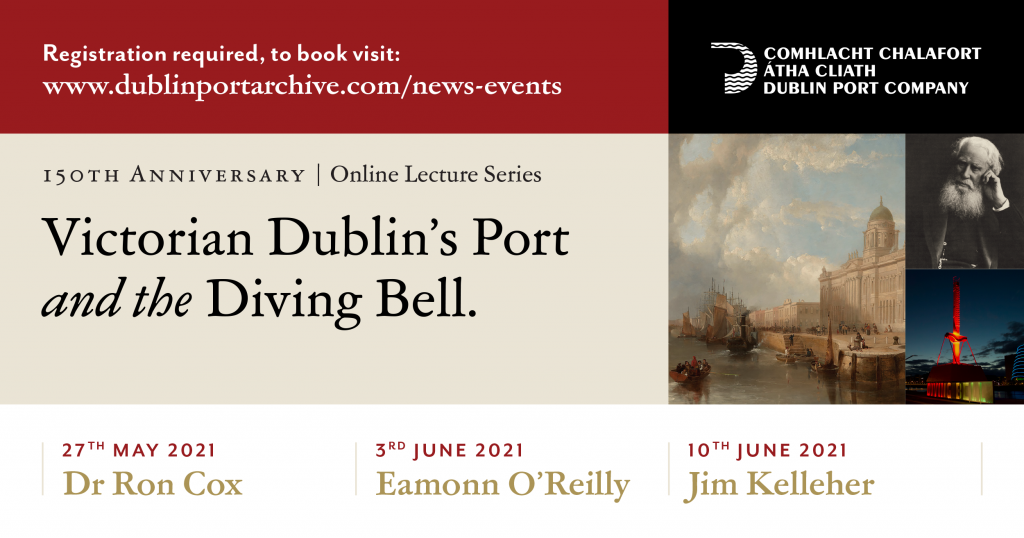 Each lecture (of 40 minutes) will be held at 6.30 pm each Thursday as an online Zoom meeting.
Registration is required — please

CLICK HERE

to book.
You will receive an e-mail from Dublin Port Company via Eventbrite with a link to attend 24 hours in advance.
---
6.30PM | THURSDAY 27TH MAY 2021 – Dr. Ron Cox 'Bindon Blood Stoney – Port Engineer.'
Dr. Ron Cox is an Engineering Historian and a Visiting Research Fellow in the Department of Civil, Structural & Environmental Engineering at Trinity College Dublin. He is a Member of the Institution of Civil Engineers, a Fellow of the Institution of Engineers of Ireland, a Fellow of the Irish Academy of Engineering, and a Member of the American Society of Civil Engineers. Recent books include Ireland's Bridges (2003), Engineering Ireland (2006), Ireland's Civil Engineering Heritage (2013), Called to Serve (2013) and Called to Serve Two (2019).
6.30PM | THURSDAY 3RD JUNE 2021 – Eamonn O'Reilly 'Dublin Port and its links to the City.'
Eamonn O'Reilly was appointed Chief Executive of Dublin Port Company in August 2010 having previously held the position of Chief Executive at Portroe Stevedores, the Dublin Port based cargo handling business, since 2005. Eamonn is a chartered engineer having graduated from University College Dublin and holds an MBA from Trinity College Dublin. Eamonn is a member of Engineers Ireland, and the General Stevedoring Council he is also the former Chairman of the European Sea Ports Organisation (ESPO).
6.30PM | THURSDAY 10TH JUNE 2021 – Jim Kelleher 'The Diving Bell – the object that became a museum.'
Jim Kelleher works in the in Port Heritage and Communications Group at DPC as Head of Special Projects. In his role, he has led the design and delivery of award winning Port City Integration projects including Reconfiguring the Diving Bell. Jim is a graduate of the DIT and DMU Leicester and is a member of the Chartered Institute of Building and Institute of Project Management. Besides his professional interest areas in the built environment Jim is passionate about the history of Dublin, his home town.
CLICK HERE to download the full event brochure.