25 November 2019
Unseen and rare photographs shed new light on Dublin Port

Newly digitised images from 1920s to 1960s now on display – Public help sought to identify their origins. 
Previously unseen and rare colour images which show the life and workings of Dublin Port from the 1920s – 1960s have been made available to the public to view online for the first time thanks to the assistance of modern imaging technology.
The negatives came to light as part of Dublin Port Heritage Director Lar Joye's work to catalogue, preserve and digitise the port's 300-year-old archive, which is estimated to include some 75,000 photographs and 30,000 engineering drawings, as well as maps and administration files dating back to 1707.
Dublin Port Company has added the images to its online portal at: dublinportarchive.com 
The archive contains photography in many forms, from black and white prints to 35mm colour slides from the 1950s and 1960s. Of particular interest are a number of delicate glass plate negatives from the 1920s and 1930s which have been developed for the very first time, thanks to modern preservation methods and scanning equipment capable of reading the original negatives.
The photographs reveal a bustling port and show dock workers going about their daily work, including some tasks which no longer exist today. Workers can be seen weighing tobacco and moving peat moss, while a fleet of tiny Heinkel Kabine microcars wait to be exported. These microcars were manufactured for a brief period of time in Dundalk in the late 1950s.
Lar Joye explains the significance of the images: "It's always fascinating to come across old images as part of my work, but even more so when those images have never been seen before. This set on view for the first time offers a fascinating glimpse into working life at Dublin Port from the 1920s to the 1960s. We're now keen to understand more about how the images came about. While we know that engineers sometimes documented projects at the port, the origin of these beautiful colour images remains a mystery. Unfortunately, we don't know who might have taken the photographs or why. It may have been an amateur photographer, or indeed a dockworker at the time. Our hope is that someone in the docklands community or even further afield might recognise the photographs or their subjects and get in touch with any information that could help us further."
The call for members of the docklands community, local historians and the wider public to assist with any information about the previously unseen images comes in advance of Archive Week (23rd November – 1st December), which encourages people to explore the wealth of archives and records now available to the public across Ireland and the UK exploreyourarchive.org, including Dublin Port's archive.
Anyone with information to share can get in touch with Lar Joye at the Dublin Port Archive on 01 887 6000 or dublinportarchive@dublinport.ie
The Dublin Port Archive covers the history of the Port from 1707 to present day and consists of a paper collection, charts, photographs, historical registers and engineering drawings, along with a large reference library. The collection is currently being catalogued by Lar Joye and his team and an online resource containing examples from the collection, as well as a searchable database that can be accessed here: dublinportarchive.com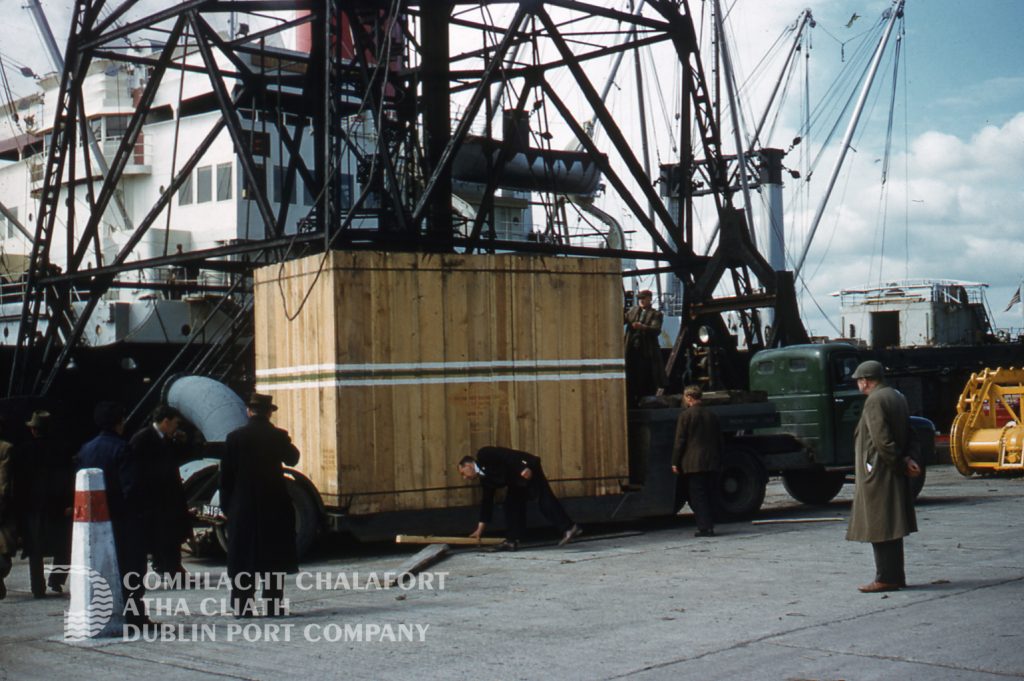 About Lar Joye
Lar Joye has been Port Heritage Director at Dublin Port since 2017. He previously ran the Irish Film Archive and, more recently, curated the award-winning Soldiers & Chiefs at the National Museum of Ireland at Collins Barracks which still attracts 250,000 visitors each year, 12 years after it was established. Lar also played a key role in the Decade of Commemorations 2012 – 2018 where he was involved in a variety of projects.