11 November 2021
Tolka Quay Road West – Permanent Road Closure From 18th November 2021
Tolka Quay Road West – Permanent Road Closure From 18th November 2021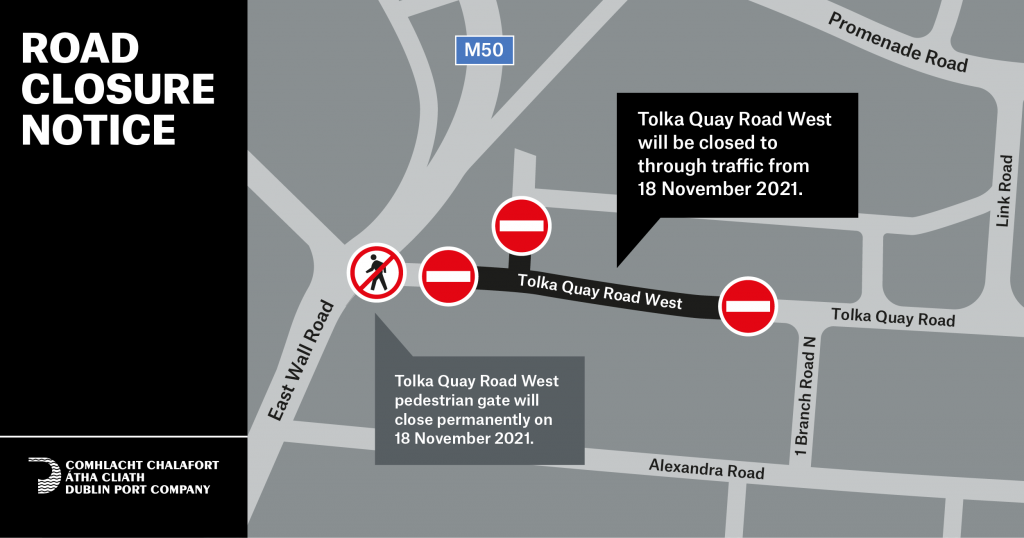 As part of the development of Terminal 4, the western end of Tolka Quay Road – from its junction with No. 1 Branch Road North to East Wall Road – will close on Thursday 18th November 2021. 
This closure to through traffic is permanent. There will no longer be pedestrian access to/from the East Wall Road pedestrian gate.
This closure is to facilitate construction works that will commence to provide a new check-in/out facility that will access the wider Terminal 4 via the newly constructed Alexandra Road Bridge.
Local access will be maintained and diversion routes will be clearly marked.
Should you have any queries in relation to Dublin Port's Masterplan works please do not hesitate to contact us:
Email: info@dublinport.ie
Phone: 01 8876000
We thank you for your cooperation and patience and apologise for any convenience these works may cause.