26 January 2022
TOLKA QUAY RD – CLOSURE OF EASTBOUND LANES – 27th January 2022
Following the opening of new Promenade Road extension on Wednesday 12th January 2022, Tolka Quay Rd Eastbound from Bond Drive to Terminal Rd will now close for construction works.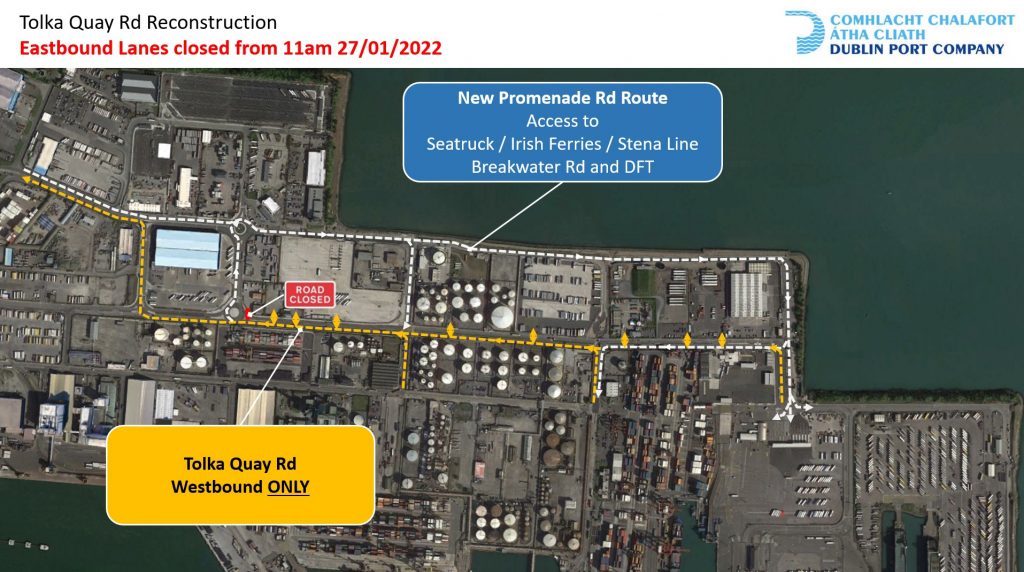 From 11am on Thursday 27th January 2022 there will be no eastbound access to Tolka Quay Rd from the Swept Bend Roundabout.
All traffic will be diverted via the new Promenade Rd route, access is maintained to all properties.
Traffic wanting to access Tolka Quay Rd will do so via Promenade Rd and Terminal Rd
Access to Breakwater Road for: Dublin Ferryport Terminals (DFT), the Oil Zone and Port Operations Centre will also be via Promenade Road.
Traffic heading for Terminal 1 (Irish Ferries), Terminal 2 (Stena Line), Terminal 5 (Seatruck) and Terminal Road will use Promenade Road.
Additional VMS sign boards and diversion routes will be posted this week in advance of the opening and any conflicting signage will be covered.
In case of emergency while traveling on any of these routes – please remain with your vehicle and contact Harbour Police / Port Security: 01 8876858
Should you have any queries in relation to the Dublin Port Roads Network upgrade works please do not hesitate to contact us:
Email: info@dublinport.ie
Phone: 01 8876000