8 June 2017
Spanish Navy on board world's third largest Tall Ship return to Dublin Port
90-year old Spanish Navy Vessel "Juan Sebastián de Elcano" open for public visit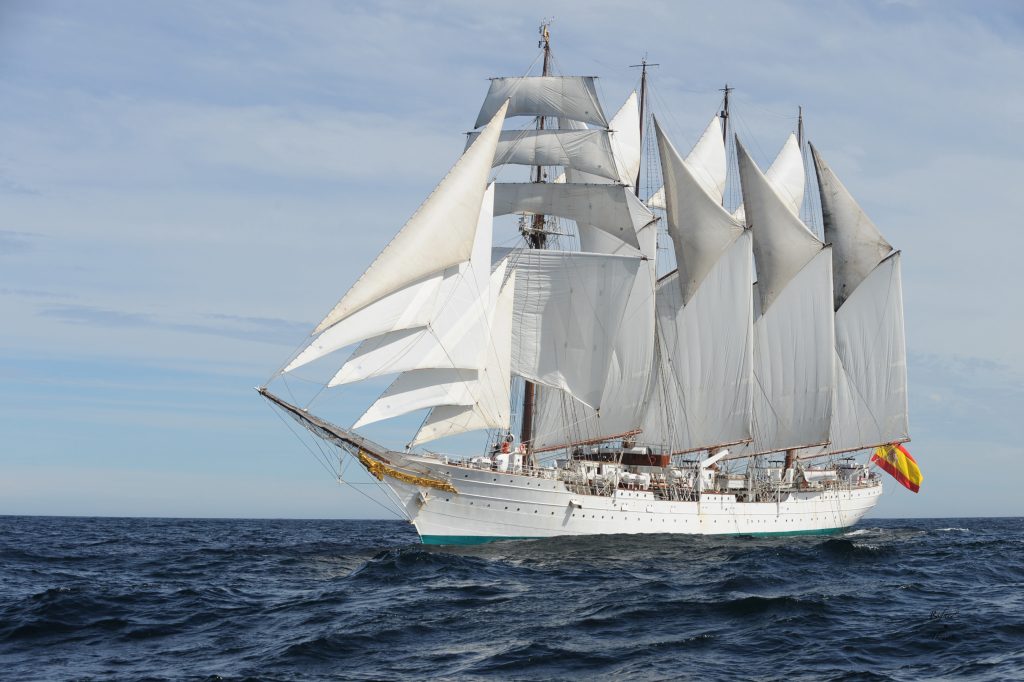 Wednesday, 7th June 2017: The Spanish Embassy in Dublin and Dublin Port Company have announced that one of the world's oldest and largest tall ships, the "Juan Sebastián de Elcano" will make a five-day visit to Dublin Port, arriving on Saturday, 10th June and departing on Thursday, 15th June. The 370-foot long, four-masted schooner is the world's third largest tall ship and one of the oldest tall ships still sailing.
The majestic steel-hulled schooner led by Captain Victoriano Gilabert will arrive in Dublin Port at 9am on Saturday carrying 245 crew on board. The ship is used as a training vessel for the Royal Spanish Navy, preparing its Officers for long periods at sea. King Felipe VI is among the Officers who have been trained on board the ship, which is named after Spanish explorer Juan Sebastián de Elcano, captain of Ferdinand Magellan's last exploratory fleet, and the first man to circumnavigate the globe.
While in Dublin, the crew will participate in a range of engagements to promote Spanish-Irish cultural exchange, including an open day for the public.
The ship will initially berth at Ocean Pier (no public access) in Dublin Port, before moving to Berth 18 beside the Tom Clarke Bridge, where she will be open to the public to visit free of charge on Wednesday, 14th June. Visitors are welcome to come and see first-hand the craftsmanship and young crew at work on board this stunning vessel.
Public Opening
Date:               Wednesday, 14th June
Time:               10.00 to 13.00 and 15.30 to 19.00
Location:         Berth 18 (beside Tom Clarke Bridge)
The ship, now on its 89th training voyage, departed from Cádiz (Spain) on March 12th and sailed to Santo Domingo (Dominican Republic) and New York. The ship then set sail across the Atlantic back to Spain and from the Port of Marín is now en route to Dublin Port. Built in Cádiz (Spain) and launched in 1927, the "Elcano" has visited over 197 ports in more than 70 countries, and of its 89 cruises to date, 10 have been round-the-world trips. Since its first voyage she has clocked up more than 1.8 million nautical miles.
The last time the "Elcano" visited Dublin Port was in June 2014. Her next ports of call include Den Helder (The Netherlands) and Antwerp (Belgium) before returning to Spain.
Eamonn O'Reilly, Chief Executive of Dublin Port Company, said: "Dublin Port Company welcomes the return of the Juan Sebastián de Elcano and her crew to Dublin Port. Dublin Port has a longstanding tradition of hosting visiting navy and sharing in the history and culture of other seafaring nations. The Elcano is one of the finest tall ships in the world, and her arrival is sure to capture the interest and imagination of people here, providing a unique opportunity to learn more about Spain's naval heritage."
His Excellency, José María Rodríguez Coso, Ambassador of Spain to Ireland, said: "The arrival to Dublin of the Elcano is an event of major importance and significance. The ship is a floating embassy, and the fact that Dublin has been chosen as a port of call symbolises the strength of the bilateral relations between Ireland and Spain."
Further information:
www.maec.es/embajadas/Dublin ("Noticias") /Twitter: @EmbEspDublin