28 May 2021
Port Days 2021 | Port Saint John | Port in the Community June 8th
Join Paula Copeland – Director, Communications & CSR, of Port Saint John alongside José M Pagés Sánchez – International Project Manager, AiVP, James Kelleher – Head of Special Projects, Port Heritage & Communications, Dublin Port Company and Lar Joye – Port Heritage Director, Dublin Port Company, on June 8th for a virtual conference all about the Port of the Future.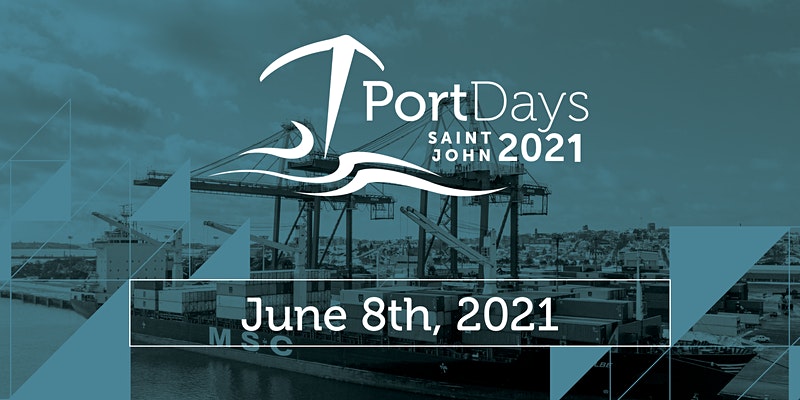 Discover how the strategic direction of Port Saint John and its partners are putting Saint John and New Brunswick on the map as a leading transportation hub. Not only will supply chain and infrastructure topics be covered, but community and tourism sessions will get you excited about what is to come in the region. Speakers are both local and international and will explore a holistic picture of the Port of the Future. 
Register for the event by clicking HERE. 
Session 1: 10:00 am – 11:30 am 
Session 2: 1:00 pm – 2:30 pm
Attendance is FREE.
PLEASE NOTE: Instructions and the link to join the live stream event will be sent to you the day before the event at the email you provide in your registration.
---
AGENDA
Opening Remarks & Welcome from Dignitaries
West Side Modernization Project & the Future Port
Panel: Port Saint John with Canadian National, Canadian Pacific, DP World, J.D. Irving Limited, Stewart McKelvey
Growth & Workforce Sustainability
Panel: Port Saint John with NB Post-Secondary Education Training & Labour, Envision Saint John
Panel: Port Saint John with DP World, Transport Canada Innovation Centre
Cruise in Post-Pandemic Times
Panel: Port Saint John with Ajamil & Partners Inc, Aquila Centre for Cruise Excellence
Speakers: Port Saint John with AiVP, Dublin Port Company
For more information on this event and the list of speakers, please CLICK HERE.