15 January 2020
New Stena Line ferry completes maiden voyage on Irish Sea
After more than six years' in planning and construction, Stena Line's newest ferry Stena Estrid started service on Monday January 13th on the Holyhead to Dublin route.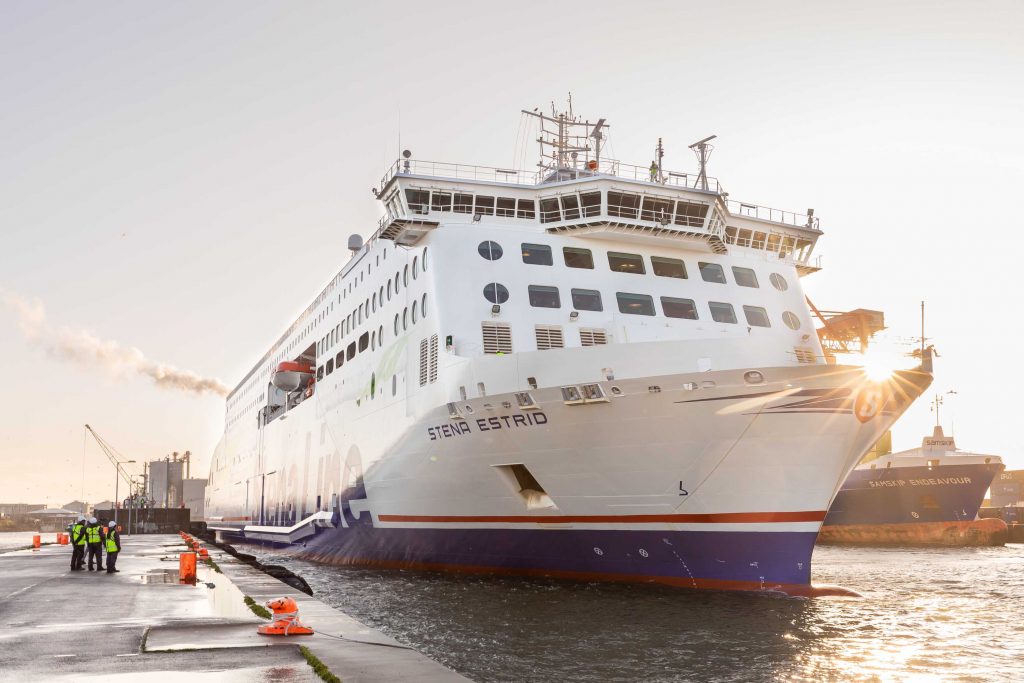 Setting s
ail from the Port of Holyhead and arriving in Dublin, Stena Estrid received a traditional maritime water cannon salute after braving the elements of Storm Brendan.
Described as one of the most modern ferries in the world, Estrid set sail again from Dublin Port to complete the first-round trip on her new Irish Sea home.
Stena Estrid will make two daily return trips on the route, with scheduled departures as below:
| | |
| --- | --- |
| Ex-Holyhead | Ex-Dublin |
| 08:55hrs | 14:50hrs |
| 20:30hrs | 02:15hrs |
A crossing time of three hours and 15 minutes is barely enough time for passengers to check out the range of excellent facilities on board, including Estrid's spectacular Sky Bar, two Happy World children's play areas, a relaxing Hygge reclining lounge, Stena Plus lounge, two movie lounges, bigger Truckers lounge, Taste restaurant, and a bigger better shopping experience.
Ian Davies, Stena Line's Trade Director (Irish Sea South), said: "Monday was a very significant day, not just for Stena Line but for the future of ferry travel on the Irish Sea, as we welcome Stena Estrid to her new home on the Irish Sea. Despite the best efforts of Storm Brendan Stena Estrid was able to fulfil her maiden voyage commitment albeit slightly delayed due to severe weather conditions on the Irish Sea.  
"The introduction of Stena Estrid on the Holyhead to Dublin route is the result of a very significant investment that reflects our commitment to this extremely important region – a commitment that will ultimately see three of the world's most modern ferries operating between Ireland and Britain.
"I'm proud that Stena Line continues to shape the industry for the next generation of freight and travel customers, for whom we are determined to deliver the best possible service. Stena Estrid will enable us to do this with more efficient loading and unloading operations, increased freight capacity and the best Scandinavian quality, style and design in our facilities -in an onboard environment that is spacious and light, with amazing panoramic views," he added.
"The Captain and crew have all been wowed by the new ship and we are sure that all of our customers travelling between Dublin and Holyhead will be similarly impressed," concluded Mr Davies.
Stena Estrid is the first of three new next generation ferries that will operate on the Irish Sea as part of a multi-million-pound investment by Stena Line in the region. Sister ship Stena Edda is expected to commence operations from Liverpool to Belfast this spring, with a third vessel Stena Embla to be introduced on the same route in early 2021.
At 215 metres in length, Stena Estrid is one of the most advanced vessels in operation and larger than today's standard RoPax vessels, with space to carry 120 cars and 1,000 passengers, and a freight capacity of 3,100 lane meters, meaning a 50 per cent increase in freight tonnage. 
STENA ESTRID FACTS
The name Estrid is connected to Stena Line's Scandinavian heritage. It is an Old Norse eastern-Nordic version of the name Astrid. Estrid is commonly found on old runestones and means 'divinely beautiful'.
| | |
| --- | --- |
| Builder | AVIC Weihai Shipyard Co (Weihai, China) |
| Type | Ro-Pax ship |
| Ferry route / homeports | Dublin-Holyhead |
| Operator | STENA LINE |
| Speed | 22 kn / 41 kph / 25 mph |
| Length (LOA) | 215 m / 705 ft |
| Beam (width) | 28 m / 92 ft |
| Gross Tonnage | 41,671 gt |
| Lane Metres | 3,100 |
| Passengers | 1,000 |
| Cars | 120 |
| Freight vehicles | 210 |
| Cabins | 175 |
Stena Line is the largest ferry operator on the Irish Sea, offering the biggest fleet and the widest choice of routes between Britain and Ireland including Holyhead to Dublin, Fishguard to Rosslare, Cairnryan to Belfast, Liverpool to Belfast, and Heysham to Belfast routes, a total of 232 weekly sailing options. Stena Line also offers a direct service between Rosslare to Cherbourg with three return crossings a week.
The above information, content & images was kindly provided to Dublin Port Co. for publication on dublinport.ie by Stena Line UK & Ireland.