10 January 2022
Reminder: Promenade Road Extension Opening – 12th January 2022
As notified prior to Christmas, the main Port entry route will change to Promenade Rd which will see an extension of the road open to traffic on Wednesday 12th January 2022.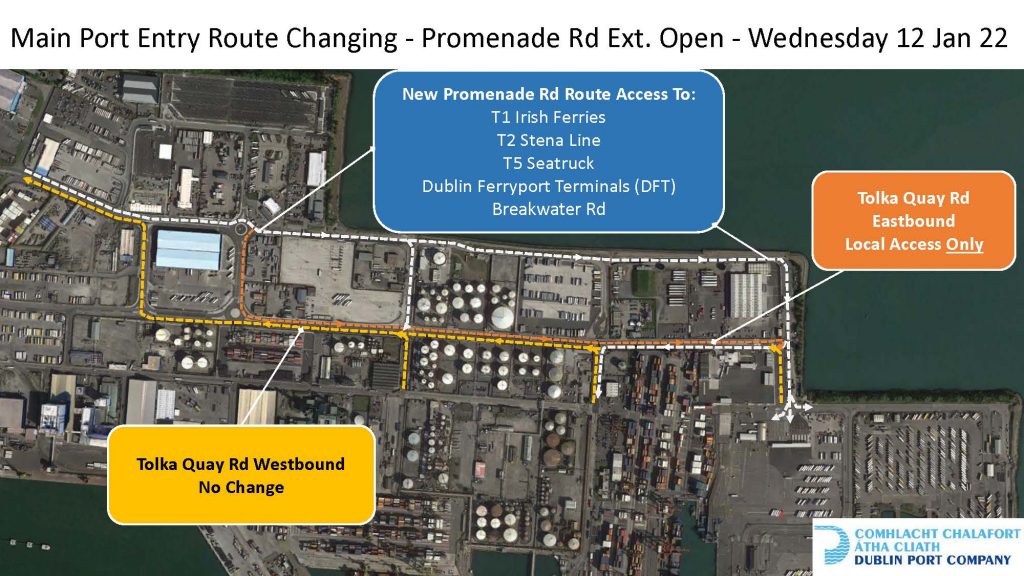 All Port traffic should use the new Promenade Road route for access to:
🚢 Terminal 1 – Irish Ferries, Terminal 2 – Stena Line, Terminal 5 – Seatruck
🚢 Dublin Ferryport Terminals (DFT), Eucon, the Oil Zone and Port Operations Centre
This will see the eastern end of Tolka Quay Rd close, with the roundabout still available for use. Works will then commence on the removal of sections of median on Tolka Quay Rd, local lane restrictions will apply.
Local eastbound access on Tolka Quay Rd will be maintained
Additional VMS sign boards and diversion routes will be posted in advance of the opening and any conflicting signage will be covered.
Other works continuing in the Port:
JPD Civil are continuing works on Alexandra Road, east of the N02 Branch Road North Junction
RBK retain construction access and lane restriction on Terminal Road.
RBK will commence works on the removing a section of wall at the new access Road adjacent to Port Centre, local pedestrian diversions will be in place.
RBK continue works to provide new access control gates at the Common User Area on Coal Quay, southside of the Port.
In case of emergency while traveling on any of these routes – please remain with your vehicle and contact Harbour Police / Port Security: 01 8876858
Should you have any queries in relation to the Dublin Port Roads Network upgrade works please do not hesitate to contact us:
Email: info@dublinport.ie
Phone: 01 8876000