29 March 2019
New Brexit Buster sister ship "MV Laureline" expands Dublin Port's direct route cargo sailings to Europe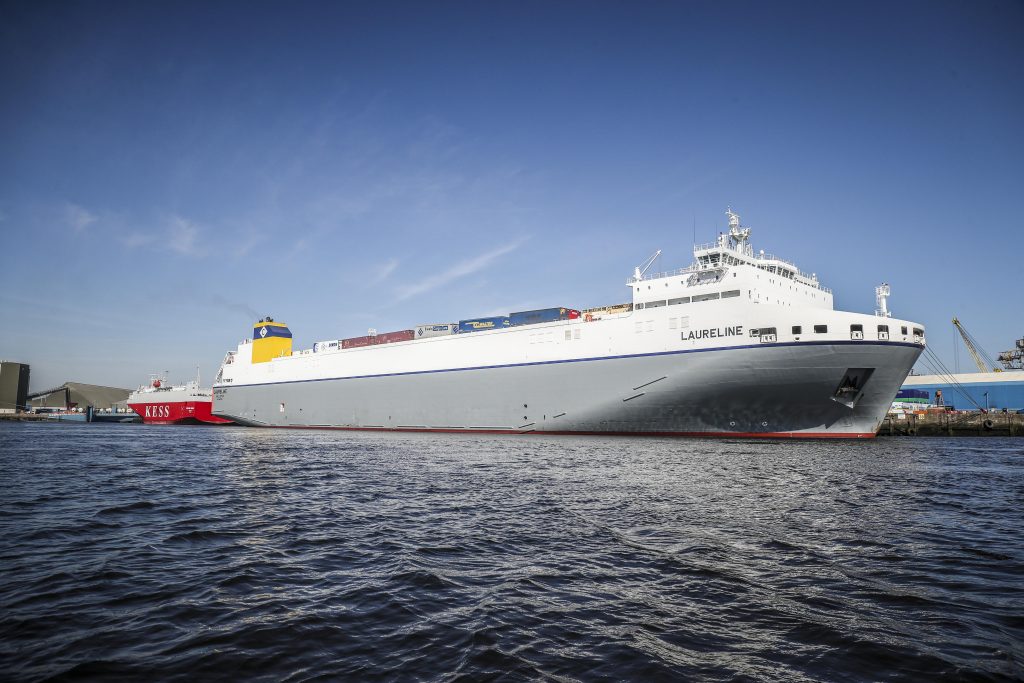 Dublin Port today announced that CLdN, the Luxembourg-based short-sea Ro-Ro shipping company and owner of the "Brexit Buster" MV Celine, has added its newly built ship "MV Laureline" onto its direct Ro-Ro freight service from Dublin Port to the Continental European ports of Zeebrugge and Rotterdam. After MV Celine, the MV Laureline is now the second biggest freight ferry to service Dublin Port. Having arrived on her maiden call overnight, she is expected to depart Dublin Port later today, Friday 29th March 2019 for the port of Zeebrugge.
The move will see CLdN's service increase in total capacity by 20%, bringing the total possible number of direct sailings weekly offered by CLdN between Dublin Port and Continental Europe to seven. Operating out of Alexandra Basin, CLdN accounts for 40% of all units moved between Dublin Port and Continental Europe.
Departing Dublin Port on the original "Brexit Day" of March 29th, the ship offers additional capacity to customers needing direct shipping routes between Dublin and Continental Europe and is the latest addition to the CLdN fleet. Built in Ulsan, South Korea, the MV Laureline is the third new ship generation in the CLdN fleet to enter service in Dublin Port, following the MV Mazarine in 2010 and the MV Celine in 2018, both of which were christened in Dublin.
| | | | |
| --- | --- | --- | --- |
| CLdN Ship | Entered Service in Dublin Port | Capacity | Ship Length |
| MV Mazarine | 2010 | 2,900 lane metres | 195 metres |
| MV Celine | 2018 | 8,000 lane metres | 226 metres |
| MV Laureline | 2019 | 5,400 lane metres | 217 metres |
Dublin Port's Alexandra Basin Redevelopment (ABR) Project broke ground in 2016 and has already delivered the first of new berths in time to accommodate expanding freight services on the next generation of super ferries. Ships such as MV Celine and MV Laureline would not be able to call to Dublin had the ABR Project not already commenced. The remainder of the works to redevelop two kilometres of existing berths in Alexandra Basin and deepen the approach channel to Dublin Port is due for completion in 2023.
Eamonn O'Reilly, Chief Executive, Dublin Port Company, said:
"The arrival of Laureline at Dublin Port is further evidence of the shipping industry responding to market demand with Brexit upon us. It is a vote of confidence by CLdN in expanding its Dublin service so soon after the introduction of Celine and is mirrored by other significant customer investments such as Irish Ferries' new ship W.B. Yeats servicing both freight and passenger demand between Dublin and Cherbourg.
We anticipate that demand for direct services between Dublin Port and Continental Europe will increase further after Brexit. As it stands, two and half times more goods already move on direct routes from Dublin than via the UK landbridge. We're increasingly seeing cargo such as fast-moving consumer goods, temperature-controlled foodstuffs and goods previously distributed from UK distribution centres moving on direct services such as these.
The combination of Brexit and the huge growth in cargo volumes in Dublin Port (36% in six years) is an enormous challenge.  However, the ambitious port development programme we commenced with the ABR Project is enabling us to meet this challenge.  Looking forward, we will continue to expand capacity in Dublin Port guided by Masterplan 2040 with €1 billion to be invested in the next ten years alone."
A representative of CLdN, said:
"As a company we have taken a long-term view on Dublin Port and invested accordingly. Our next generation of Ro-Ro vessels, MV Celine and now MV Laureline, are testament to that commitment. Since entering the Dublin market mid-recession in 2009, we have grown our direct services from Dublin Port to some seven weekly calls to Zeebrugge and Rotterdam. We believe we are ideally positioned to develop this trade further as a direct alternative to the UK landbridge. Customers want certainty on consignments that can travel on direct routes, even if that means a slower journey time, and our newest addition Laureline is now in place to meet growing demand."  
CLdN currently operates 27 Ro-Ro vessels, offering more than 130 weekly sailings between the ports of Zeebrugge, Rotterdam, London, Killingholme, Dublin, Gothenburg, Esbjerg, Hirtshals, Santander, Porto, Flushing and Dagenham.