29 June 2023
New Book launched: "Dublin Port Chief Engineers" – Dr Ronald Cox explores life & works of Bindon Blood Stoney & John Purser Griffith
Previously unseen images from Dublin Port Archive feature in book published by Dublin Port Company 
Tuesday, 27th June 2023. Engineers, historians, retired dockers and port workers gathered at Dublin Port for the launch of a new book last evening called "Dublin Port Chief Engineers", published by Dublin Port Company and written by Dr Ronald Cox, Engineering Historian and Visiting Research Fellow in the Department of Civil, Structural & Environmental Engineering at Trinity College Dublin.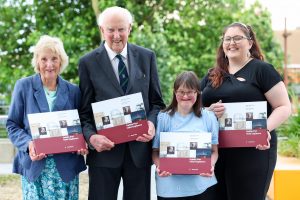 "Dublin Port Engineers" navigates the story of two of Dublin Port's most pioneering port engineers in recent decades, Bindon Blood Stoney (1828-1909) and John Purser Griffith (1848-1938). This beautifully presented publication is the culmination of detailed research undertaken by Dr Cox over many years into the lives and illustrious work of both engineers, and draws on a trove of maps, images, and information held in Dublin Port's 300-year-old archive to tell their story.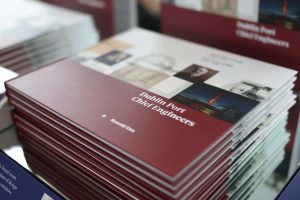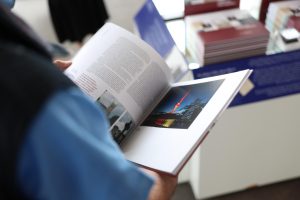 Bindon Blood Stoney was Dublin Port Engineer from 1862 to 1899 and the modern city of Dublin along the River Liffey reflects his engineering prowess in the bridges and quay walls he built using his wonderful Diving Bell, better known today as Dublin's smallest museum on Sir John Rogerson's Quay.  
When John Purser Griffith, who served as Bindon Blood Stoney's assistant for 27 years before becoming his successor as Chief Port Engineer, took over he would go on to champion the city and the port, still a key strategic objective of the modern Dublin Port Company today. 
From 1899 to 1909 John Purser Griffith helped to modernise Dublin Port, reconstructing the North and South quays, electrifying the cranes with the port's own power station and reorganising dredging operations with a new modern suction dredger, The Sandpiper.  
Lar Joye, Port Heritage Director, Dublin Port Company, said:  
"Our thanks and credit to Dr Ronald Cox whose meticulous research has resulted in such a wonderful addition to public understanding of Dublin Port and the City of Dublin. It's amazing to think that in 1990, Dr Cox was commissioned by the then Dublin Port & Docks Board to compile a biographical sketch of Bindon Blood Stoney as one of the most illustrious engineers ever associated with Dublin Port's history. Today, some 30 years later, we are continuing to learn about their transformative work and we are privileged to have helped bring Dr Cox's work to life with the addition of previously unseen photographs from the Dublin Port Archive. That in itself feels like history in the making. 
"I wish to pay tribute to the late Gerald Daly (1928-1998), then Honorary Archivist to the Dublin Port & Docks Board. At that time, access to the letters and other archival material in the Board's possession was undoubtedly made all the easier due to Gerry's tireless efforts to secure such information, and I think it's fair to say that no query went unanswered for long. 
"I also want to mention the late Niall Dardis. When Gerry was retiring, he couldn't think of anyone better suited to the stewardship of the Dublin Port archive than Niall, who was a former draughtsman before retiring in 1992. When Gerry approached Niall, he couldn't say no and took on the role of Honorary Archivist with great enthusiasm and skill." 
Dr Cox is a Member of the Institution of Civil Engineers, a Fellow of the Institution of Engineers of Ireland, a Fellow of the Irish Academy of Engineering, and a Member of the American Society of Civil Engineers. Recent books include Ireland's Bridges (2003), Engineering Ireland (2006), Ireland's Civil Engineering Heritage (2013), Called to Serve (2013) and Called to Serve Two (2019).  
"Dublin Port Chief Engineers" is available to purchase from Wordwell Books HERE.