30 August 2019
Majestic Mexican Tall Ship "Cuauhtémoc" is Dublin Port bound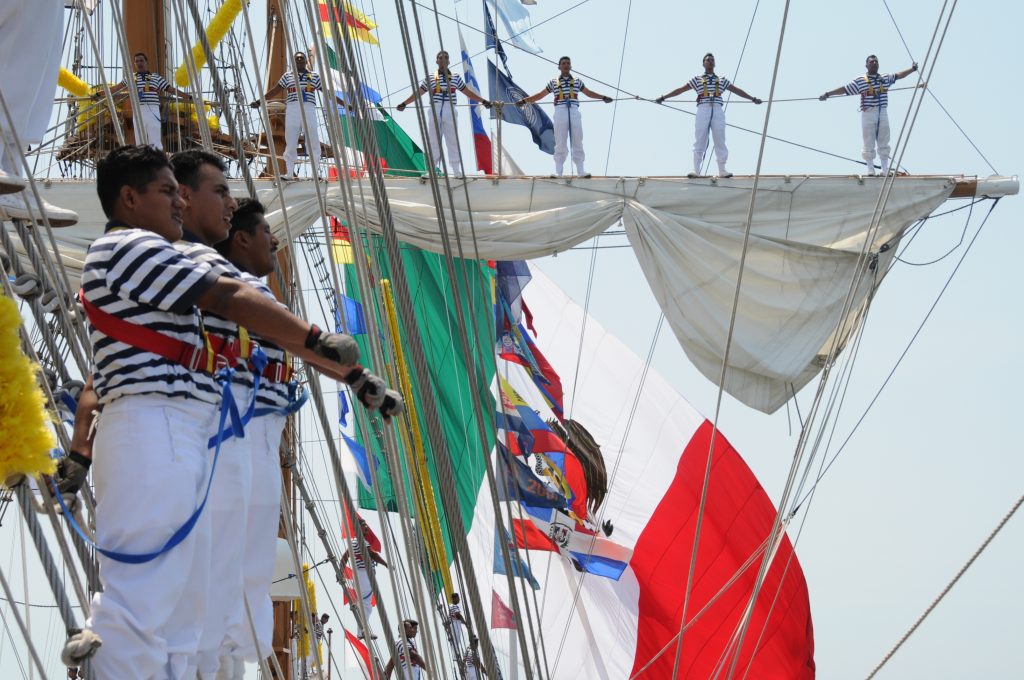 Dublin Port Company and the Mexican Embassy in Dublin have announced that one of the world's largest Tall Ships, the 270-foot-long Cuauhtémoc will sail into Dublin on Thursday, 5th September 2019 for a five-day visit to the capital before departing again on 10th September 2019.
The majestic vessel will be met by Dublin Port's tugboats Shackleton and Beaufort in a ceremonial escort to mark the ship's arrival in Dublin Bay next Thursday, accompanying her to Sir John Rogerson's Quay where she is due to berth at 11am.
Arriving from Hamburg, Dublin is the second-last stop on the ship's 250-day training voyage of Northern Europe involving visits to 15 ports in 10 different countries (Canada, United Kingdom, France, Netherlands, Denmark, Norway, Germany, Ireland, Spain and Colombia).
Led by Commanding Officer Captain Carlos Gorraez Meraz, the Cuauhtémoc is an official sail training vessel of the Mexican Navy which travels around the world carrying a message of friendship and goodwill. This will be the Cuauhtémoc's fifth visit to Irish waters since her maiden call in 1998. She subsequently visited the capital in 2008, in 2012 as part of the Tall Ships festival and again in 2015.
In keeping with the tradition of hospitality and friendship, the Cuauhtémoc will be open to the general public to visit, for free, on the following dates and times:
Friday, 6th September, from 11.00am to 8.00pm
Saturday 7th September, from 11.00am to 8.00pm
Sunday 8th September, from 11.00am to 8.00pm
Monday 9th September, from 11.00am to 8.00pm
Members of the public will be able to see up close members of the 257-strong crew at work and inspect the fine craftsmanship of the vessel which has trained more than thirty generations of officers, cadets, petty officers and sailors, both Mexican and other nationalities.
Commenting ahead of the tall ship's visit, The Ambassador of Mexico to Ireland, H.E. Miguel Malfavón said; "For over 40 years, Mexico has enjoyed excellent diplomatic relations with Ireland built on a shared sense of history and strengthening cultural, academic and trading ties in the present day. The arrival of the Cuauhtémoc reminds us of the affinity and friendship that exists between our two nations and symbolises the hand of friendship from Mexico to Ireland. For most of the crew on board, it will be their first visit to Ireland, marking a new generation of Mexican-Irish exchange."
Encouraging members of the public to visit over the weekend, Eamonn O'Reilly, Chief Executive, Dublin Port Company, said; "Tall Ship visits to Dublin are always a highlight, and the Cuauhtémoc is no exception. This is a spectacular vessel and one of the finest working tall ships at sea today. I would encourage people in the city to take a trip down to Sir John Rogerson's Quay and explore the Cuauhtémoc over the weekend. She brings a little piece of Mexico to our doorstep and it's an opportunity not to be missed."
Built in the Celaya shipyards in Bilbao, Spain, the Cuauhtémoc was launched in July 1982. She was the last of four windjammers built by Bilbao shipyards and is named after the last Aztec Emperor who was imprisoned and executed by the conquistador, Hernán Cortés, in 1525.