26 October 2018
Irish Wildlife Trust & Dublin Port launch new Biodiversity Awards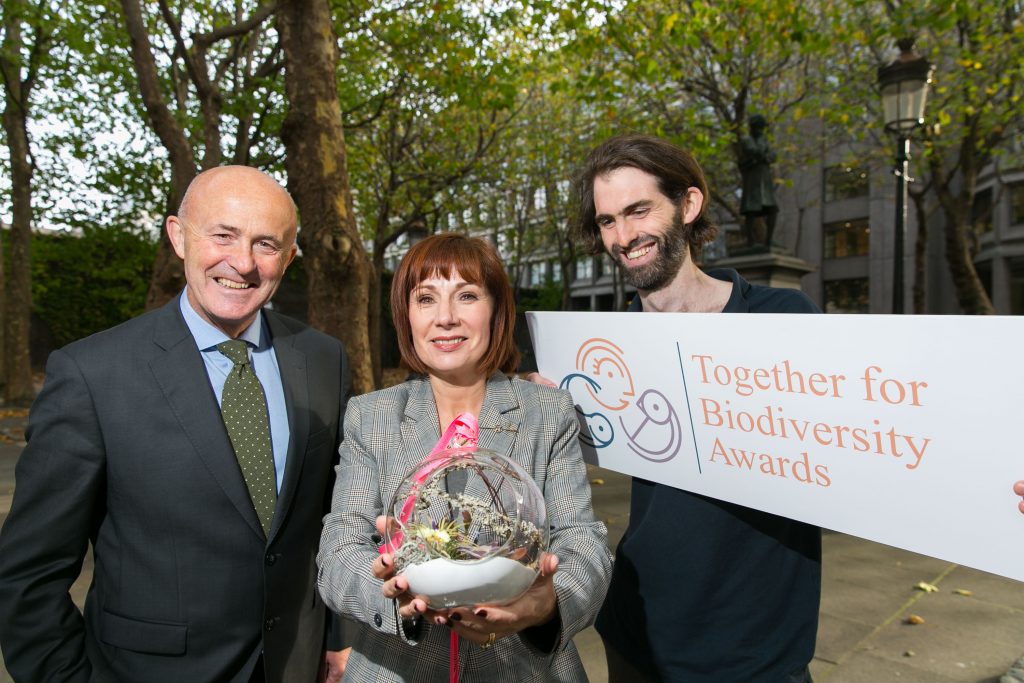 Calling on community groups, farmers, schools and individuals to enter now
25th October 2018. The Irish Wildlife Trust and Dublin Port Company today launched the Together for Biodiversity Awards with the Minister for Culture, Heritage & the Gaeltacht, Josepha Madigan, T.D.
The awards are being run by the Irish Wildlife Trust, as part of the National Biodiversity Conference (www.biodiversityconference.ie), and supported by Dublin Port Company. This is the first Irish awards programme of its kind dedicated solely to recognising and funding biodiversity champions in our society.
The Irish Wildlife Trust is now calling on community groups, schools, farmers and individuals to enter the Together for Biodiversity Awards, have their work recognised and be in with the chance to win funding for future biodiversity projects.
The Together for Biodiversity Awards are an opportunity to celebrate the fantastic work carried out by communities across Ireland to protect our natural environment. Individuals and communities all over Ireland are doing their bit to help save biodiversity through local projects.
Have you or your community been involved in a project to help protect local wildlife or habitats this year? Perhaps you planted a school wildlife garden, made your village more pollinator friendly or helped protect a local wetland. If so, all you have to do to enter is tell us about the work you carried out and how it helped your local biodiversity.
There are categories for community groups, farmers, schools and individual biodiversity champions. Finalists from each category will be invited to the National Biodiversity Conference in February to highlight their work. Winners will be announced at the conference with a prize of €2,000 for each category winner.
The Together for Biodiversity Awards are part of the National Biodiversity Conference, which takes place at Dublin Castle on 20th and 21st February 2019. The National Biodiversity Conference is being organised by the National Parks and Wildlife Service and the Irish Forum on Natural Capital.
For more details on how to enter the awards visit iwt.ie/biodiversity-awards.
Minister for Culture, Heritage & the Gaeltacht, Josepha Madigan, T.D., said: "The 'Together for Biodiversity Awards' are a fantastic opportunity to celebrate the wealth of work being done at local level to protect wildlife and create and restore habitats across Ireland. By inviting nominees to present their work at the National Biodiversity Conference and announcing the winners at the event, we are ensuring that the voices of community groups are represented at this major national conference. We are delighted to partner with Dublin Port Company and the Irish Wildlife Trust on this collaborative initiative and I look forward to meeting the nominees and hearing about their efforts to enhance Ireland's biodiversity."
Kieran Flood, Coordinator, Irish Wildlife Trust, said: "Through our work at the Irish Wildlife Trust, we are constantly meeting communities and individuals who are striving to protect their local wildlife. It is only with the help of local biodiversity champions that will we have a chance of halting biodiversity loss in Ireland, so we are delighted to be celebrating their efforts through the Together for Biodiversity Awards."
Eamonn O'Reilly, Dublin Port Company, said: "Dublin Port Company is delighted to sponsor the Together for Biodiversity Awards. The port is not only a hive of activity for ships, containers and cranes, but also home to an array of birds, marine life, flora and fauna that form part of the Dublin Bay biosphere. We are committed to working with a range of organisations and conservationists to better understand and protect our natural environment, and we know that there are countless groups and individuals with the same ambition. The awards will shine a light on those doing brilliant work to protect biodiversity right around the country and help support future projects too."