22 April 2021
Irish Nautical Trust launches "Liffey Sweeper" to clean capital's rivers
Environmental vessel operational four days a week collecting debris & data
The Irish Nautical Trust has launched the "Liffey Sweeper", a new environmental vessel designed to collect large amounts of non-natural debris such as plastic, cans and bottles from the city's waterways.
The newest addition to Dublin's nautical fleet is part of the River Liffey Cleaning Project, the brainchild of Irish Nautical Trust Director Jimmy Murray, whose ambition is to remove all floating debris from the Liffey, the Dodder and the Tolka estuary.
"This is an ecological and environmental development research project which has been designed over the last two years to help prevent the accumulation of all non-natural debris such as plastics, cans and disposable coffee cups, and to stop it getting into the sea and the Dublin Bay biosphere, where it affects marine wildlife", explains Jimmy Murray.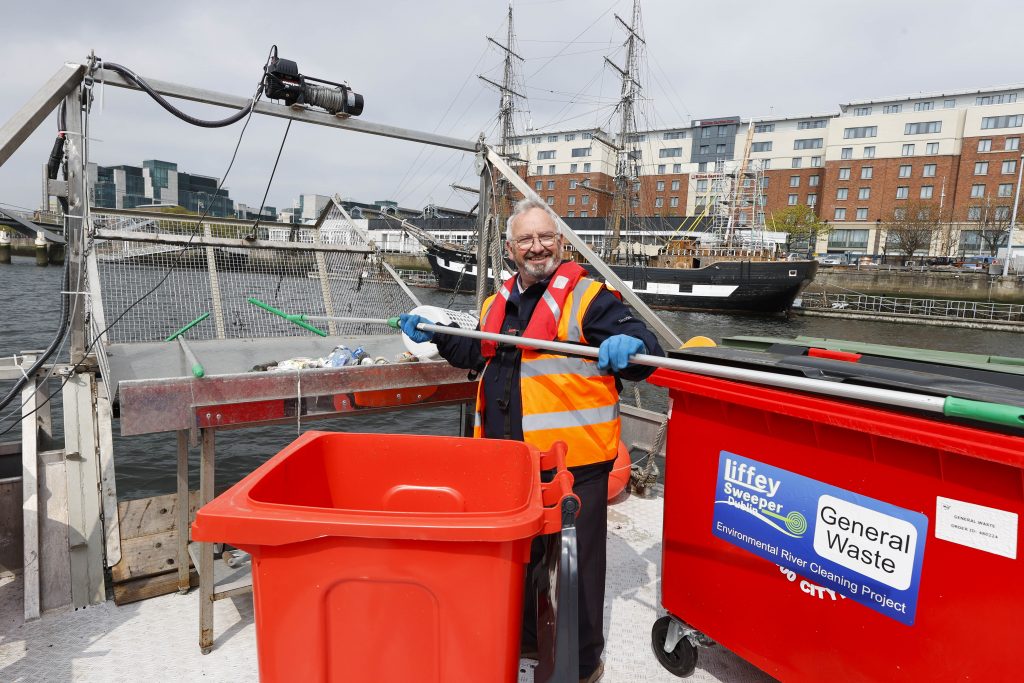 The Liffey Sweeper will initially operate four days a week, sweeping from the upper part of the River Liffey at Butt Bridge to the mouth of the River and Clontarf area, including the basins and all the shipping berths within Dublin Port.
Fitted with a deep cage, the Liffey Sweeper is able to catch a range of material from the water, including floating plastic and debris just below the surface. Once lifted from the water, debris is separated and sorted into designated recycling bins and the balance of the assorted materials, i.e. that which cannot be recycled, is removed by a licenced contractor for treatment before disposal at the Covanta Waste to Energy Treatment Plant on Poolbeg, while any organic matter collected is returned to the water.
Its launch follows a successful grant of €180,000 from the Dublin Waste to Energy Community Gain Projects Grant Scheme which enabled the Irish Nautical Trust to purchase the former environmental vessel from the UK. The pilot project is further supported involving collaboration between the Irish Nautical Trust, Dublin Port Company, University College Dublin, School of Biology and Environmental Science, Dublin Waste to Energy/Covanta, and Dublin City Council. The Irish Nautical Trust are currently part of Google's Employment Task Force which works with a wide range of local community groups and have also approached Google as a potential partner for the project.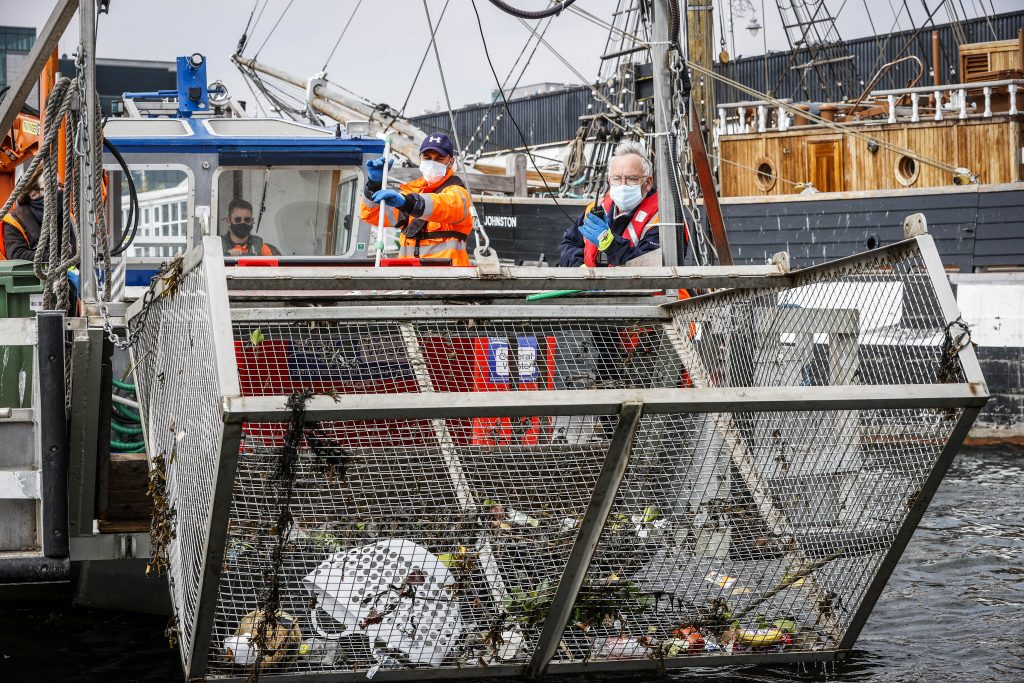 The launch coincides with Earth Day 2021, which continues its focus on the ongoing climate emergency, with events taking place virtually due to Covid-19 between April 20th-22nd. This year's theme of "Restore Our Earth" sees Jimmy and the Liffey Sweeper urging people to leave no trace while enjoying the amenities of Dublin Bay.
"We've noticed more disposable coffee cups, plastic bottles and food packaging appearing in the River during lockdown. With bank holiday weekends and the summer months approaching, I would really encourage people to plan ahead and be prepared to bring your rubbish home. Everyone's contribution adds up and can make a difference", said Jimmy Murray. 
"We call it the river that never sleeps. Every six hours, the tide changes and even while we are asleep, whatever is coming down the Liffey will float down and out to sea or else get caught up around port berths, slipways, steps and other areas where it can get trapped. Our goal is to prevent that from happening by gathering enough data on the debris in the water to put together a programme to prevent any debris entering the Dublin Bay Biosphere."
"This project is badly needed," Jimmy concludes. "The Liffey is an extension of the streets; a lot of the waste that is on the city's streets ends up in the river, whether it is thrown in or blown in by nature and being carried out to sea. This project is a win for the environment, the beaches, the wildlife and the local communities, in terms of cleaning them up and hopefully creating employment with an expanded programme in the near future."