20 April 2022
Dublin Port Volumes up 13.7% in First Quarter of 2022
Unitised trade with GB

recovers

strongly

(+23

.0

%

)

while unitised

trade

with EU

countries continues to grow

(+

1.8

%

).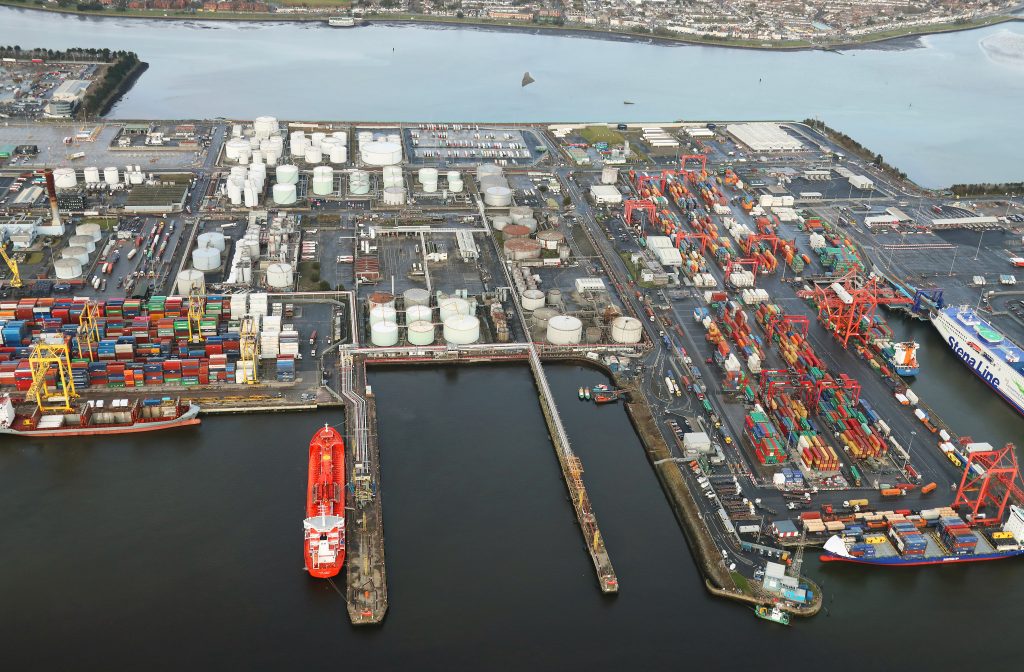 Dublin Port Company has today reported trading figures for the first quarter of 2022.
Against the background of a large decline in Q1 2021 because of Brexit (15.2%), Dublin Port's volumes recovered strongly in Q1 2022 with growth of 13.7% to 8.9 million gross tonnes compared to same period in 2021:
Imports

from January to March grew by +14.2% to

5.4 million gross tonnes

.

Exports

also grew, by 12.8% to

3.5 million gross tonnes

.
Unitised trade (Ro-Ro and Lo-Lo) accounted for 82% of all cargo volumes in the quarter and the number of trailers and containers combined increased by +13.3% to 363,000 units. Within this, there was a strong recovery in RoRo with growth of 22.9% to 250,000 units. This was partly offset by a decrease in LoLo of -3.5% to 112,000 units (equivalent to 202,000 TEU).
While overall unitised volumes grew to 363,000 units, trends were very different geographically:
Ro-Ro and Lo-Lo to and from ports in the

Cherbourg to Rotterdam

range increased by +1.8% to

152,000 units
Unitised volumes (mainly Ro-Ro) to and from the GB ports of

Holyhead, Liverpool and Heysham

grew by 23.0% to

192,000 units

Ro-Ro and Lo-Lo with other

EU ports and with non-EU ports

in the Mediterranean increased by +26.4% to

19,000 units

.
Elsewhere in Dublin Port's unitised trades, imports of new trade vehicles declined by 8.0% to 25,000 units as land constraints continue to impact the port's transit storage capacity.
Bulk Liquid imports of petroleum products returned to the pre-pandemic record levels of 2019 with strong growth of +20.2% to 1.1 million tonnes emphasising Dublin Port's importance as a national energy hub.
Bulk Solids (including agrifeed products, ore concentrates and cement products) finished the quarter +8.0% ahead at 0.6 million tonnes.
Outside of Dublin Port's cargo business, passenger and tourism volumes have partially recovered post-pandemic. Passenger numbers on ferries (including HGV drivers) increased by more than 150% to 209,000 while tourist vehicles more than doubled to 58,000 (+238%).
However, both passenger numbers (-23%) and tourist vehicle volumes (-29%) remain significantly behind their pre-pandemic levels of 2019.
Commenting on the Q1 2022 figures, Dublin Port's Chief Executive, Eamonn O'Reilly, said:
"Given that the first quarter of 2021 was very weak in the wake of Brexit – with overall cargo volumes back by -15% – we anticipated, and, duly saw, a strong recovery of +14% in the first quarter of the year to nine million gross tonnes.
"Dublin Port accounts for four-fifths of all trailers and containers handled in ports in Ireland and, in the first quarter of 2022, volumes grew strongly by +13% to 363,000 units.
"This recovery was driven, in large part, by the +23% growth to 192,000 units in freight volumes on services to the ports of Holyhead, Liverpool and Heysham. However, volumes on these routes are still -18% below their pre-Brexit levels
"Elsewhere, volumes of trailers and containers on services to the EU and beyond – which had increased by +18% last year – grew in the first quarter of 2022 by a further +2% to 171,000 units.
"Imports of petroleum through Dublin Port account for nearly one-third of all of the country's energy needs and, in the first quarter, volumes of petrol, diesel and other fuels increased by one-fifth.
"Dublin Port's last record year was 2019 and volumes in the first quarter of this year were
-8% lower than they had been three years ago. The level of growth we are now seeing at the start of 2022 suggests that record throughput levels will again be seen by 2023 or 2024. This growth maintains the pressure on us to continue to deliver our large capital programme at pace. This will not be easy against the background of high inflation which is particularly evident in the construction sector."
Q1-2022 Trade Results
Overall volumes ('000 gross tonnes)
| | | | |
| --- | --- | --- | --- |
| Imports | 5,426 | 4,750 | 14.2% |
| Exports | 3,499 | 3,103 | 12.8% |
| Total | 8,926 | 7,853 | 13.7% |
Unitised trade
| | | | |
| --- | --- | --- | --- |
| Ro‑Ro units | 250,324 | 203,729 | 22.9% |
| Lo‑Lo units | 112,408 | 116,498 | -3.5% |
| Total units | 362,732 | 320,227 | 13.3% |
| | | | |
| --- | --- | --- | --- |
| Lo‑Lo TEU | 202,162 | 206,594 | -2.1% |
| Trade Vehicles | 24,602 | 26,735 | -8.0% |
Bulk trade ('000 tonnes)
| | | | |
| --- | --- | --- | --- |
| Bulk Liquid | 1,065 | 886 | 20.2% |
| Bulk Solid | 556 | 514 | 8.0% |
| Break Bulk | 13 | 22 | -38.4% |
Ferry traffic
| | | | |
| --- | --- | --- | --- |
| Passengers* | 208,182 | 82,476 | 153.6% |
| Tourist vehicles | 57,800 | 17,091 | 238.2% |
Shipping activity
| | | | |
| --- | --- | --- | --- |
| Number of arrivals | 1,717 | 1,714 | 0.2% |
* Includes HGV drivers