15 July 2021
Dublin Port volumes recover in strong Q2 – now down just -2.1% after six months
Q2 growth of +16.5% in unitised cargo a sign of economic recover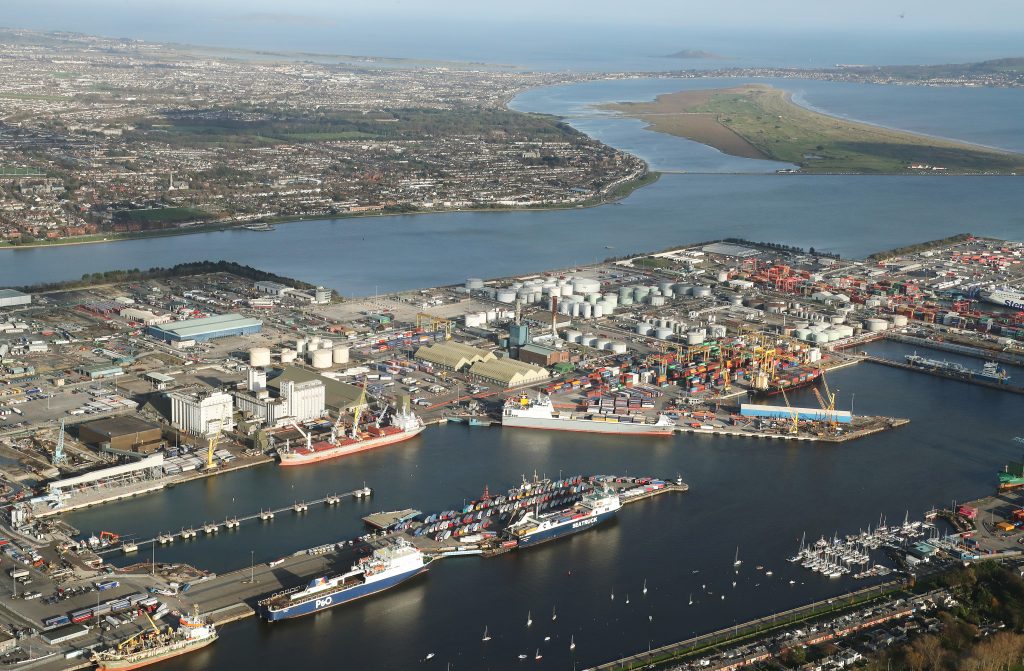 Dublin Port Company has today reported trading figures for the second quarter of 2021 and for the first half of the year.
Following a weak first quarter, (when volumes declined by -15.2% in the first three months after Brexit), there was a +13.1% increase to 9.0 million gross tonnes in Dublin Port's volumes for the second quarter of 2021 compared to the same period in 2020. After six months, volumes are now only -2.1% behind last year.
Imports from April to June increased strongly by +20.3% to 5.4 million gross tonnes while exports grew by 3.7% to 3.5 million gross tonnes.
Unitised trade (Ro-Ro and Lo-Lo) accounted for 84% of all cargo volumes in the quarter and the number of trailers and containers combined increased by +16.5% to 374,000 units. Within this, Ro-Ro increased by +12.4% to 253,000 units while Lo-Lo grew by 26.2% to 121,000 units (equivalent to 220,000 TEU).
The strong growth in the second quarter brings Dublin Port's unitised volumes (Ro-Ro and Lo-Lo) to 692,000 units for the first half of the year, +1.6% ahead of 2020.
As a sign of increased economic activity, new vehicle imports in the second quarter more than doubled to 22,000 units and Bulk Liquid imports (mostly petroleum products) increased by +34.4% to 969,000 tonnes.
Imports and exports of Bulk Solid commodities grew by +22.3% to 474,000 tonnes in the three months from April to June.
Passenger and tourist volumes on ferries also showed signs of growth with passenger numbers (including HGV drivers) ahead by +41.0% to 125,000 and tourist vehicles up by +26.0% to 30,000 in the quarter.
Although volumes recovered strongly during the second quarter of 2021, cargo throughput in the first half of the year is still behind where it was before Brexit and pre-pandemic.
While volumes after six months are down by just -2.1% compared to 2020, they are -12.7% lower compared to the record levels of 2019. Within the overall volume figures, unitised trade is still -7.4% lower than it was two years ago.
Commenting on the Q2 2021 figures, Dublin Port's Chief Executive, Eamonn O'Reilly, said:
"As each month goes by, the negative impact of the exceptionally weak start to the year post Brexit is being reduced. In the circumstances, a decline of just -2.1% after six months is not too bad a performance. However, we remain nearly -13% behind where we were in the record year of 2019.
"The effects of Brexit on the pattern of trade through Dublin Port are now becoming clearer with very strong growth of 40% on Ro-Ro and Lo-Lo services to Continental European ports compared to a decline of -19% on services with ports in Great Britain. As a result, our unitised volumes are now split 50/50 between GB ports and ports in Continental Europe. Before Brexit, GB ports accounted for almost two-thirds.
"Border inspections on imports from GB are operating very efficiently with no queuing or significant delays. On average only three trailers are being called for some form of physical inspection on each ferry that arrives. While volumes on services from Holyhead are some way behind where they were last year, there are clear signs that the landbridge is being re-established and we anticipate the steady recovery we are seeing in GB Ro-Ro volumes to continue.
"With much higher growth on direct services to Continental Europe, the proportion of unitised loads which are driver accompanied has dropped from 23% to just 17% in the first half of the year. This effect – taken together with the loss of 14.6 hectares (20 football pitches) for border inspection facilities – is putting increased pressure on port capacity, particularly in the western end of the port where works are continuing to complete Ireland's largest Ro-Ro freight terminal. This is due to come into operation in the first half of next year.
"With long-term growth trends beginning to re-emerge, we anticipate a return to record levels of throughput by 2023. The long-term planning to provide additional port capacity for future growth never stops and we have recently commenced pre-application consultation with An Bord Pleanála for the 3FM Project, the third and final Masterplan project required to bring Dublin Port to its ultimate capacity by 2040. We aim to lodge a planning application for this project in 2023."
Q2-2021 Trade Results
Overall volumes ('000 gross tonnes)
Imports

5,410 

4,498 

20.3%
Exports

3,583 

 

3,456 

 

3.7%

Total

8,993 

 

7,954 

 

13.1%
Unitised trade
| | | | |
| --- | --- | --- | --- |
| Ro‑Ro units | 252,868 | 225,045 | 12.4% |
| Lo‑Lo units | 121,278 | 96,062 | 26.2% |
| Total units | 374,146 | 321,107 | 16.5% |
Lo‑Lo TEU

219,728

172,721

27.2

%
Trade Vehicles

22,491

9,793

129.7

%
Bulk trade ('000 tonnes)
| | | | |
| --- | --- | --- | --- |
| Bulk Liquid | 969 | 721 | 34.4% |
| Bulk Solid | 474 | 388 | 22.3% |
| Break Bulk | 15 | 6 | 172.9% |
Ferry traffic
Passengers*

124,517

88,324

41.0

%
Tourist vehicles

30,454

24,170

26.0%
Shipping activity
| | | | |
| --- | --- | --- | --- |
| Number of arrivals | 1,830 | 1,685 | 8.6% |
                                              * Includes HGV drivers
The full trade statistics report for Q2 of 2021 can be downloaded:
HERE