15 August 2017
Dublin Port Tern Boom/ August 2017
The terns are having a great year in Dublin Port. 
The number of nests on the various structures are at record levels and there are hundreds of well-grown chicks at this stage. By August all the young birds will be flying as their parents teach them how to fish in the shallow waters of Dublin Bay.  In September they will be joined by large flocks of other terns from around the Irish Sea to roost on Sandymount Strand. Then they will undertake the most hazardous part of their life cycle – a 6,000-kilometre migration to their wintering grounds in West Africa.
Text and photo by Richard Nairn, Natura Consultants.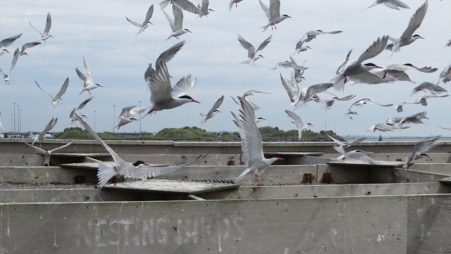 Pictured is Tern colony on Dublin Port pontoon at Clontarf.