7 December 2020
Dublin Port Temporary Traffic Management Plans – 7th to 21st December 2020
As part of the continuous improvements to the Dublin Port Roads Network, there are several road works taking place across the Port estate between 7th to 21st December 2020.
Please see below location plan for the affected areas, a brief description of works and anticipated duration's.  All routes will be clearly signposted and VMS boards in place to assist:
DUBLIN PORT WORKS KEY PLAN – Weeks 7th and 14th DECEMBER 2020
Bond Drive Extension: Terminal 11 and Terminal 12 entrance works with footpath diversions in place by PJ Hegarty – Date: 23/11/20 to 18/12/20
Link Road: Terminal 10 Link Road junction modifications, off-peak night works by JPD – Date: 16/11/20 to 18/12/20
Promenade Road West: Lanes closed to allow completion of junction modifications at Terminal 10 Link Road 
Tolka Quay Road: Single lane closure for traffic sign face installation, off-peak night works by Kilwex – Date: 07/12/20 to 11/12/20
Terminal Road North: Green tanks construction entrance by RBK – Date: 09/12/20 to 01/05/21
Breakwater Road South: Signage and line marking by Nolan – Date: 10/12/20
Alexandra Road: Gate closure to allow safe passage of double stacked containers (con-ro). Dates confirmed weekly see further details here
Alexandra Quay West: Weighbridge installation by RBK. Date: 09/11/20 to 14/12/20
Alexandra Road: Footpath diversion for masonry repairs by RBK. Date: 16/11/20 to 23/12/20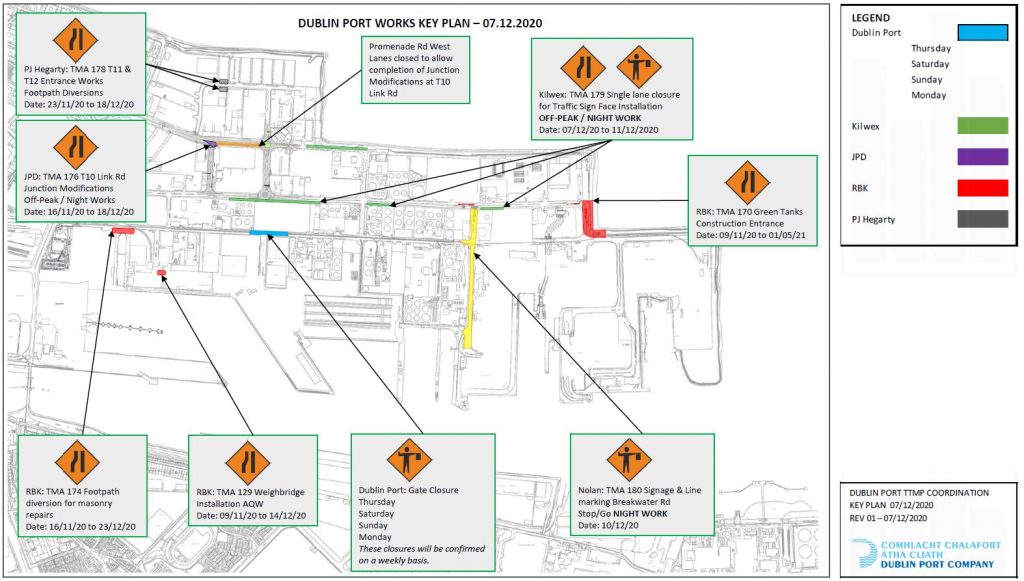 In addition to the elements shown, Tarstone will be carrying out various pavement repairs on both Tolka Quay Road and Alexandra Road, these works will be localised and at night with appropriate TM measures in place.
Works at Terminal Rd will complete this week (additional lanes are already open), a flashing light and yield sign have been installed at the new pedestrian crossing on Tolka Quay Rd.
In case of emergency while traveling on any of these routes – please remain with your vehicle and contact Harbour Police / Port Security: 01 8876858
Should you have any queries in relation to the Dublin Port Roads Network upgrade works please do not hesitate to contact us:
Email: info@dublinport.ie
Phone: 01 8876000
We thank you for your co-operation and patience and apologise for any convenience these works may cause.