26 February 2021
DUBLIN PORT SHORTLISTED AS FINALISTS FOR TWO BUSINESS TO ARTS AWARDS 2021
Dublin Port Company, axis Ballymun and Fishamble New Play Company have been shortlisted for two Business to Arts Awards 2021 for the 'Pumphouse Presents' theatre series. 
Five plays were filmed in the beautiful Pumphouse Building in Dublin Port during the Summer of 2020, and were premiered online over five Friday Nights culminating in a week-long festival of theatre in December 2020.
Dublin Port and axis Ballymun has been shortlisted for the Best Large Sponsorship supported by Arthur Cox category for 'Pumphouse Presents'
Dublin Port Company and Iarnród Éireann & Fishamble has been shortlisted in the Jim McNaughton Perpetual Award for Best Commissioning Practice category for 'Embargo'. 
Despite the significant challenges faced by businesses and the arts over the past year, entries to the 29th Business to Arts Awards were significant. The shortlist showcases outstanding examples of creative partnerships, which are adapting to the current environment and are setting new standards for arts engagement and backing. The nominations received represented over €9m contributed to Irish arts and culture.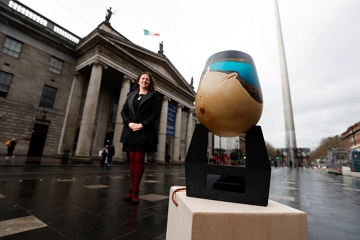 Business to Arts Awards Shortlist and Sculptor Announcement 2021. 'Balance' by Kathleen Walsh, commissioned by daa. Photo: Conor McCabe
The Business to Arts Awards recognise businesses, philanthropists, artists and arts organisations that develop creative partnerships. Shortlisted partnerships focus on arts sponsorship, commissioning of artist, staff engagement and CSR initiatives, philanthropy and community engagement. Many of the collaborations are the result of long-term relationships. All of the shortlist demonstrate the importance of supporting the arts and the impact that can be made by quality partnerships.
This year's winners will be presented with a limited edition award sculpture created by artist and woodturner, Kathleen Walsh. The Award Sculpture 'Balance' has been commissioned by daa for the 29th year. Kathleen Walsh's art is an ongoing exploration of materials and processes, which attempts to find a balance between seemingly opposing elements such as the traditional and the modern. In the award sculpture 'Balance,' she builds further on this concept, and captures the balance necessary for a successful partnership between the arts and business.
The 2021 Business to Arts Awards will be broadcast online on April 21st from the GPO at 5pm. RSVP details here.
Andrew Hetherington, Chief Executive of Business to Arts, said:
"Now in their 29th year the Business to Arts Awards are more important than ever. Supporting the arts and recognising best-in-class partnerships between the businesses and the arts is critical. This year's shortlist is full of exceptional relationships that showcase what can be achieved through collaboration, combined resources, determination and creativity. Together with our partners, Accenture, Arthur Cox, The Arts Council, daa, ESB, Irish Life, The Irish Times and TileStyle we congratulate the shortlist and look forward to celebrating with you all online on the 21st of April."
The Business to Arts Awards 2021 Shortlist:
Best Large Sponsorship supported by Arthur Cox
An Post Irish Book Awards
Davy & National Concert Hall
Dublin Port Company & axis Ballymun for 'The Pumphouse Presents'
Zurich & National Gallery of Ireland with Crawford Art Gallery for 'Zurich Portrait Prize & Zurich Young Portrait Prize'
Best Small Sponsorship
Aerogen & Druid
ESB Energy for Generations Fund & Cork International Film Festival with Creative Ireland, Rethink Ireland and UCC School of Nursing and Midwifery for 'Illuminate' and 'Intinn'
Gurranabraher Credit Union & Sample-Studios for 'PhotoGo'
Medtronic & Baboró International Arts Festival for Children
Best Long Term Partnership supported by The Irish Times
An Post Irish Book Awards
Ecclesiastical & Wexford Festival Opera for 'Ecclesiastical Volunteer of the Year Award'
ESB & National Gallery of Ireland for 'ESB Centre for the Study of Irish Art'
Zurich & National Gallery of Ireland with Crawford Art Gallery for 'Zurich Portrait Prize & Zurich Young Portrait Prize'
Best Use of Creativity in the Community supported by Irish Life
An Post & Children's Books Ireland for 'ImagineNation'
ESB Energy for Generations Fund & Cork International Film Festival with Creative Ireland, Rethink Ireland and UCC School of Nursing and Midwifery for 'Illuminate' and 'Intinn'
Flogas & Galway International Arts Festival with John Gerrard for 'Mirror Pavilion'
The Digital Hub & Dublin Dance Festival with the Selina Thompson Company for 'The Missy Elliott Project' 
Best Use of Creativity in the Workplace supported by ESB
Iarnród Éireann / Irish Rail & Christopher Steenson for 'On Chorus'
KPMG & Children's Books Ireland for 'KPMG BOLD GIRLS meets 20×20'
Publicis Dublin & Fishamble
Walkers Ireland & Kate Nolan for 'Walkers Photographer-in-Residence'
Jim McNaughton Perpetual Award for Best Commissioning Practice
Accenture & Paul Harrison for 'Quinquaginta' and Fuchsia MacAree for 'Fierce Determination'
Chartered Land & Rachel Joynt for 'Keepsake'
Dublin Port Company and Iarnród Éireann / Irish Rail & Fishamble for 'Embargo'
IPUT & Leah Hewson for 'Abiding Traces'
Best Philanthropic Support to the Arts supported by the Arts Council
Lauritzson Foundation & Royal Irish Academy of Music
Naughton Foundation & Museum of Literature Ireland
Science Foundation Ireland & National Concert Hall
Taylor Art Trust & RDS
Judges' Special Recognition Award supported by Accenture
Children's Books Ireland for partnerships with An Post, Brown Bag Films, Community Foundation for Ireland, Ecclesiastical, KPMG, Rethink Ireland and William Fry
Cork International Film Festival for partnerships with The Gate Cinemas, ESB Energy for Generations Fund, Creative Ireland, Rethink Ireland and UCC School of Nursing and Midwifery
National Concert Hall for partnerships with Davy, Grant Thornton and Science Foundation Ireland
National Gallery of Ireland for partnerships with ESB and Zurich
The following award will also be presented on the 21 April:
 Jim McNaughton / TileStyle €10,000 Bursary for Artists
For more information on the Business to Arts Awards 2021 see here