5 July 2022
DUBLIN PORT SHORTLISTED AS FINALISTS FOR BUSINESS TO ARTS AWARDS 2022
Dublin Port Company, ANU Productions & Landmark Productions have been shortlisted as finalists for the Business to Arts Awards 2022 for 'The Book of Names' in the 'Best Large Sponsorship – supported by Arthur Cox' category.
The Book of Names opened as part of the Dublin Theatre Festival last October at The Pumphouse Dublin Port. Written and Directed by Louise Lowe, it draws on two 100-year old books—a unique historical ledger which documents in careful detail the names, ages and roles of every employee in Dublin Port, and an intelligence dossier containing names and photographs of potential targets—The Book of Names tells a tale of espionage, high stakes and a deadly game of historical doublethink.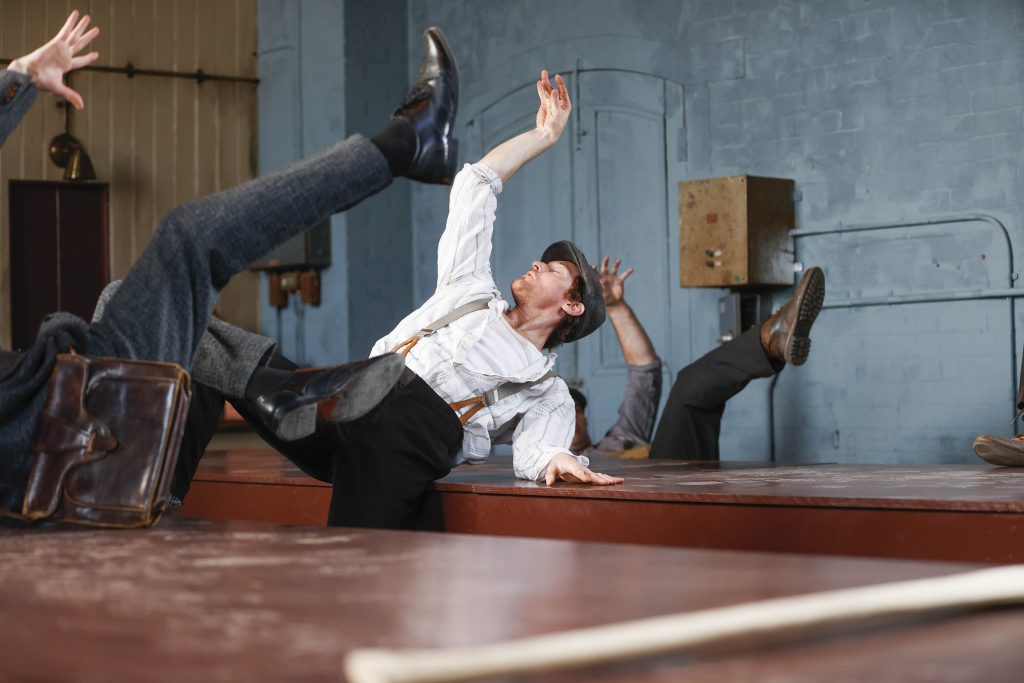 The Business to Arts Awards, will take place at the National Concert Hall on Tuesday, 20th September.
This year's shortlist represents the corporate-cultural partnerships undertaken, enhanced, and delivered during the depths of the pandemic, giving insight into the creativity, resilience, and adaptability of the arts sector when engaging with the corporate world.
The Judging Panel featured representatives from Accenture, The Irish Times, ESB, Mermaid Arts Centre, daa, Irish Life, the Arts Council, TileStyle, and Arthur Cox and was chaired by Clare Duignan, a board member of Business to Arts and The Chester Beatty Library, The Irish Times, IMRO and Fáilte Ireland.
The Business to Arts Awards recognise businesses, philanthropists, artists, and arts organisations that develop compelling creative partnerships. Shortlisted partnerships focus on arts sponsorship, philanthropy, commissioning of artists, and CSR initiatives, such as employee and community engagement. This year an exciting new bursary, the Accenture Digital Innovation in Art Bursary, was introduced to support an artist working exclusively in the digital space.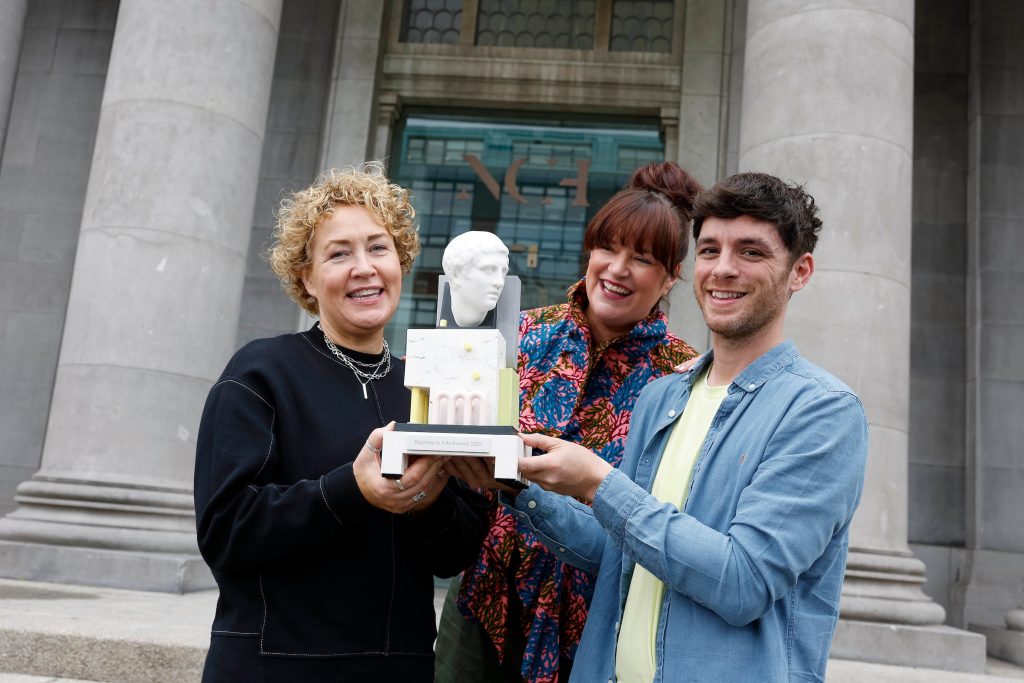 Award winners will be presented with a limited edition award sculpture created by sculptor John Rainey. The Award Sculpture 'Assemblage' has been commissioned by daa for the 30th year. John Rainey uses both old and new methods of object-making, such as ceramic casting and 3D printing. The title of his award sculpture 'Assemblage' refers to the bringing-together of people and things, and the sculptural practice of unifying separate elements. The sculpture combines references to art, design, technology and the built environment  as a representation of innovative collaboration between business and the arts.
The 2022 Business to Arts Awards will take place on Tuesday, 20th September at the National Concert Hall. A total of €25,000 will be presented  to successful artists and arts organisations through bursaries and awards on the night.
Louise O'Reilly, Chief Executive of Business to Arts, said: 
"The shortlist for the 30th anniversary of the Business to Arts Awards showcases the incredible resilience and ingenuity of creative partnerships between the corporate and cultural sectors. The nominees have gone above and beyond to bring art to their communities when they needed it most, often tackling challenging subject matter  or providing a creative sanctuary during the pandemic. We are honoured to recognise these exceptional partnerships and look forward to finally celebrating them in person on September 20th."
Clare Duignan, Judging Chair, said:
"It was a real privilege to chair the Business to Arts Awards judging panel in this the 30th Anniversary year of the Awards.  These entries were all for projects realised and delivered during the Covid 19 pandemic. I was very struck by how imaginative and adaptable so many arts organisations were in how they managed to deliver their work despite the restrictions of lockdown. I was also encouraged by the way in which their sponsorship partners were willing to stick with projects, allowing them to, for example, move online, or perform to very small audiences, or in some cases to be completely re-imagined. The strong desire from locked-down audiences for access to drama music, poetry, film, literature, opera- so many art forms-and their appreciation of the work, was inspiring."
2022 Business to Arts Awards shortlist: 
Best Large Sponsorship supported by Arthur Cox
St. Patrick's Festival & TikTok for 'Solas'

Dublin Port Company, ANU Productions & Landmark Productions for 'The Book of Names'

Zurich & the National Gallery of Ireland with the Crawford Art Gallery for the Zurich Portrait Prize & Zurich Young Portrait Prize

KPMG & Children's Books Ireland for 'Free To Be Me' and KPMG Children's Books Ireland Awards
Best Small Sponsorship
Henry J Lyons & Temple Bar Gallery + Studios for 'Dublin Art Book Fair 2021: Manual'

Gurranabraher Credit Union & Sample-Studios for 'Photogo'

Arthur Cox & the National Concert Hall for 'Notes from a Quiet Land'

ESB Energy for Generations Fund & Cork International Film Festival for 'Illuminate' and 'Intinn'
Best Long-Term Partnership supported by The Irish Times
Accenture's Women on Walls with Dublin City University, Royal College of Surgeons Ireland, and The Royal Irish Academy  

Zurich & the National Gallery of Ireland with the Crawford Art Gallery for the Zurich Portrait Prize & Zurich Young Portrait Prize

KPMG & Children's Books Ireland for 'Free To Be Me' and KPMG Children's Books Ireland Awards

National University of Ireland, Galway & Galway International Arts Festival
Best Use of Creativity in the Community supported by Irish Life
An Post & Dublin Pride for 'PRIDE/BRÓD' Stamps

The Adrian Brinkerhoff Foundation & Poetry Ireland for Catherine Ann Cullen, Poet in Residence

Northern Trust & ESB Energy For Generations Fund & Bounce Club Night

Press Up & The Dean Arts Studio
Best Use of Creativity in the Workplace supported by ESB
An Post & Dublin Pride for 'PRIDE/BRÓD' Stamps

John Sisk & Sons & Emmet Kane

Bank of America & The Abbey Theatre
Jim McNaughton Perpetual Award for Best Commissioning Practice supported by TileStyle
Arthur Cox & Alva Gallagher for 'Soar'

ESB & Fishamble for 'Tiny Plays for a Brighter Future'

Behaviour & Attitudes & Graphic Studio Dublin

BioMarin & Rachel Doolin for 'The Giving Tree'
Best Philanthropic Support to the Arts Award supported by the Arts Council
Bank of Ireland Begin Together Arts Fund

Community Foundation for Ireland and Children's Books Ireland

The Adrian Brinkerhoff Foundation & Poetry Ireland for Catherine Ann Cullen, Poet in Residence

Ballinglen Arts Foundation & Museum
Judges' Special Recognition Award supported by Accenture
Wexford Festival Opera and Danone, Arachas Insurance, Datapac, and PwC

Arthur Cox & National Concert Hall & Alva Gallagher

Cork International Film Festival & Murphy's, Gate Cinemas, and ESB Energy for Generations Fund

ESB & Fishamble, Cork International Film Festival & Bounce Club Night
The following awards will also be presented on the 20th September 
Jim McNaughton / TileStyle €10,000 Artist's Bursary
Accenture Digital Innovation in Art Bursary
daa €5,000 Arts Award
The Judging Panel was:
Clare Duignan (Chair), Board Member of 

Business to Arts, 

The Irish Times, Chester Beatty Library, Fáilte Ireland, IMRO

Etain Seymour, Accenture

Ailish Finnerty, Arthur Cox

Julie Kelleher, Mermaid Arts Centre

Tony Lawless, Canada Life (Irish Life)

Bevin Cody, ESB

Mark O'Kelly, NCAD (Arts Council)

Cathy Burke, daa

Gerard McNaughton, TileStyle

Laura Slattery, The Irish Times
For more information on the Business to Arts Awards 2022 see here