12 March 2021
Dublin Port are proud to be part of St. Patrick's Festival 2021
Dúisigh Éire! | Awaken Ireland!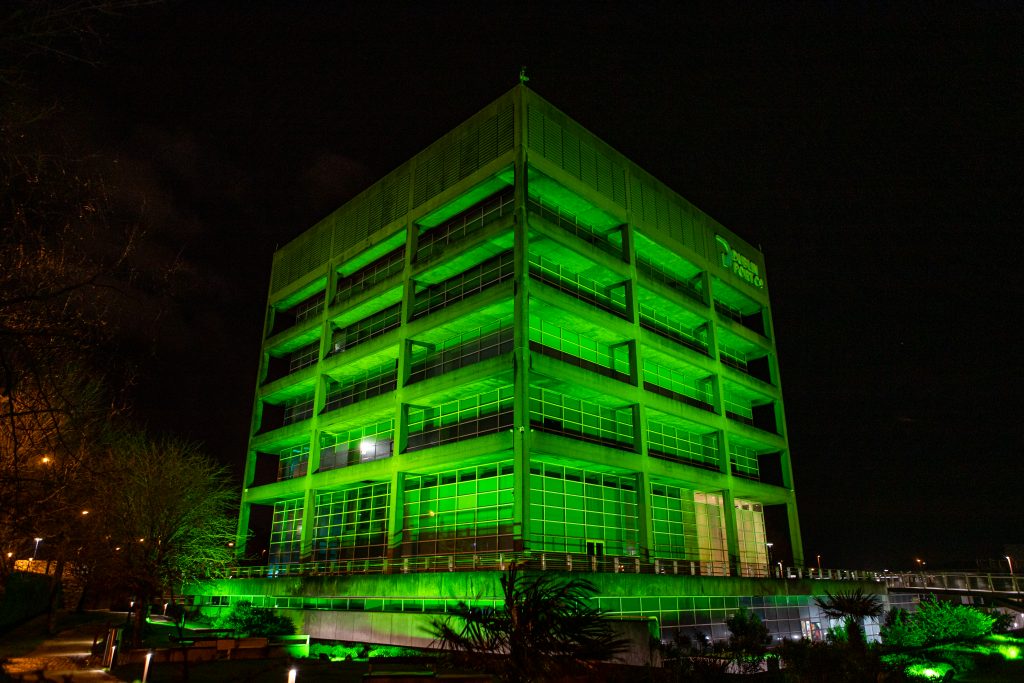 Greening the City – and the World – 2021!

Solas: Awakening Ireland
As part of St. Patrick's Festival 2021, our national colour will light up Dublin and Ireland as a symbol of our nation's courage in the face of challenge, remembrance for those we have lost and respect for those who have worked tirelessly on our front line.  The spectacular green night-time lighting across Ireland will draw our nation together as one during a time when we have never been so apart.
Participating buildings and heritage sites include; Christchurch Cathedral, the National Museum of Ireland and Kilkenny Castle.  In addition, iconic buildings around the world including;  the London Eye, Sydney Opera House, Niagara Falls and New York's Empire State Building.
Dublin Port Company will illuminate its iconic landmarks; The Diving Bell, Port Centre, Crane 292 and for the first time the Dublin Silo's at The Flour Mill 
The greening will take place for 6 nights from 12th – 17th March 2021.
Check out the sites and remember to tag & share your pictures with us on Social Media:
@DublinPortCo #DublinPort 
Port Centre – Alexandra / East Wall Road

Crane 292 – East Wall Road

The Diving Bell – Sir John Rogerson's Quay

The Dublin Silos at The Flour Mill – Alexandra Road
*Please remember to follow Government guidance on Covid19 restrictions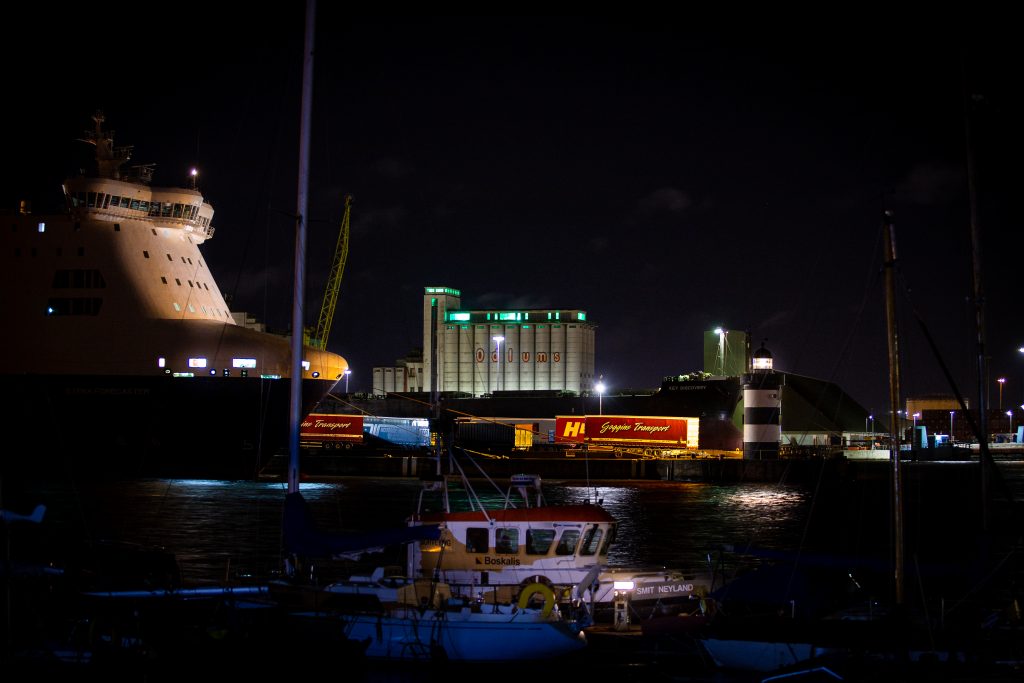 The Dublin Port Diving Bell | Ireland's Smallest Museum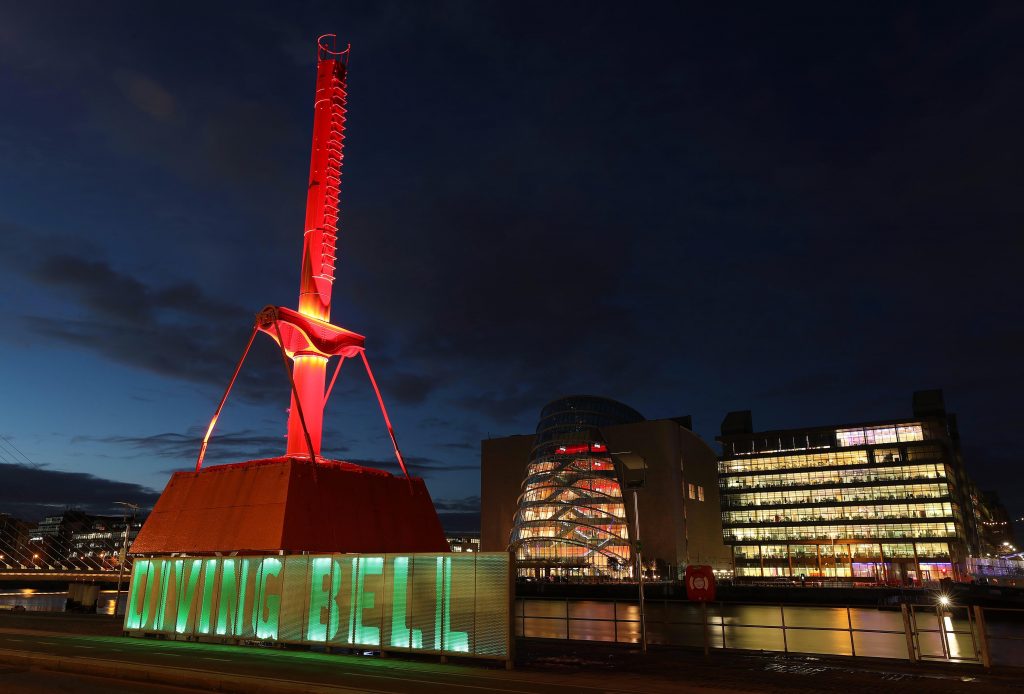 Tune in to SPF TV on Wednesday 17th March at 12.55 pm for an exclusive showing of the Dublin Port Diving Bell | Ireland's Smallest Museum 
Dublin Port Company transformed the Diving Bell into a new interpretive exhibition that explains its origin and history. The Diving Bell entered service in 1871 and was used in the building of the Port's quay walls from the Victorian era right up until almost the 1960s. It was considered a ground-breaking piece of engineering innovation in its day. The Diving bell project, which opened in mid-June 2015, elevated the 13m tall, 90 tonne Diving Bell onto a two metre steel structure, creating a ramped public access route underneath. A water feature was installed beneath the structure accompanied by a series of interpretive panels explaining the historical, social and engineering significance of the Diving Bell. Dublin Port are proud to be a part of the revitalisation of such an essential part of Dublin Port's heritage.
Dublin Port Company would like to pay tribute to the sad passing of Dermod Heron in 2020 (RIP), who was the last surviving member of the crews who worked on the Dublin Port Diving Bell and who was instrumental in building Dublin Port as we know it today.
You can catch the full screening in Ireland on Oireachtas TV* Saorview 22, Virgin Media 207, Sky 517, eir Vision 504, Vodafone 201, 207 and 208.
Or watch globally on stpatricksfestival.ie or rte.ie/culture 
For guides on the full list of events showing over the 6 days & 6 nights of the festival, click here: stpatricksfestival.ie/guide
About St Patrick's Festival 2021
While we cannot gather on the streets of Ireland this year to celebrate our national day, we are delighted to bring the 2021 national St. Patrick's Festival to life online, presenting our global family with the unique opportunity to take a front row seat at all of this year's events. The Festival theme is Dúisigh Éire! Awaken Ireland! It is a clarion call to all our people across the world to throw off the long, dark months and rise to embrace the brighter days ahead.
Showcased through St. Patrick's Festival TV –  SPF TV – a dedicated TV channel at www.stpatricksfestival.ie and accessible globally, St. Patrick's Festival 2021 will feature more than 100 events, created by artists, performers, makers, and dreamers across Ireland. Running from March 12 – 17, we offer six  great virtual days and nights, where audiences can stream our full programme of events in real-time, ensuring that we can celebrate together even though we are apart. Audiences will also be able to replay their favourite shows on our website Player.
St. Patrick's Festival 2021 is made possible with the support of the Department of Tourism, Culture, Arts, Gaeltacht, Sport and Media, Fáilte Ireland, Dublin City Council and many more.
https://www.stpatricksfestival.ie/