9 March 2018
Dublin Port landmarks to 'Go Green' for St Patrick's Day for the first time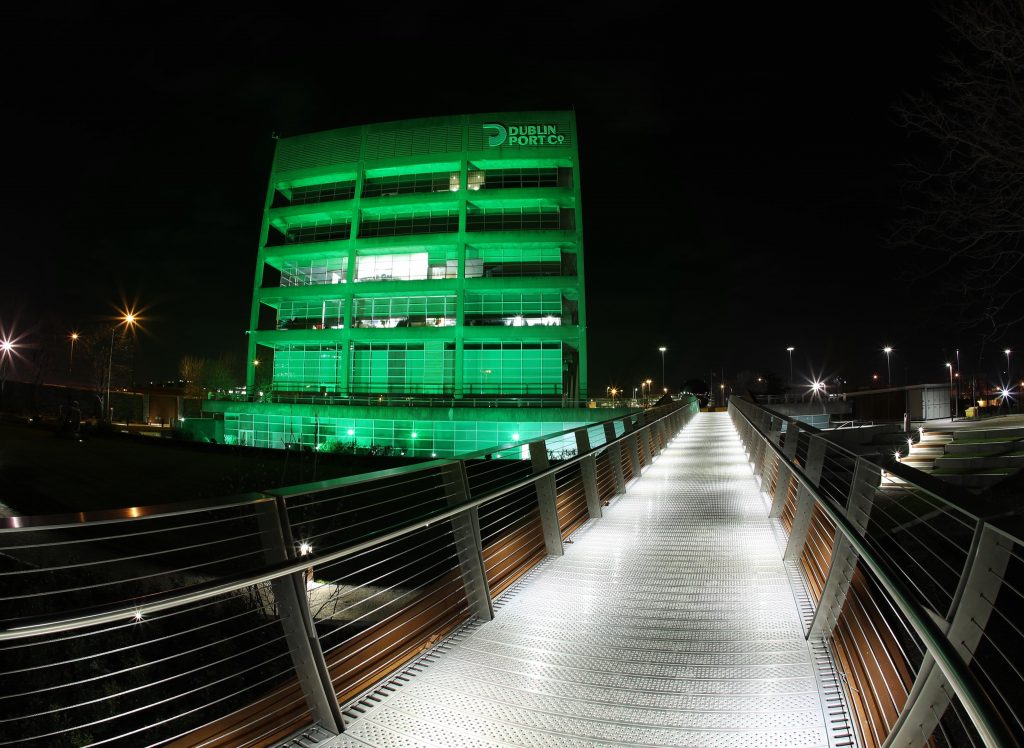 Dublin Port's iconic Diving Bell, Port Centre and Crane 292 join in global greening for St. Patrick's Day Festival
Dublin Port's iconic landmarks are set to be illuminated in green to celebrate the St. Patrick's Day festival.  The Diving Bell on Sir Rogerson's Quay, Port Centre and Crane 292 will be aglow in emerald green for the duration of the festival from Thursday 15th March to Monday 19th March at dusk each evening.
The Diving Bell, Port Centre and Crane 292 are in illustrious company as each year global landmarks show their Patrick's Day spirit by going green.  This year over 300 stadiums, statues, museums and towers will take part including the Colosseum in Rome, Sydney Opera House and Niagara Falls, not to mention the GPO, Kilkenny Castle and the Rock of Cashel closer to home.
Speaking on its inclusion in the St Patrick's Day Festival Eamonn O'Reilly, CEO of Dublin Port Company, said:  "Usually blue is our favourite colour at the port but we're keen to go green next week.  The inclusion of these iconic port landmarks is of special significance for us as port city integration is at the core of everything we do.  There is a shared history, culture and community between the port and our capital city. We hope that people enjoy our contribution to this year's festival and come to see some fantastic port landmarks in a new light."
Susan Kirby, CEO of St. Patrick's Festival said: "It's wonderful that Dublin Port is greening the new Port Centre plaza and two of its heritage sites and that it is also part of our artistic programme for this year's St. Patrick's Festival programme.  Dublin Port is a part of our capital city which is steeped in history and has some fantastic stories to tell. I would encourage anyone who wants to learn a little more about the Port and the shipping industry to download and enjoy the Port Walks audio podcast walking tour which is engaging and enlightening in equal measure and provides some fascinating insights."
The landmarks included in the festival are also part of Dublin Port Company's developing heritage trail.  The trail follows a path along the river Liffey from the Diving Bell on Sir John Rogerson's Quay via Grand Canal Dock and onward towards North Wall Quay Extension across the East link bridge to Port Centre on the East Wall Road.  Port Centre precinct has recently undergone redevelopment and is now open to the public with a new public plaza featuring a maritime garden with seats for reflection and relaxation and a sculptural sphere which echoes the time ball of the old Ballast Office.
The port is encouraging members of the public to share their images of these three landmarks lit up on social media with the hashtags: #globalgreening #DublinPortCentre #DublinPortCrane #DivingBell #StPatricksFest