29 September 2020
Dublin Port Host Online Seminars for the Dublin History Festival
Dublin Port Company are delighted to take part in this year's Dublin History Festival 2020 hosting a number of exciting online events:
28th September 2020: The Emergency: A Visual History of The Irish Defence Forces During WW2'
29th September 2020: A Dangerous Stretch Of Water – World War II In The Irish Sea'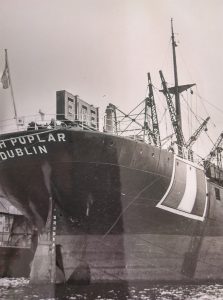 Eighty years ago in 1940, Dublin and Ireland were in the middle of 'The Emergency' (1939-45). Despite Ireland's neutrality, Irish ships sailing from Dublin were attacked and sunk, while the war raged in the skies above, and parts of Ireland were bombed from the air.  Ireland's underequipped Defence Forces prepared to make a stand against an invader. Neutrality could not be taken for granted.  
Learn more about 'The Emergency' in these two talks by Dr Michael Kennedy and Dr Pat McCarthy as they explain how the Defence Forces planned to counter an invasion and the dangers Irish sailors faced on the seas around Ireland.  1940 and 1941 were the worst years for the sinking of Irish ships and other vessels trading with Irish ports. The names of the seamen killed on the Irish ships are remembered on the Memorial to the Irish merchant seamen on City Quay in Dublin.
1st October 2020: The Shaping Of Dublin Port In The 19th Century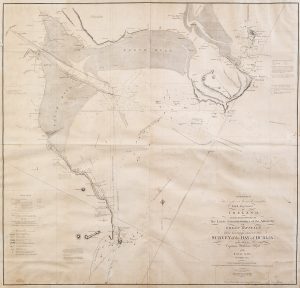 Join Dublin Port Company CEO Eamonn O'Reilly on October 1st, 2020 at 17.00 pm for an exciting online event as he discusses the shaping of Dublin Port in the 19th Century.
In the 17th Century, Dublin Bay presented major dangers for shipping.  In 1674, its natural state was described as "wild, open and exposed to every wind". Ships frequently had to seek shelter at Clontarf or at Ringsend.  In certain wind conditions, ships could not reach the city for several weeks at a time and shipwrecks were common.  The port's problems had to be addressed. 
Dublin Port Company traces its history back to 1707 when the first port authority was established in order to deal with these problems.  In this talk, Eamonn O'Reilly will discuss the decisive development of the North Bull Wall in the early 19th century which provided an enduring solution to the problems of Dublin Port and, in doing this, gave the port the shape we know today.
Eamonn will focus, in particular, on the public consultation carried out by the Directors General of Inland Navigation which was informed by the most eminent experts of the time, including Captain William Bligh.
Visit our Archives website for more information, tickets and to register, here: https://bit.ly/2EoRN6R
Learn more about the Dublin Festival of History: HERE