17 September 2018
Dublin Port Company and Stella Maris FC team up to seal sponsorship deal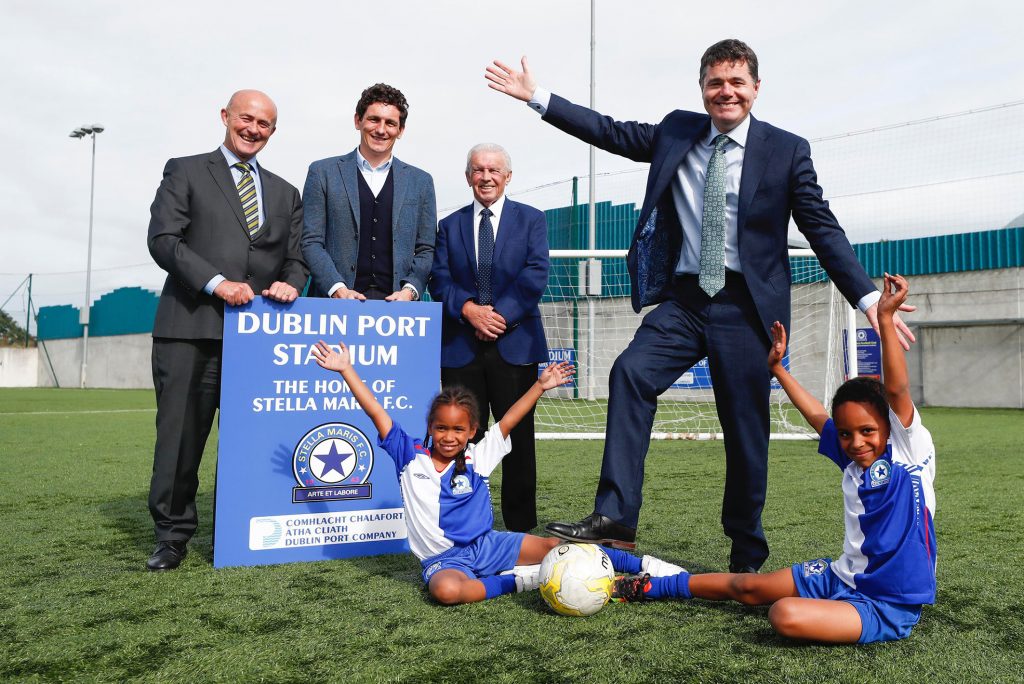 13th September 2018:  Dublin Port Company and Stella Maris FC have today announced a partnership that will see the leading amateur football club's home ground renamed, 'Dublin Port Stadium- The home of Stella Maris FC'. The partnership was today officially announced by Minister for Finance and Public Expenditure & Reform, Paschal Donohoe T.D..
The sponsorship deal will run for five years with Dublin Port Company providing financial support to the Drumcondra-based club as it looks to modernise its facilities.
Stella Maris, which has been at the heart of Dublin's north inner-city community, is recognised as having one of Ireland's leading football academy set-ups with players going on to play professionally for the Irish national team and in the English and Scottish leagues. The club has produced the likes of Stella Maris club president, John Giles as well as Keith Andrews who today joined Dublin Port Company CEO Eamonn O'Reilly and Football Association Ireland CEO John Delaney at the official renaming of the club's new home.
Stella Maris (translated as Star of the Sea) is now in its 75th year and has ambitious plans to develop the 'Dublin Port Stadium' to include a stand to hold 300 spectators, a club shop, gymnasium, and video analysis room.
Commenting on the partnership, John Giles, Stella Maris club president and former Ireland international, said: "This is a new chapter in the history of Stella Maris and we welcome our partnership with Dublin Port Company. We have exciting plans to improve the facilities at our club which will only enhance the opportunity for more girls and boys to take part in the game but also produce the next generation of Ireland football stars. We thank Dublin Port for its contribution and we look forward to working together as we progress in the future."
Eamonn O'Reilly, CEO of Dublin Port Company, said: "We're delighted to be entering into a five-year sponsorship with Stella Maris FC and to unveil Dublin Port Stadium – The home of Stella Maris FC. It has been part of the fabric of the community for 75 years and Dublin Port has been around for considerably longer.  We're proud to have the Port name associated with a football club which has played an essential role in Irish soccer. We continue our mission to strengthen port to city community links and our partnership with Stella Maris is just another example of our investment into the Drumcondra and East Wall communities."
Paschal Donohoe, Minister for Finance and T.D. for Dublin Central, said: "I welcome the partnership between Stella Maris and Dublin Port in what will be a great boost to the community in Drumcondra. For 75 years the football club has been an asset to the people in the area and it is platform for hundreds of boys and girls to play the sport they love while developing their talents. This partnership will help ensure that Stella Maris will be here for many more decades and with Dublin Port's support the club will have new facilities to be proud of."
More than 350 girls and boys are signed-up with Stella Maris and field teams in the Dublin & District Schoolboy League and the Dublin Women's Soccer League.  In addition to Johnny Giles and Keith Andrews the club was also unearthed the likes of Eamon Dunphy, David O'Leary, Stephen Carr, Stephanie Roche and Áine O'Gorman.