16 June 2020
Dublin Port Company To Deliver 500 Care Packs to Seafarers
Dublin Port Company has delivered the first of 500 care packs to international seafarers as a thank you for their frontline service during the coronavirus crisis. Due to the pandemic, many members of ships' crews have had lengthy enforced extensions to their time onboard cargo vessels. Crews can typically spend up to 6 months at sea at a time, away from family and home.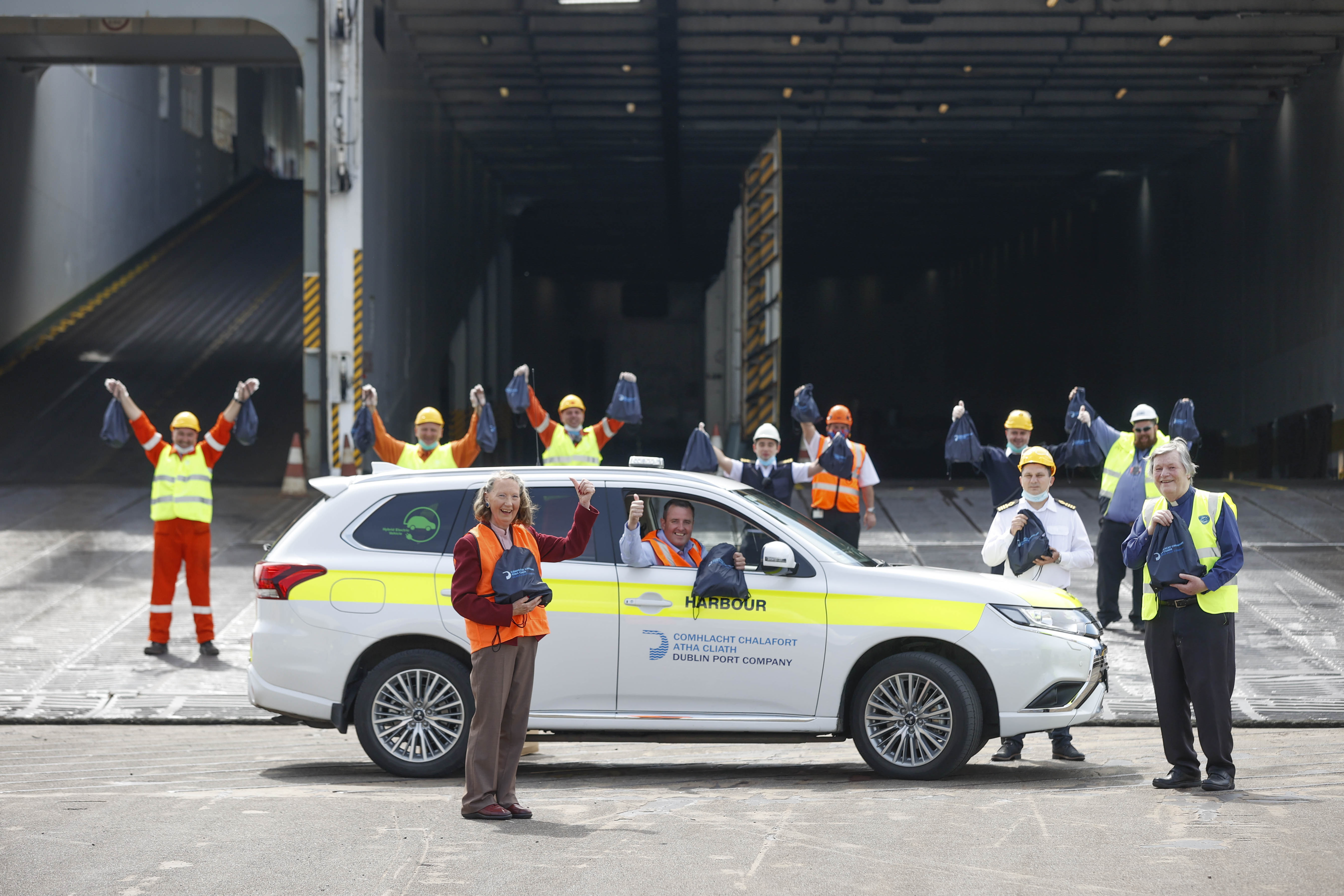 Some 300 of the care packs will be distributed amongst the crews of 27 individual vessels which are scheduled to arrive into Dublin Port in the next two weeks. The packs contain essential toiletries, including disposable razors, soap, deodorant, toothbrushes, toothpaste, hand cream, hand soap, lip balm and a nail brush.
The first care packs were given to the crew members of the Victorine, which docked in Dublin Port this morning having completed a voyage between Rotterdam and Dublin as part of a service operated by CLdN.  
The remaining 200 care packs will be held by the Dublin Port Seafarers' Centre and given to the sailors who avail of its services in the weeks and months ahead. The Seafarers' Centre was opened in 2016 following a €500,000 investment from Dublin Port Company as a vital resource for ships' crews. It provides amenities such as access to free Wi-Fi, a vital commodity so that seafarers can easily contact family and loved ones while ashore. The Centre supports over 7,500 visiting seafarers a year arriving from all over the world, typically from countries such as India, China, Ukraine, Russia, and the Philippines.
Harbour Master Michael McKenna said; "We are delighted to get our Seafarer Care Pack initiative underway today. We at Dublin Port felt like these crew members needed to be acknowledged. They have gone above and beyond in recent months, working during this public health emergency and being confined to their vessels and these packs are a token of our appreciation for the essential service they provide. It's because of them that we have food on our table, and other essentials at this time."
Reverend William Black, Port Chaplin from the Mission to Seafarers said; "Looking after seafarers and their basic needs is a huge part of what we do at the centre and we are blessed to be given the opportunity to assist them. They are the essential workers that we all rely on, but not everyone gets the opportunity to see. Today, we wish them well on their homeward journeys and thank them for their service after what has been a difficult time for so many."
Rose Kearney, manager of the Seafarers' Centre said; "It is our pleasure to look after these crew members in any way we can. It is a tough world for seafarers, and they have now been away from their families and loved ones for even longer than expected because of the coronavirus. Anything we can do to make their lives a little easier is no problem at all, we are very grateful to them. We hope the packs can give them a bit of comfort before they make their way home."