4 May 2018
Dublin Port announces 151 cruise calls for 2018
"Royal Princess" crowns record cruise season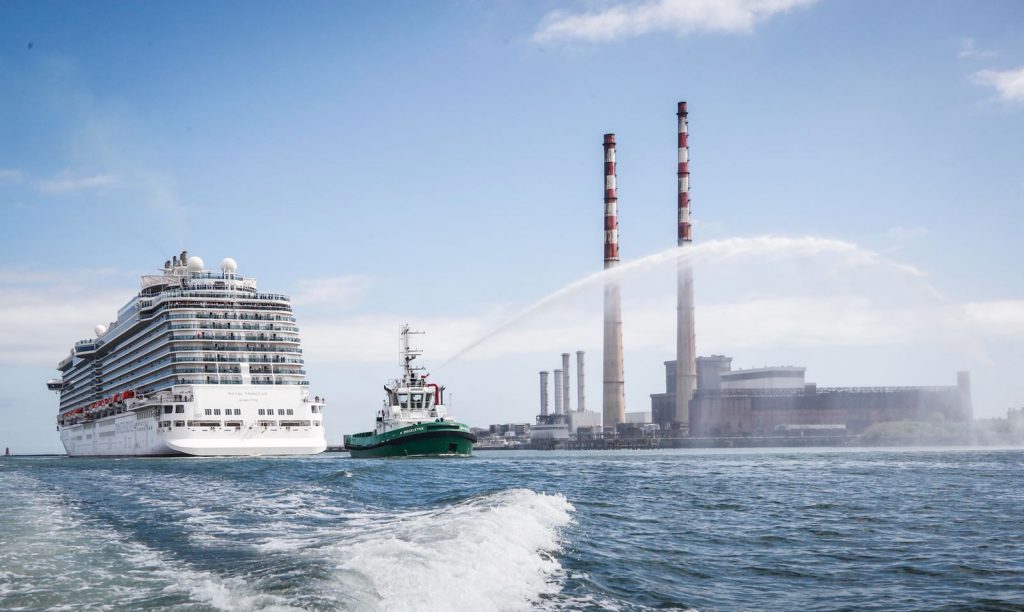 Friday, 4th May 2018:  The 330m Royal Princess cruise ship arrived in Dublin this afternoon carrying more than 3,000 passengers and crew. Her arrival kickstarts a record cruise season for Dublin Port with 151 cruise calls confirmed for 2018, bringing just over 270,000 visitors to the city.
The Royal Princess will hold a commanding presence in the city's port with her size more than two-and-a-half times the length of Dublin's Spire (which stands at 121 meters) and her 66-meter height making her taller than Liberty Hall. The ship also holds the prestige of being christened by The Duchess of Cambridge Kate Middleton.
2018 Cruise Season Highlights
Among the 151 cruise calls confirmed for 2018, there are nine maiden calls. This year 23 cruise calls will feature ships longer than 300m including the 330m Regal Princess on September 13th. Dublin Port is increasingly attracting the largest ships in the world's fleet emphasising Dublin's attraction as a popular destination on the itineraries of all the largest cruise line companies.
New for 2018 is a mini-season of five full turnaround cruises that will see more than 14,000 people start and end their cruise holiday in Dublin Port on board leading luxury liner Celebrity Eclipse. Beginning last Sunday (April 29th), Celebrity Eclipse became the first major cruise ship to call Dublin a "home port". Underscoring the growing trend towards home-porting, this year's cruise season also features 17 further partial turnarounds, meaning cruise passengers can either start or end their journey at Dublin Port.
Economic Benefit
Growth in home-porting brings added economic benefit to Dublin City and the surrounding counties, as turnaround passengers typically extend their stay by three to four days either side of their cruise departure or arrival date. The five full turnarounds and 17 partial turnarounds will bring an additional €10 million boost to the City's tourist earning as passengers seek out luxury hotel accommodation, dining, retail and visitor experiences. Combined with port of call passengers, the overall economic contribution of Dublin Port's 2018 cruise season to the local economy will surpass €50 million.
Royal Princess in Overview
Today, the Royal Princess was welcomed into port by the sights and sounds of entertainment from Irish dancers and drummers as passengers disembarked for a day's sightseeing and shopping around the city.
Having arrived from Cobh, the Royal Princess will depart for Belfast at 6pm tomorrow night (Saturday 5th May) before spending nine days at sea and arriving at her final destination of Southampton. It is all part of a 28-night crossing originating in Fort Lauderdale in Florida.
On board, guests enjoy luxury accommodation, a choice of restaurants, cafes, bars and nightclubs, as well as a spa, solarium and fitness centre, rock climbing wall, running track, basketball court and a driving range, in addition to swimming pools, cinemas, art gallery, theatre, shopping mall and casino.
Pat Ward, Cruise Business Manager, Dublin Port Company, said: "We are pleased to announce a record cruise season for Dublin Port, with 151 cruise calls and more than 275,000 visitors confirmed for 2018. We are seeing growing demand for Dublin Port on passenger itineraries from the world's leading cruise lines, with more requests to accommodate larger ships and strong demand for turnarounds. An estimated 90% of turnaround passengers will fly into Dublin Airport to begin their cruise holidays, and these passengers alone account for one-fifth of the €50 million boost to the local economy from cruise tourism this year. As our cruise business evolves, Dublin Port Company remains firmly focused on future-proofing our infrastructure to accommodate the next generation of super-sized vessels, both cargo and cruise."
Ship statistics
Christened by The Duchess of Cambridge Kate Middleton in 2013.
Length: 330 meters
Height: 66 meters
Capacity: 3,560 guests and 1,346 crew.
Number of decks: 19
Guest cabins: 1,780
Tonnage: 141,000
Inaugural Cruise: 16th June 2013