20 December 2018
Dublin Port announces 1 million Ro-Ro Freight Units in 2018
Millionth Truck rolls off Irish Ferries' Ulysses to mark new Milestone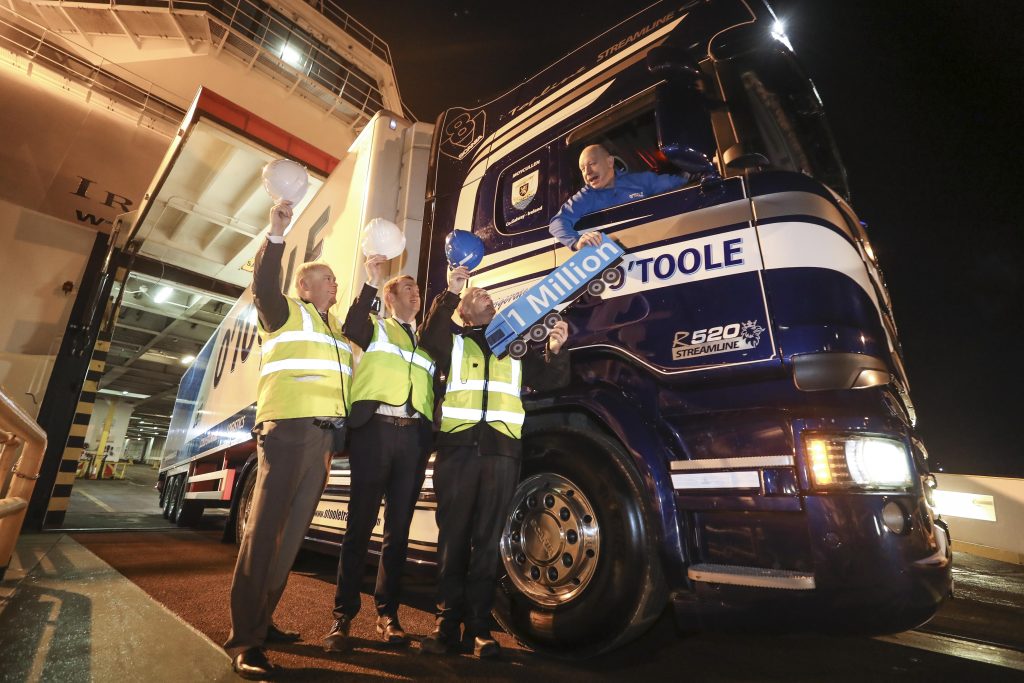 For the first time ever, Dublin Port Company has seen one million Ro-Ro freight units passing through the port within the year.  The millionth freight trailer in 2018 arrived on board Irish Ferries' Ulysses when she docked at 6.30am this morning. The truck was one of O'Toole Transport's vehicles on board the fully booked vessel arriving from Holyhead. Every morning 13 kilometres of trucks roll off the Ro-Ro ferries arriving at Dublin Port, meeting the requirements of the retail sector and industry throughout the country.  
This is the first time for Dublin Port to surpass one million Ro-Ro units in a year, and signifies continued growth in Ro-Ro freight moving through the port. Dublin Port now handles nearly 90% of Ireland's Ro-Ro freight and the addition of the world's largest short sea Ro-Ro ship, MV Celine, in the past year accounts for an additional 8km of freight lanes / 600 freight units alone. To date, Ro-Ro freight at Dublin Port is ahead by 4.3% compared to this time last year, and up by some 41% on boom time levels last seen in 2007.
The milestone for Dublin Port coincides with a significant week for Irish Ferries, which also sees the arrival of W.B. Yeats scheduled on Thursday, the much-anticipated new luxury ferry that will service the Dublin/Holyhead route during the Winter periods and the Dublin/Cherbourg route from mid-March to September.
Eamonn O'Reilly, Chief Executive, Dublin Port Company, said; "Today marks the one millionth Ro-Ro freight unit arriving at Dublin Port, and the milestone is significant given that Ro-Ro trailers account for more than two-thirds of the port's overall business. It follows a period of sustained investment by Dublin Port in new infrastructure and better utilisation of lands within the port estate so that customers, such as Irish Ferries, can continue to operate to their full potential as cargo volumes rise.  Our investment in port infrastructure is matched by our customers' investment in new ships and I am delighted to see W.B. Yeats commencing operations from Dublin this week.  
Andrew Sheen, Managing Director, Irish Ferries, said; "Irish Ferries has seen strong demand from customers for all our services, especially freight, in the run up to Christmas. Everything from toys and decorations to wrapping paper and wine can be found on board our vessels at this time of year, and with Dublin Port operational 24/7 there is no slowdown as we head into the New Year."