15 April 2021
A Most Distressful Country: The War Of Independence In Dublin Port And Inner City
Dublin Port Co. & East Wall History Group are proud to present an online lecture series to mark the Centenary of the battle that took place at the London and North Western Hotel at the North Wall, Dublin on April 11th, 1921.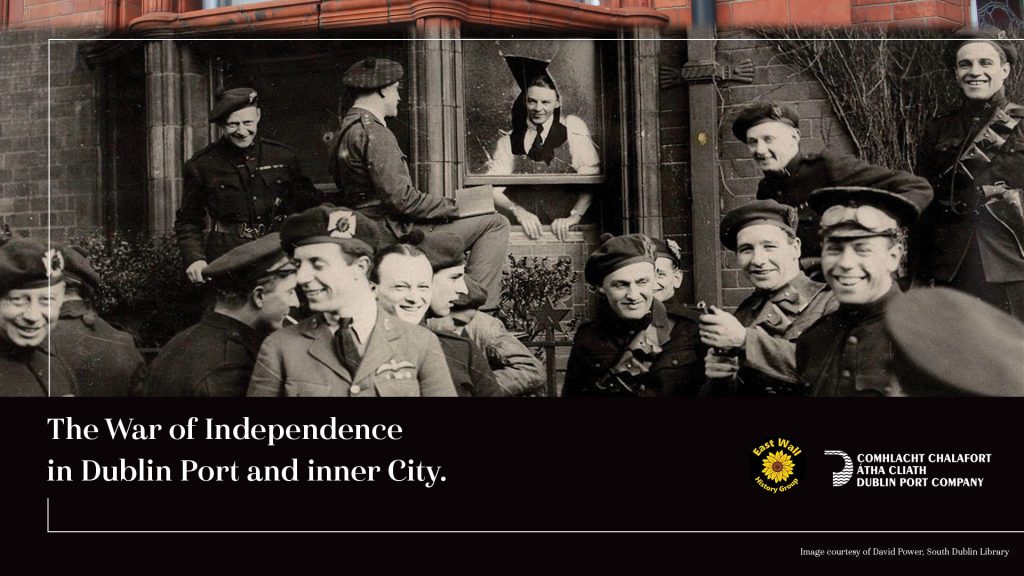 Registration is required, with limited spaces available.
Each lecture will be held as a Zoom meeting and you will receive an email with a link to attend the event 24 hours before it begins.
You can come to all the lectures or just attend individual ones and there will be an opportunity to ask questions after each lecture.
• Brian Hanley – Thursday 22nd April, 7.00 pm: "Putting the best thrillers in the shade': Dublin Port, smuggling and the Irish Revolution."
• Liz Gillis – Thursday 29th April, 7.00 pm: "Assassination, intelligence, and ambush: The IRA in the South Docks (1919-1921)"
• Lar Joye – Thursday 6th May, 7.00 pm: "Murder by the throat: Crown forces in Dublin (1919 to 1921)."
• Joe Mooney – Thursday 13th May, 7.00 pm: "A community at war: Dublin's North Dock and the Independence struggle".
• Brian Hughes – Thursday 20th May, 7.00 pm: "Dublin IRA fatalities in the War of Independence".
Dr. Brian Hughes lectures in the Department of History at Mary Immaculate College, Limerick. He is currently writing the book on Dublin for the Four Courts Press Irish Revolution, 1912–23 series.
Joe Mooney is long-time community activist and founding member of the East Wall History Group and the Sean O'Casey Festival.
Liz Gillis, Historian, and author is from the Liberties, she currently works as a Researcher for the History Show on RTE Radio and also lectures at Champlain College Dublin.
Brian Hanley is an assistant professor of Twentieth Century Irish history at Trinity College Dublin. He is the author of several books and articles on Irish republicanism and is currently researching the global impact of the Irish struggle for independence.
Lar Joye is the Port Heritage Director at Dublin Port Company. Currently working along with Jim Kelleher on a variety of heritage projects including the Graving Dock Heritage Zone and the Liffey Tolka greenway.
Click HERE to Register Now.