14 March 2017
Artists bring new Perspective to Port & City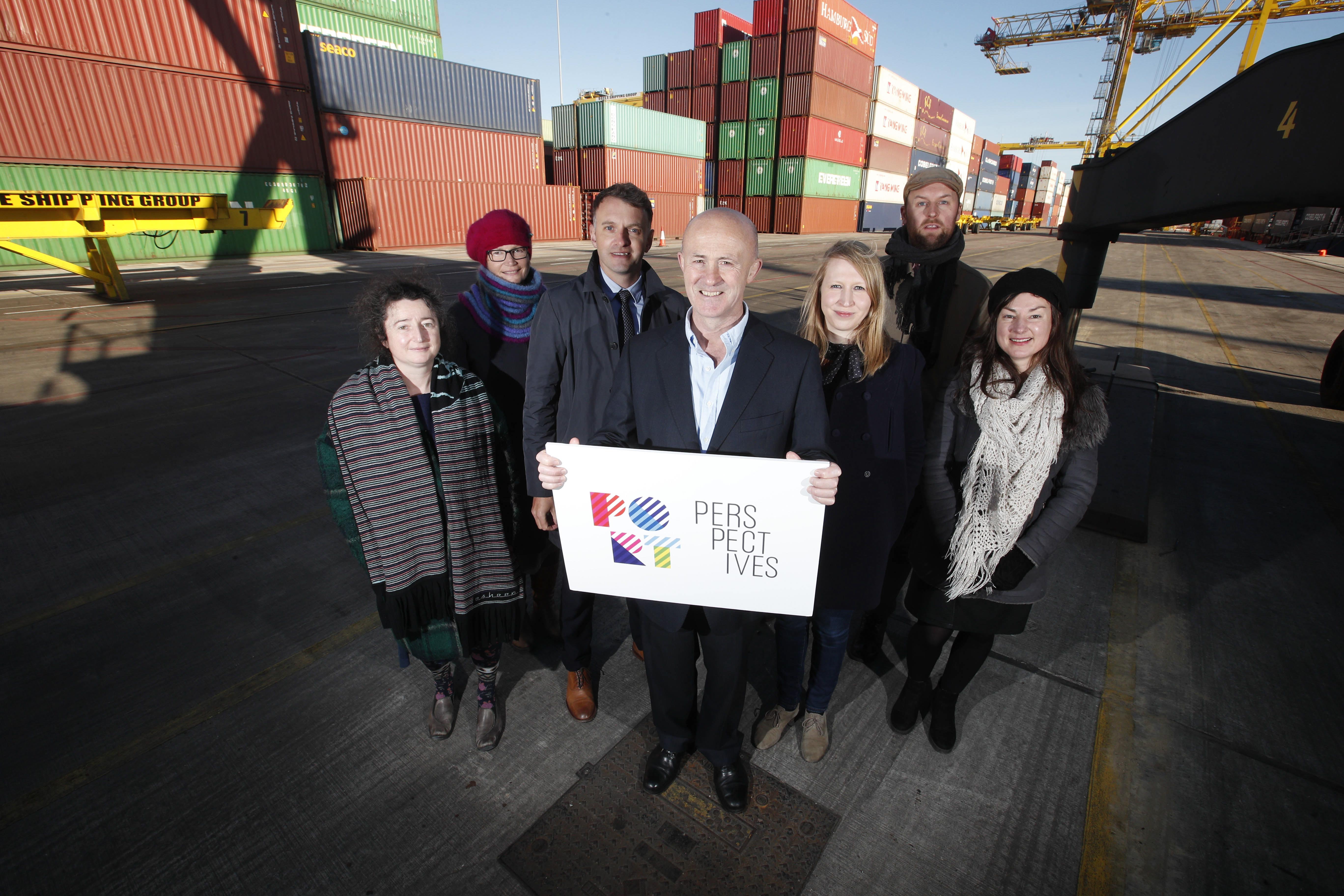 Dublin Port Company has today announced the artists commissioned to create a series of site-specific public artworks in response to Dublin Port and its relationship with the City.
New works by Sheelagh Broderick, Silvia Loeffler and AEMI & Cliona Harmey will be unveiled at sites and on structures within Dublin Port over the coming months. This is the latest development from Port Perspectives, Dublin Port's arts commissioning series for 2017, aimed at strengthening the bond between Dublin Port and the City and bringing Dublin Port to new audiences through the arts.
An open call for proposals from Irish and international based artists attracted over 100 submissions from which the three projects were selected, as judged by a panel of experts drawn from the public arts commissioning, education and heritage arenas.
First is Sheelagh Broderick's 'Great Wall Walks', which looks to create a link between Dublin Port Workers and Dublin Port Walkers, i.e. between those who work at the Port and those who use its environs for recreational purposes. Based at the new Seafarers' Centre on Alexandra Road, international seafarers arriving at Dublin Port will be invited to collaborate with Sheelagh on creating a series of audio guides to their home towns and cities. The audio will be available to download and highlighted to walkers on the Great South Wall, encouraging local walkers to connect with the world of the international port worker. Launching on May 1st, Sheelagh's project brings an inclusive and international dimension to the series, celebrating multi-culturalism and social diversity at the heart of port life. An accompanying event will follow on International Seafarers' Day (June 25th). 
Meanwhile, the work of Silvia Loeffler will unfold in a number of phases during the summer. Silvia Loeffler's 'Transit Gateway: A Deep Mapping of Dublin Port' will document the transitional changes in the shape of Dublin Port, from its medieval shoreline to modern day configuration. In collaboration with partners and the local community, Silvia will work for the next nine months on artistic cartography to show the changing connections of the city and how the port has acted as a gateway, creating a vital connection for the city with the wider world. Her work will go on display in the Terminal 1 building at Dublin Port, and a seminar will be held each month to mirror the nine phases of the mapping process. The seminars will take place in the last week of each month at the LAB Gallery on Foley Street, Dublin 2 and places can be booked online through Eventbrite.
In September, audiences can look forward to AEMI & Cliona Harmey's 'port | river| city'. This project will research and co-curate a season of artist, experimental, and archive moving-image artworks that interrogate and reflect on ports and their environs. Their collaborative project comprises a series of cinematic screenings as well as site-specific installations across a number of strategically chosen locations in the city. With the use of a mobile field cinema, audiences can expect screenings from early September for a three-week period.
Eamonn O'Reilly, Chief Executive, Dublin Port Company, said:"We were overwhelmed by the response and calibre of projects submitted following our open call last September. Dublin Port is delighted to commission original new works from three exceptionally talented artists, whose projects bring the history, social fabric and industrial setting of Dublin Port to life in new ways – not just for those who work at Dublin Port, but for all who visit and especially for those who have yet to venture this far. We look forward to seeing the artists' works evolve over the summer, and to deepening the dialogue about Dublin as a Port City."
Andrew Hetherington, Chief Executive, Business to Arts said: "With these three new artworks, Dublin Port's considerable role developing Dublin will be reinterpreted and presented through arts, film and sound. They will provide a new layer of context to the complex themes of movement, migration, global links and local industry and how people relate to Ports today. The three projects were exceptionally well researched and reflect many years of artistic practice by those selected."
This commissioning follows Port Life: Eugeen Van Mieghem, a new exhibition sponsored by Dublin Port Company at Dublin City Gallery The Hugh Lane as part of Port Perspectives. The exhibition runs until June 11th and is supported by a programme of seminars, educational and outreach initiatives. Port Perspectives also includes an arts engagement programme curated by Declan McGonagle. A further strand of Port Perspectives is Dublin Port's sponsorship of Jesse Jones, who will represent Ireland at the 57th International Venice Biennale; an initiative of Culture Ireland in partnership with the Arts Council.
Port Perspectives builds on previous arts commissions by Dublin Port Company, including Starboard Home with the National Concert Hall – a new song cycle of Irish music and spoken word inspired by Dublin Port, Dublin City and the River Liffey; Cliona Harmey's "Dublin Ships" installation on the Scherzer Bridges in conjunction with Dublin City Council and the re-imagining of The Diving Bell on Sir John Rogerson's Quay.