23 April 2019
Public Notice- Application for a Dumping at Sea Permit
Notice is hereby given that Dublin Port Company has submitted an application to the Environmental Protection Agency for a permit under Section 5 of the Dumping at Sea Acts 1996 to 2010. The application is for the loading and dumping of dredged material arising from maintenance dredging proposed for 2020 and 2021. Dublin Port Company need to carry out regular maintenance dredging of the navigation channel, basins and berthing pockets in order to maintain their advertised charted depths and hence provide safe navigation for vessels to and from the Port. The loading of dredged material will be restricted to those areas of the navigation channel, basins and berthing pockets which contain sediments which are suitable for disposal at sea (Class 1 : uncontaminated, no biological effects likely). It is proposed to dispose of the dredged sediments at the existing licensed offshore disposal site located at the entrance to Dublin Bay to the west of the Burford Bank, (6.75 km from the lighthouse at the end of the Great South Wall). The approximate amount of material to be dredged is 300,000 m3 per annum and it consists mostly of silt and sand with elements of clay, gravel and cobbles. Dredging will be carried out by a trailer suction hopper dredger and support vessels. It is proposed to undertake the maintenance dredging and disposal at sea operations within the period April to September 2020 and 2021. The dredging campaign within each of these periods is expected to last approximately 4-6 weeks, depending on weather conditions.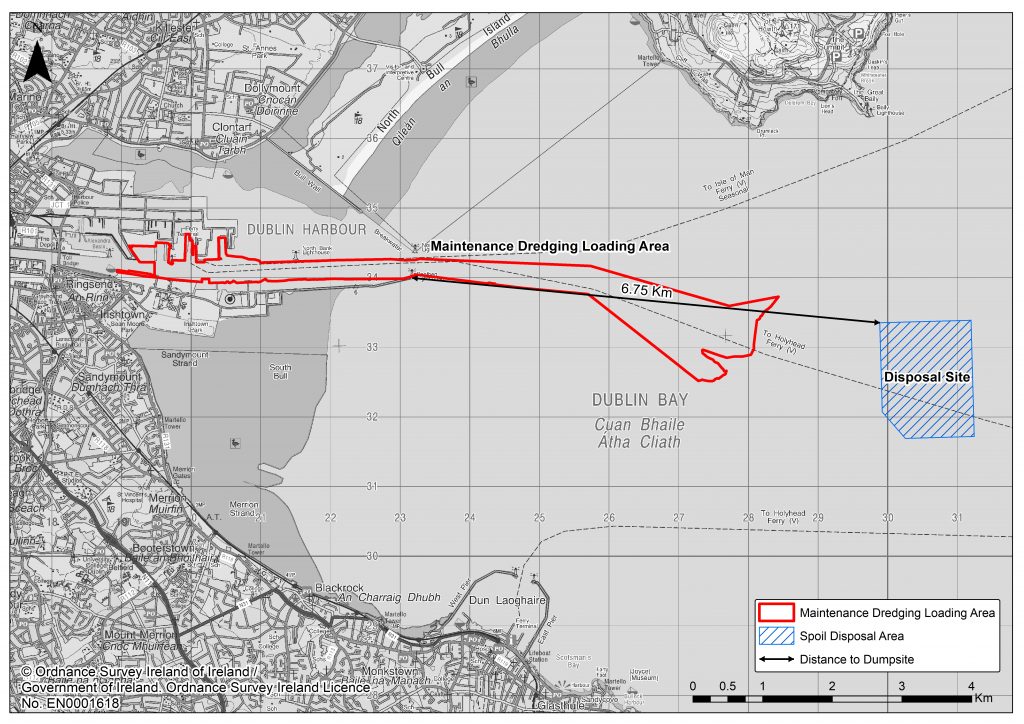 Any person wishing to make a submission, or submit observations, in respect of the granting of a permit for this proposed project should do so in writing to the Environmental Licensing Programme, Office of Climate, Licensing and Resource Use, Environmental Protection Agency, PO Box 3000, Johnston Castle Estate, County Wexford within 1 month of the publication of this notice. Persons making a submission, or submitting observations, in respect of this project are advised that their comments will be forwarded to the applicant for comment and will be published on the Agency's website www.epa.ie.
Copies of the completed application form for this project and all supporting documentation, can be inspected at or obtained from the headquarters of the Agency, or viewed on the Agency's website: www.epa.ie. The application and supporting documentation can also be inspected at Dublin Port Centre, Alexandra Road, Dublin 1. An e-copy can be purchased from Dublin Port Company by phoning 01 8876000 during normal working hours and asking for Charlie Murphy or in his absence, Eamon McElroy.
Dated this 23rd day of April 2019
Michael Sheary, Company Secretary, Dublin Port Company, Port Centre, Alexandra Road, Dublin 1, Ireland