22 October 2020
AIVP: "Protecting Cultural Heritage as a Resource for Sustainable Development of Port Cities" Port City Talks Webinar
AIVP, the worldwide network of port cities, is organising a series of webinars entitled "Port City Talks" to continue to debate, to build the port city of tomorrow and to keep in touch with its members.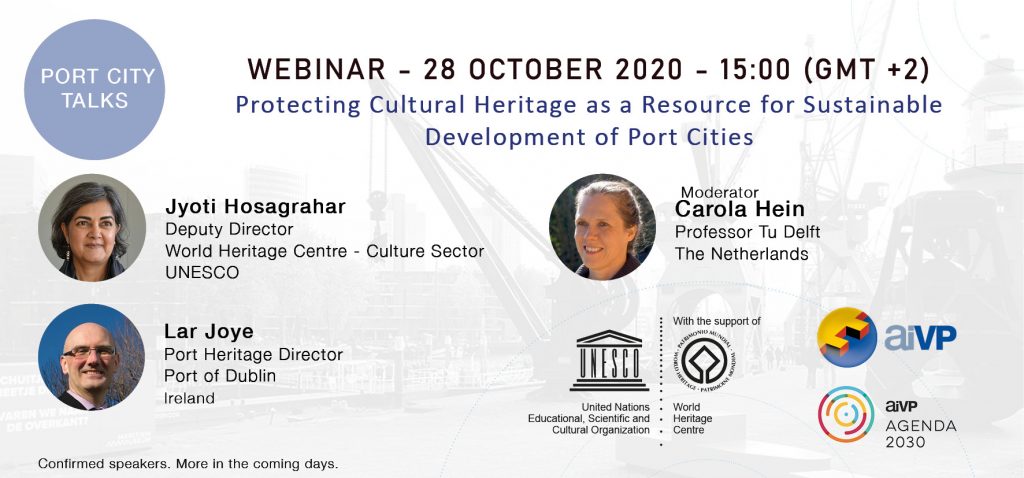 The next AIVP webinar will be held on Wednesday 28th October 2020 at 15:00: 00 (CEST / GMT +2) and will be moderated by Ms. Carola Hein, Professor and Head of the Chair History of Architecture and Urban Planning, Delft University of Technology (Netherlands). With the confirmed participation of: Ms. Jyoti Hosagrahar – Deputy Director, World Heritage Centre, Culture Sector, UNESCO ; Mr. Lar Joye – Port Heritage Director, Dublin Port Company. More speakers will be announced in the coming days.
These webinars are exclusively for AIVP members, but if you wish to attend, you can ask AIVP for access.
About this webinar:
Already for some years, ports have acknowledged their social role and responsibility in the definition of the local port city identity. As AIVP indicates in goal 6 of the AIVP Agenda 2030, "the local port identity as a key asset for sustainable relationship".
As the corona virus is forcing us to stop most social gatherings, affecting the events calendar and diminishing the port-city-citizens interactions, we can use the opportunity to reflect on the path walked so far and discuss new ways to disclose port city culture and heritage. There are relatively new concepts that remain unexplored by many port city actors. There are new technologies that may facilitate better planning and integration of the heritage into port city projects. There are new functions that can foster new interactions with historical buildings.
This webinar will discuss all these issues and share experiences from port cities in different contexts. Next October 28th, AIVP invites you to join the debate with experts, port authorities, and municipalities, and learn how port cultural values can be disclosed and integrated in new planning approaches.
Join AIVP online!