Getting Around
Dublin Port is centrally located, only minutes from Dublin city centre by car. Buses and taxis provide a regular service from the port to the city and beyond.  The Luas Red Line tram stop at The Point is located opposite the entrance to Dublin Port on East Wall Road. 
Terminal 1
Terminal 2
Terminal 3
Terminal 5
Terminal 7
---
By Car
Dublin Port is situated 2.7km from the centre of Ireland's vibrant capital city. Access by car can be made via East Wall Road, North Wall Quay or the Thomas Clarke Bridge. View and plan your route to Dublin Port HERE
Dublin Tunnel is situated on the perimeter of the Port estate & provides quick access to the M50 & M1 motorways, the main routes to the North and South of the country.  Dublin Tunnel is operated by Transport Infrastructure Ireland, to view toll information click HERE
---
By BUS
Dublin Bus Service
Dublin Port is served by Dublin Bus route 53 which operates from Talbot St. to Terminal Road South. View the Dublin Bus route planner HERE
Express Bus Transfer
Dublin Port, Terminal 1 operated by Irish Ferries is served by an Express Bus Transfer 7 days a week.   The Express Bus Transfer service is operated by Mortons Coaches
The fare is €3.50 for an Adult and €2.00 for a Child. Adult return is €6.00 and child return is €3.00, payable on board.  
Outbound services: Operate from the Mortons Bus Stop located on Westmoreland Street daily at 07:00hrs, 12.30hrs & 19:00hrs. This is the only outbound pick up location to Terminal 1, Irish Ferries.
Inbound services: A Mortons bus services all of Terminal 1, Irish Ferries ship arrivals with drop off points at Connolly & Westmoreland Street.
Driving time from Westmoreland Street to Dublin Port, Terminal 1 takes about 15 minutes (5.6km) in normal traffic conditions.  
---
By LUAS
The Luas Red Line tram stop at The Point operates 7 days a week and is located opposite the entrance to Dublin Port on East Wall Road. Take the Luas to The Point and the entrance to the Dublin Port estate is a 7 minute walk (550m). 
Walking times from The Point to Dublin Port's passenger terminals varies:
TERMINAL 1 – IRISH FERRIES –  46 min walk (3.7km)
TERMINAL 2 – STENA LINE – 39 min walk (3.2km)
TERMINAL 3 – P&O FERRIES – 9 min walk (750m)
TERMINAL 4 NORTH* – CELEBRITY CRUISES – 8 min walk (650m) – Pedestrian entrance located on East Wall/Tolka Quay Road
TERMINAL 5 – SEATRUCK FERRIES – 37 min walk (3.0km)
The Luas trams operate every 4 – 12 minutes during Peak times and 10 – 15 minutes Off Peak. View timings and stops HERE
* Please note: Terminal 4 North – Celebrity Cruises is a seasonal terminal. Services will recommence in Spring 2020.
---
Terminals
There are a number of Passenger Terminals in Dublin Port:
Terminal 1 
N53 20 45/W6 11 39

Terminal 2
N53 21 1 /W6 11 53
Terminal 3
N53 20 51/W6 13 39

Terminal 4 North
N53 21 06.5/W6 13 23.1
Arrivals/Departures:
Celebrity Reflection 

Terminal 5
N53 20 53/W6 11 34
Terminal 7
N53 21 12/W6 12 33
---
Car Parking
General Car Parking is available at Terminal 1 and Terminal 2:
Short Term parking is on a pay & display basis at €2.00 per hour and a minimum charge of €1.00.
Long Term parking rates are €9.00 per day or part thereof and €50.00 per week (seven days).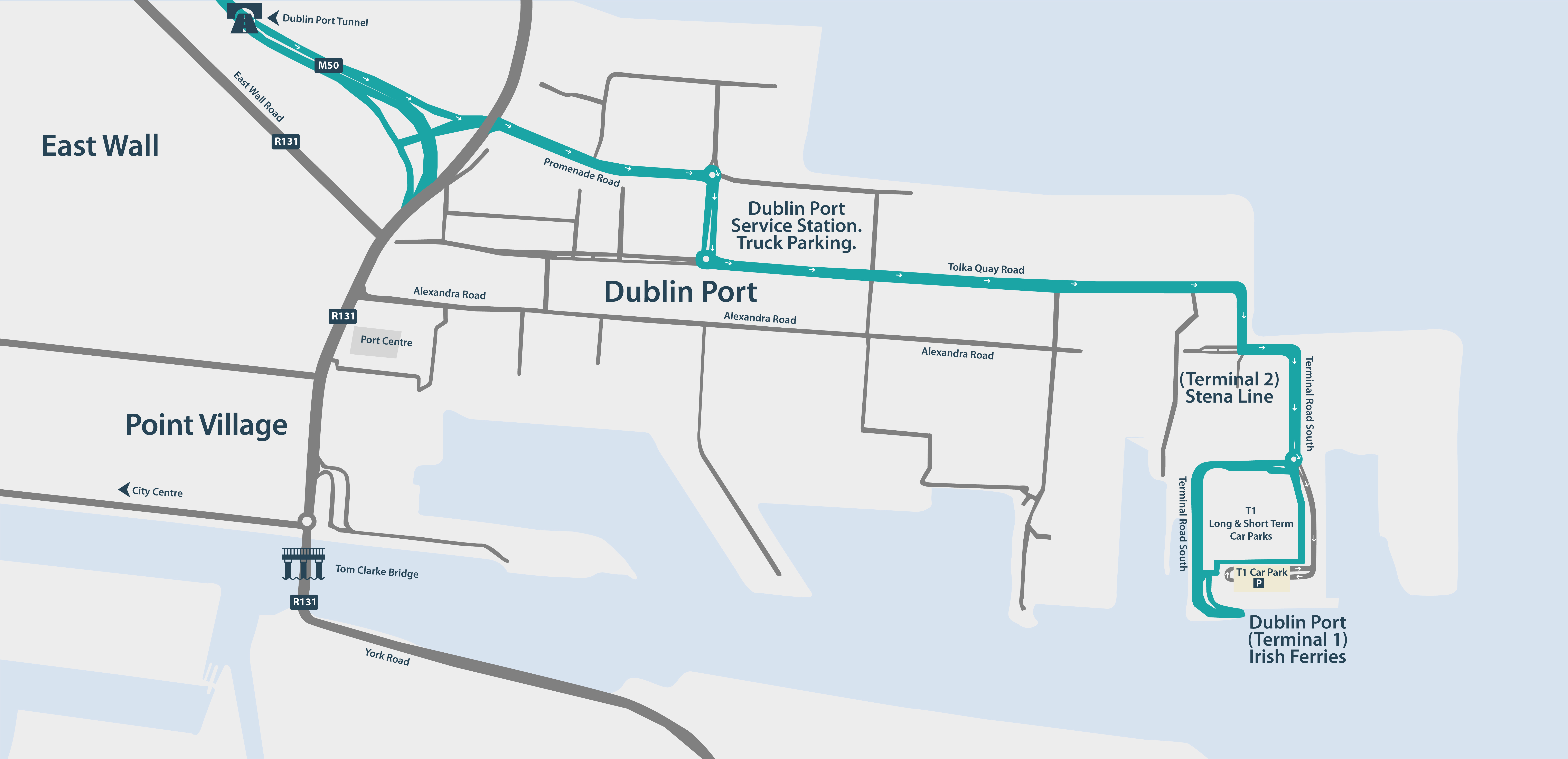 ---
Terminal 4 North – Celebrity Cruises – Celebrity Reflection 2020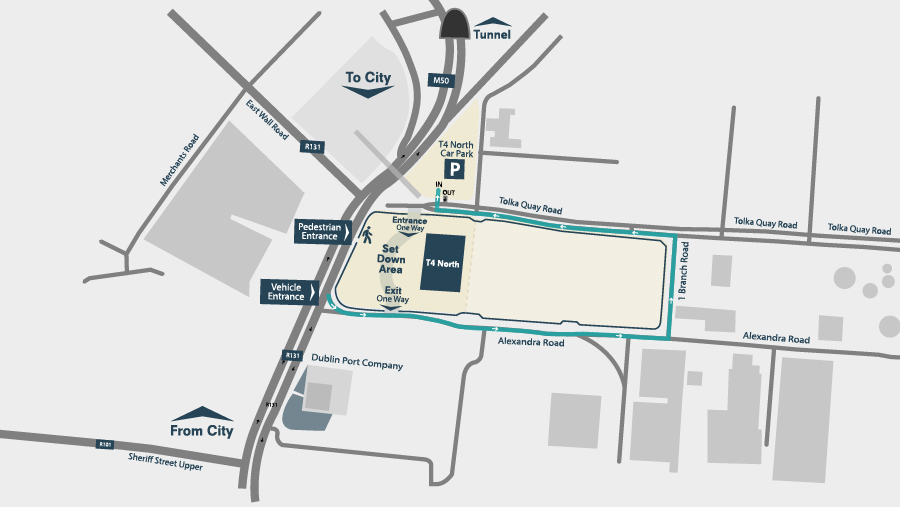 Terminal 4 North is operated by Dublin Port Co. and is the Check In/Out location for Celebrity Cruises
Terminal 4 North is operated on a one way system – all vehicular traffic must enter via Tolka Quay Road entrance and will exit the site onto Alexandra Road.
Pedestrians can access Terminal 4 North via the East Wall Road / Tolka Quay Road pedestrian gate.
There is no pedestrian access from Alexandra Road.
Long term parking is available on site, bookings must be made 3 hours in advance of check in.
We hope you enjoy your cruise from Dublin's City Port!